Listen to this :
SIP or Systematic Investment Plan is an investment plan in which an investor can invest a small or large amount (say Rs. 500, 1000 or higher) in a mutual fund scheme at regular intervals (say monthly or quarterly).
Starting SIP is not a serious affair. But reading before investing through a well-designed fundamental market course, surely is.
You must have read a lot of content on systematic investment plan(SIP), and this one is not an exception.
However, in this blog we have ensured to just not give you knowledge but help you to make your first investment soon after you have read the blog.
Now what is the first thing you would require to start investing?
MONEY?
That's it.
Well, NO. You will require money and guidance along with knowledge to match your financial goals.
Financial goals, seems a heavy word?
Well, let's put it as your dream goal, which can be short term or long term. So, in this blog we will start with any of the short-term goals such as:
SIP to travel.
SIP to enjoy the freedom of your financial decision.
SIP to live life without financial burden.
SIP to buy stuffs without seeing the price tag and so on.
You can calculate SIP from SIP calculator here.
Let's look at how Priya planned and invested for a foreign trip goal, 5 years in advance to accumulate a corpus of Rs.5,38,000. –She invested Rs. 6000 per month for 5 years in a Hybrid fund and earned a return of 15% (approx.)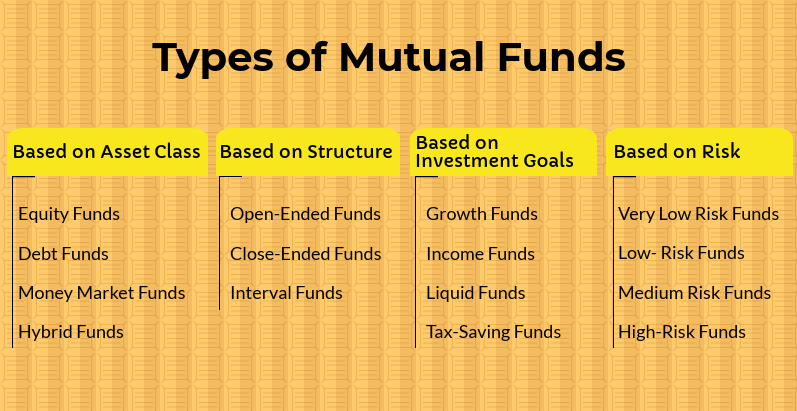 As promised at the beginning of the blog, let us quickly take you to the 2 simple steps on starting your dream goal journey.
First, we will list down the 2 steps in points below and then discuss each of them quickly.
Step 1: Get your Know Your Client (KYC) done (In case you are already done with KYC, ignore step 1)
Step 2: Select Mutual Fund and Invest
We assume here that the user has not done the KYC.
Step-1:KYC
To start a SIP, you need to first get your KYC done.
We have explained two methods, you may follow either of the one as per your convenience.
The basic documents required for KYC are:
Permanent Account Number (PAN)
Identity and address proof such as Aadhar card, passport, voter id (as per the requirement)
KYC Form
Crossed cheque
Recent passport sized coloured photograph.
Note: The above documents shall be self-attested copies and original for verification.
Method-1
In most of the websites of the fund houses or Asset Management Companies (AMCs), you will get a KYC form, as shown below.
Note: We have taken Aditya Birla Capital just as an example.
KYC Form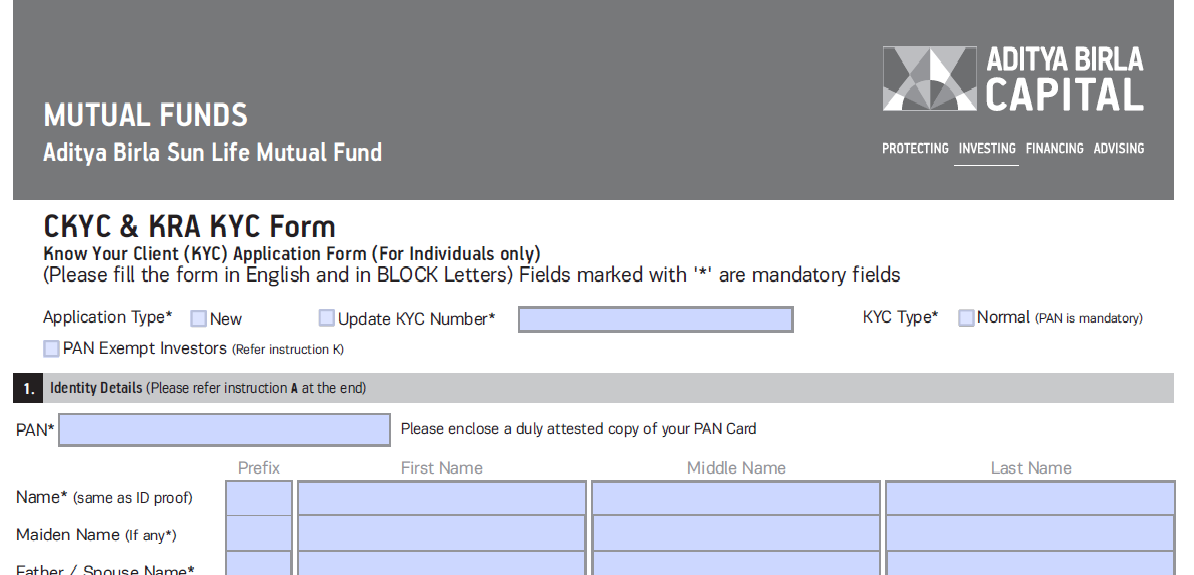 Source: link to the KYC form available on the website of the above mentioned company.
You have to download, fill it up, attach necessary documents (as mentioned in the form) and submit the form as per the requirement mentioned therein.
Method-2
You can also visit Registrar and Transfer Agents (RTAs) like Cams KRA online or KARVY, download the KYC form and follow the procedure to get KYC done.
Link- https://camskra.com/CKYC-Individual%20Form.pdf
Note- Doing online e-KYC through Aadhar has been discontinued by most of the fund houses and RTAs after the recent Supreme Court order on Aadhaar related services. Also doing e-KYC through Aadhaar sets a cap on the amount you can invest and other services.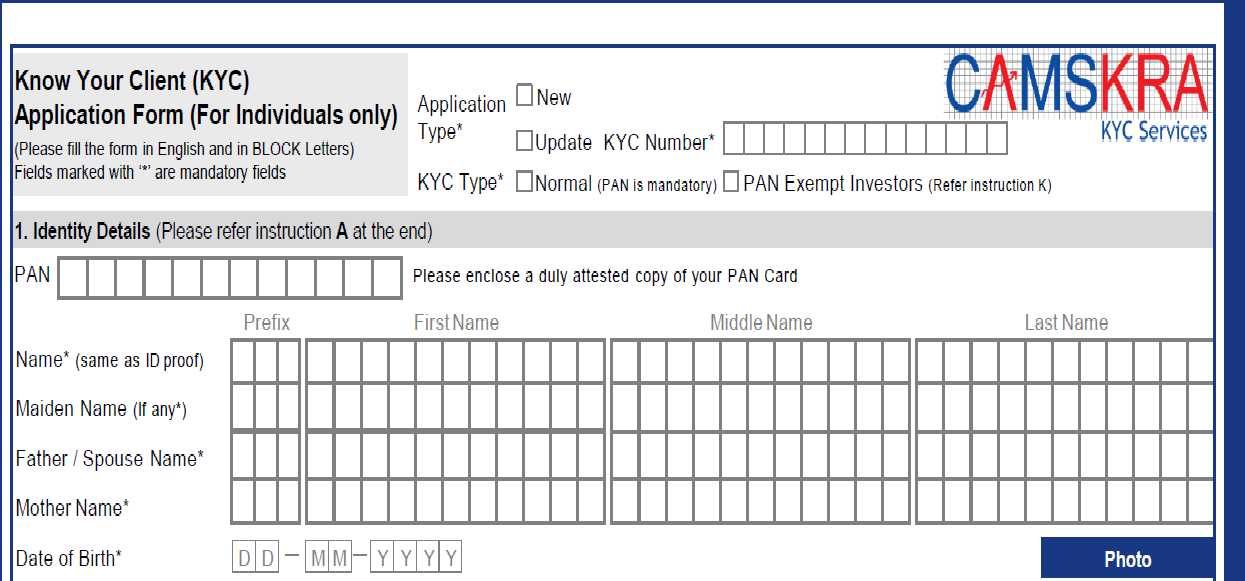 Note- The KYC procedure involves submitting the form physically but the rest you can do it online.
Once the KYC is done, you can start investing. Simple!
Step-2: Select Mutual Fund and Invest.
We have taken the example of Mirae Asset Mutual Fund in this section. Kindly note, that this is just an illustrative example and you can select the mutual fund as per your knowledge.
Visit the website of the Fund House. Go to the section where the funds are listed, as highlighted below in our case.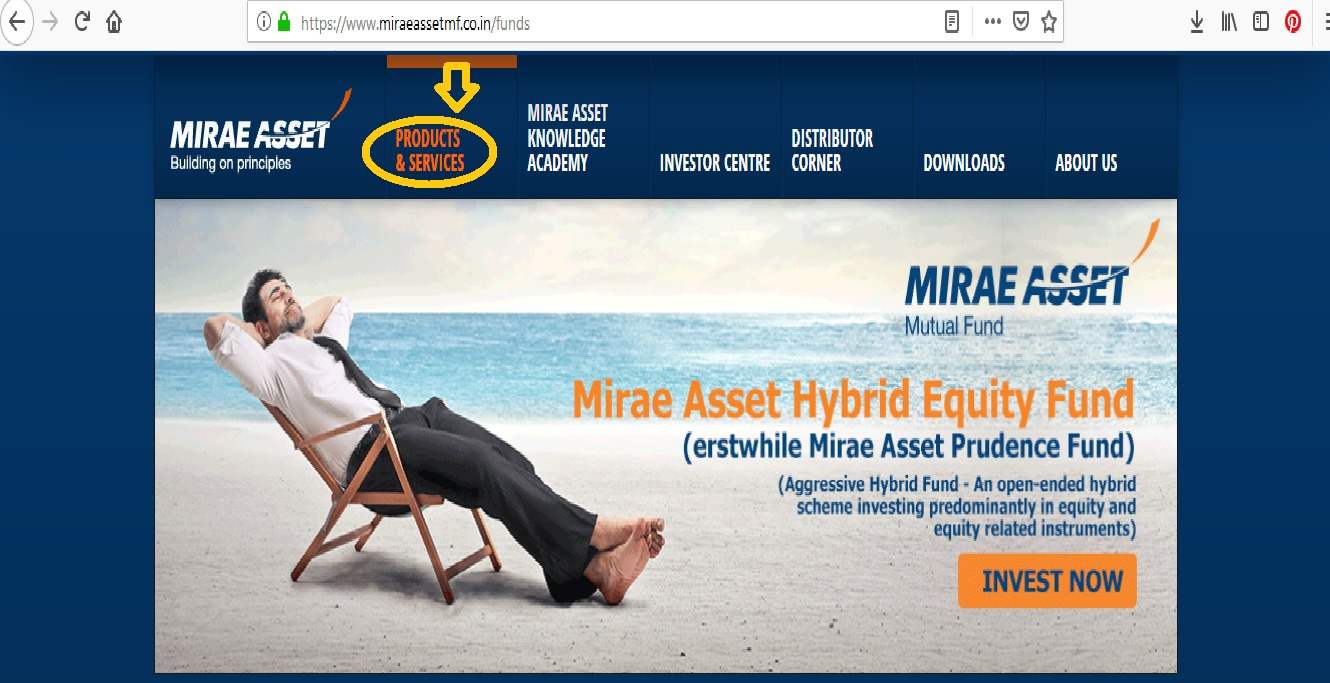 After going through the various categories and funds available. Select the Fund of your choice. In this example, we have selected Mirae Asset Emerging Blue Chip Fund under Equity category.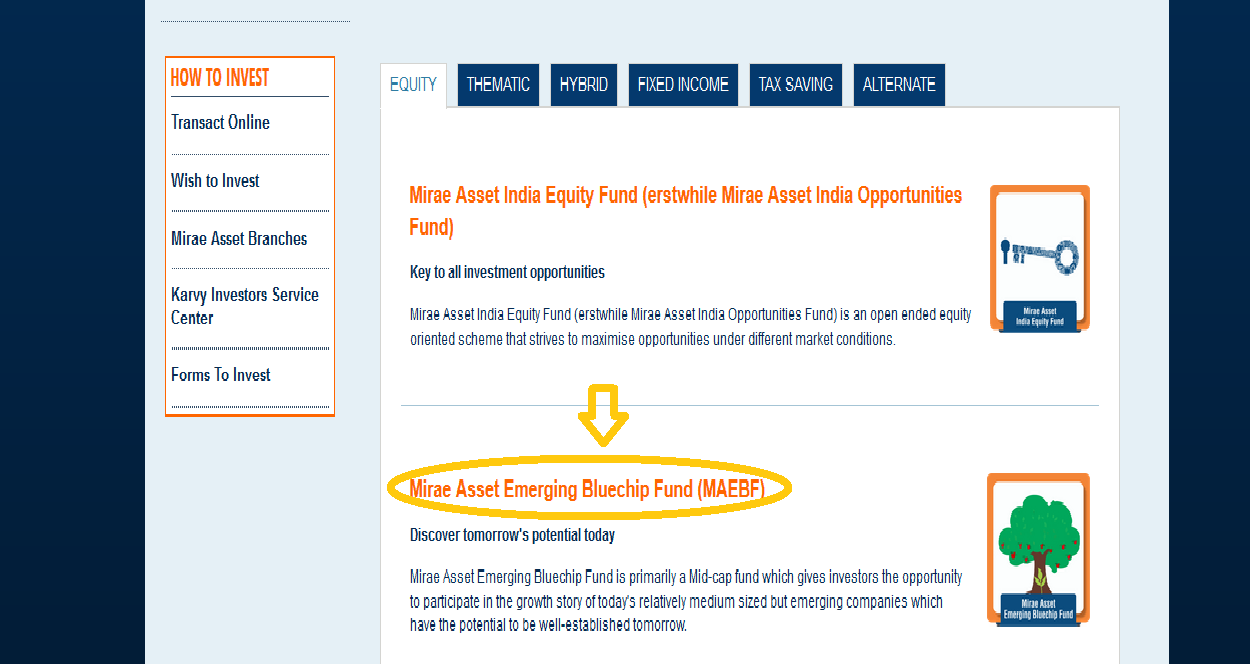 We have assumed here that you are a <New Investor>.Other investor can select the option as per their criteria.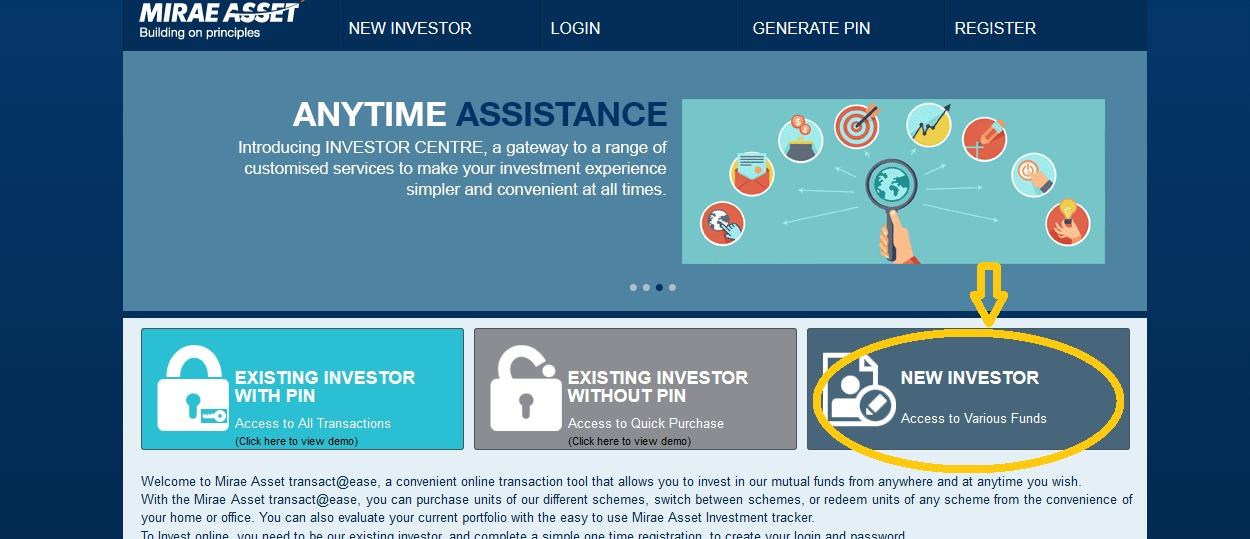 Click on the fund's name to get the detailed information. Once you have decided, click on <Invest Online>.
Based on the type of registration, fill in the appropriate details. In this case, we have entered the PAN. Click on <Create New Folio> after entering the accurate detail.

Then go through the steps one by one. Enter all the required details, as illustrated below.

Enter the required details.

Select the Scheme Category, Scheme Name, Mode of Investment, Scheme Plans, SIP Date, SIP amount. Then enter the Investment details.Enter the frequency of investment like monthly or quarterly.

Enter the Payment Details.

Confirm the details.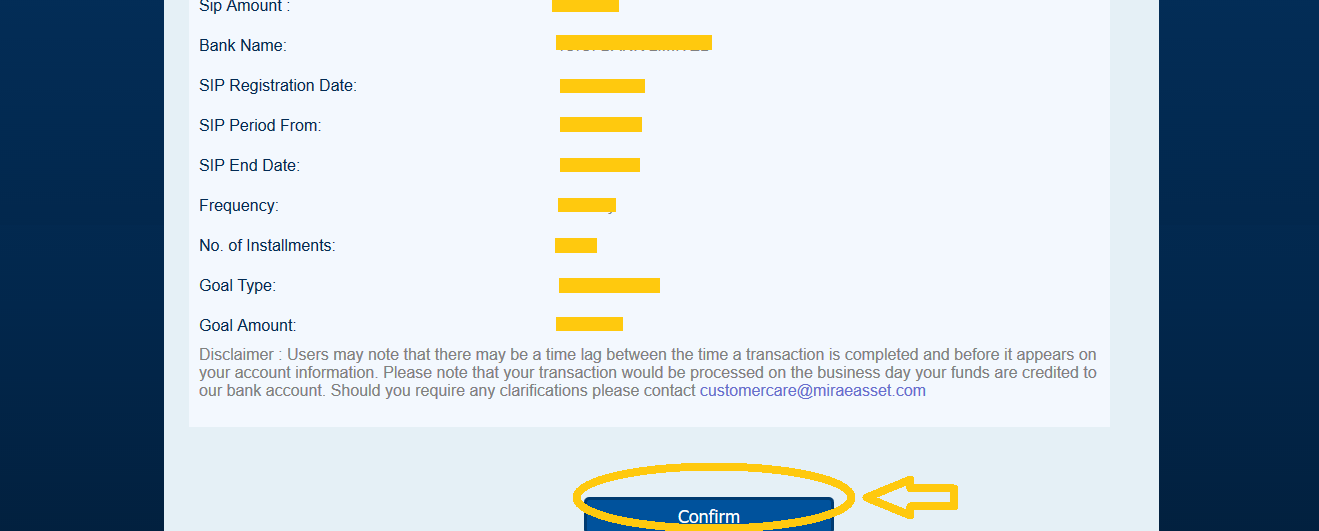 You have almost done it with the receipt of a confirmation message.

Remember the password and folio number to log in and check the status of your funds as and when required by you.
In this way you can select any fund and go to the respective website and follow the same procedure. The form or the options will be little different but the basic format and flow will be similar.
Independent Web Portals
There are other ways like independent web portals offering investment services. Two of them are FundsIndia and Fundsupermart.
You have to create an account with them. Then you can access the funds registered under their website. You can choose a fund from there and continue with the procedure of buying a fund.
Apps like ET Money and Paytm Money allows you to invest in Direct Mutual Funds.
Other funds
You can also invest in bulk, if you do not want to take the SIP route. You can choose the open-ended or close-ended funds. Only people with clear understanding are suggested to invest on their own.
Bottomline
Knowledge and experience are the two power packs that can make you achieve every goal in life.
Mutual Funds are good way to invest in markets but not without adequate knowledge.
In case of any additional content or knowledge on the reading material, please let us know in the comment box below.