Systematic Investment Plan (SIP investment) has, over the years, proved itself to be one of the best ways to create long-term wealth, without affecting their day-to-day lives. This innovation in the mutual funds' industry accounts for discipline and long-term approach in the financial world. If you use this equity mutual funds investment, you get the benefit of rupee cost averaging. It cuts down your cost of holding over a long period of time. To steer clear of market volatility, SIP investment is your financial vehicle. Step up your investment game and learn more about wealth management. Join this certified course: NSE Academy Certified Financial Planning & Wealth Management.
Also read: Why should we invest in Systematic Investment Plans (SIP) ?
When we compare static SIP investment with a step up SIP, we see that a step up SIP has no difference except, the monthly contribution increases yearly during the SIP investment tenure based on pre-set parameters, like a fixed sum or fixed percentage.
For instance, the step up SIP percentage is 10% and the contribution in year 1 is Rs.1000, the contribution in year 2 would be 1100, 1210 in year 3 and so on. The monthly contribution in a static SIP investment remains constant over the years.
You may also read: What should be your Mutual Fund Investment strategy for 2018-19
Why not static SIP investment?
The only issue with a static SIP investment, with respect to step up SIP, is that it does not account for a person's increase in income-earning capacity. Hence, the savings don't remain constant, it also increases with time. A step up SIP covers this aspect in a person's investment and encourages you to contribute more periodically as per your capability, to maximize wealth for you in the long-run.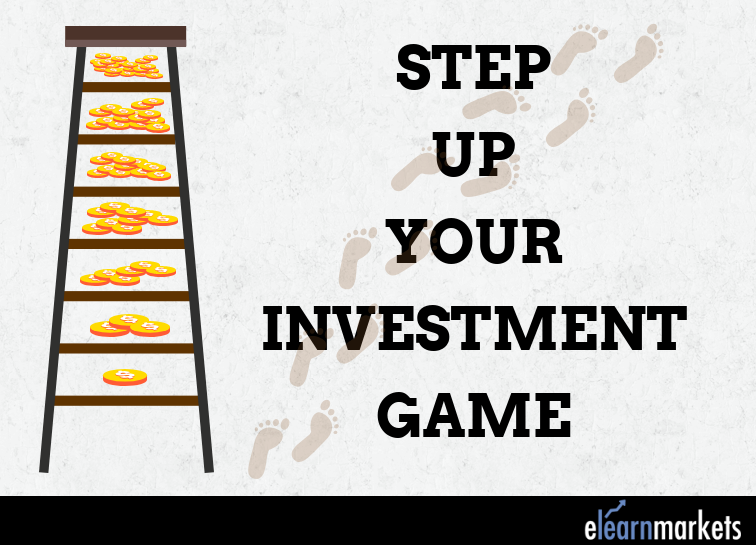 Step Up SIP over Static SIP investment
Step up SIP includes inflation, which erodes the value of money while estimating the wealth. It would be wise to step up any investment with time. Step up SIP does include several advantages over static SIP investment: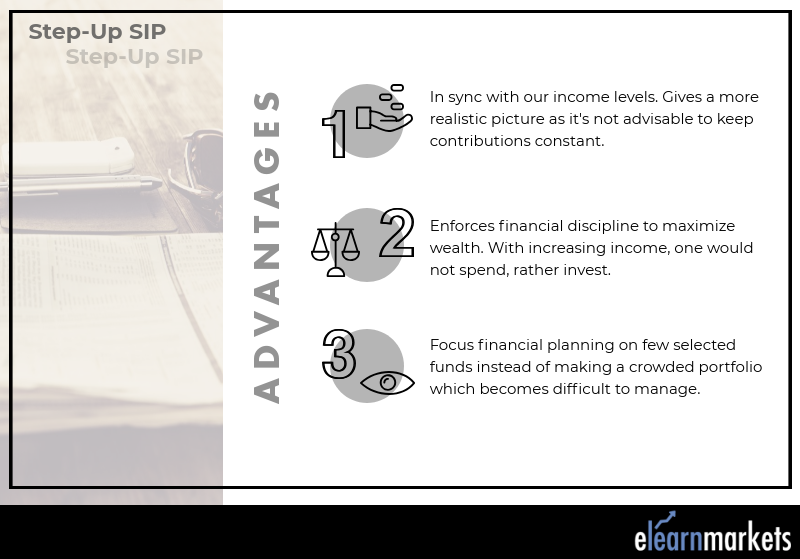 Does Step Up SIP perform better?
Step up SIP incorporates the power of compounding so that the investors can reach their financial goals sooner. People are, sometimes, too lazy to voluntarily increase their SIP investment contribution. They don't integrate their income growth with their investment plan. That's when step up SIP steps in as an automated function that facilitates long-term corpus-creation.
Read also: 5 Steps to Financial Peace
Now let's take a look at the practical difference in returns between the two SIPs: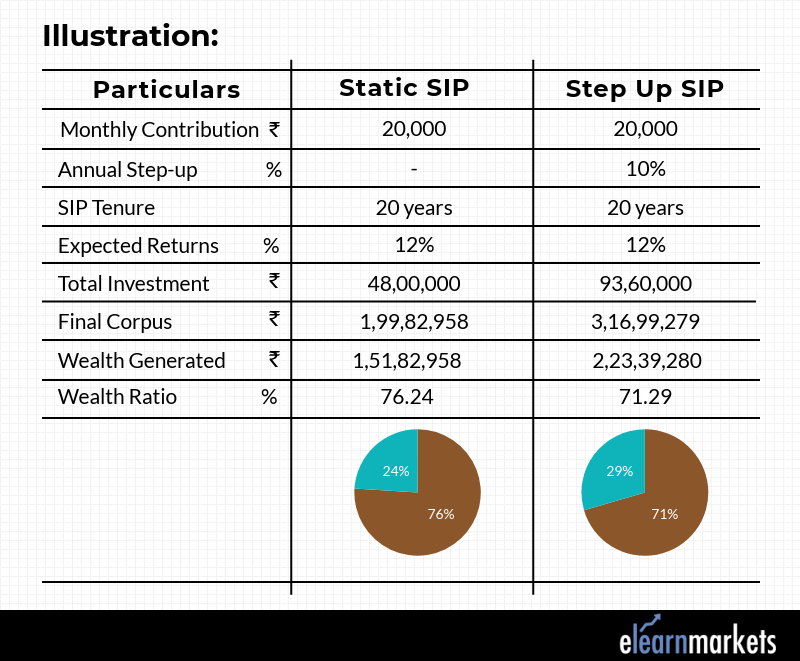 This shows that step up SIP gives higher returns.
You can also calculate returns of SIP investment using our SIP Calculator.
Wait, is it really all positive?
Wealth Ratio is the ratio of wealth generated by the total amount invested. Now, in the table above, you can see that the wealth generated is higher in a static SIP investment than in a step up SIP. This happens because the higher SIP amount in a step up SIP is compounding for a smaller period of time than the lower amounts in a conventional SIP investment. So, step up SIP investments are not able to create the wealth it should. In fact, if you keep increasing your step up SIP percentage, the wealth ratio actually keeps falling.
You can read: Mutual Funds risk- you may not know
In conclusion
We'd like to say, yes, to be realistic and instill financial discipline in our lives, step up SIP investment is necessary. It helps us generate a long-term corpus of wealth and fills the gaps of a traditional SIP investment. Step up SIP makes attaining our financial long-term goals easier and faster. People are not yet aware that a facility to increase your SIP investment contribution exists, due to its lack of popularity. So it's time to step up your investment game!
In order to get the latest updates on Financial Markets visit Stockedge