Listen to this:
The investment process is important for all of us to understand in detail, and picking the right stocks and understanding their performance is an integral part of this process.
Like in my case, I'm sure you too must have been advised by your elders to start investing & savings as early as possible, isn't it?
To me, it's the best piece of advice ever.
But one thing which nobody suggests is that not to invest on borrowed ideas.
But one thing which nobody suggests is that not to invest in borrowed ideas. People have a tendency to invest by listening to others including the "so-called" experts on television, or friends and relatives.
But it may happen that the stock which they are suggesting may be suitable for him/her but not for others since time plays a key role in investing.
For instance, say a stock which looks like a very poor investment process in the short run could actually be a very good investment process for the long term.
The right path would be either to give your money in an expert's hand or rather start with your own research.
Here's what legendary investor, Warren Buffett had to say on the early investment process –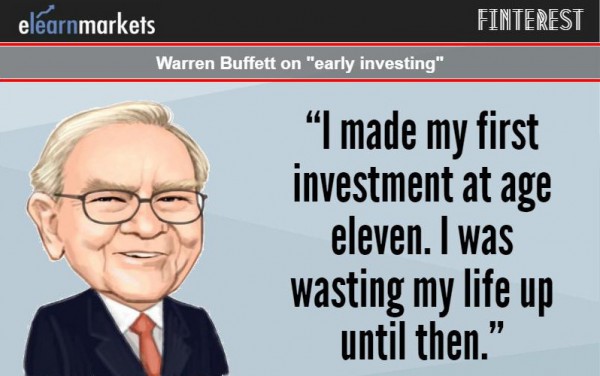 So this brings us to the very first step of the investment process!
Decide on your approach to investing
The first question you need to ask yourself is whether you are acquainted with the art of picking stocks yourself. Stock picking though many make it sound complicated is not in reality. All it requires is time and effort.
So if you have the requisite know-how of the financial markets and are willing to put in the time, then you should definitely choose your investment process yourself.
But if not, then the ideal way would be to hire an expert to do it for you. You can either look for financial advisors and portfolio managers or simply invest through mutual funds. But even selecting a mutual fund requires a tidy effort.
If you are confident to know the intricacies of valuing stocks then the path to start with your research is through fundamental analysis.
So let's understand what fundamental analysis is and why do we need to conduct an analysis?
What is Fundamental Analysis?
Fundamental analysis is a process that attempts to determine the value of a security by focusing on the underlying factors which affect the company's business and its future prospects.
In short, it analyses the economic well-being of a business entity as opposed to tracking its price movement.
Why conduct fundamental analysis?
The reason behind conducting fundamental analysis is to determine the mispricing between the current share price and the price it ought to be.
It is built on the idea that the stock market has a tendency to go wrong from time to time.
So the role of the fundamental analyst is to find the mispriced or underpriced stocks and to wait until the market adjusts the valuation of the company.
Fundamental analysis is the building block of the investment process. Someone has rightly said that you aren't really investing if you aren't performing fundamental analysis.
The fundamental information which we analyze includes the company's annual reports financial statements and other non-financial information which includes an industry overview, growth estimates for the company's product, company's comparative advantage, changes in government policy, etc.
George Soros said-
Fundamental analysis seeks to establish how underlying values are reflected in stock prices, whereas the theory of reflexivity shows how stock prices can influence underlying values
The full energy of fundamentalists is devoted to finding a stock's "true value" or "intrinsic value". Basically, he would purchase the stock if the current market price is below its intrinsic value since he believes that the price will rise someday and move towards its intrinsic value.
On the other hand, if the current market price is above the intrinsic value, he would love to sell the stock on the faith that the price will fall and come towards its intrinsic value.
Understand your reasons and investor profile
This is where you assess some critical points about yourself such as your risk profile, financial goals, and investment tenure.
The approach to the investment process will be very different for someone who relies on stocks for their daily bread as opposed to someone who invests with a 10-year horizon.
A person nearing retirement will not have high risk-taking ability but will have a large amount of savings. So a person like that would want to invest in the top large-cap companies without the need to look for high Beta stocks to seek higher returns.
On the contrary, a young investor would be more aggressive with their investments as they can hold stocks for a much longer-term irrespective of its volatility.
Don't try to time the markets
After completing your research and valuation, if you arrive at a conclusion to make an investment process in stock, then this is advice you must follow.
Don't try to catch the bottom of stock or avoid stocks that are at 52-week highs.
During a falling market with every tick turning red on the stock heat map, a sense of apprehension creeps in. This is where we start the waiting game. We wait for a "perfect entry" when the stock makes a bottom. But no one knows where the bottom will be made. In the end, we just keep waiting and the stock never falls any further.
So what should you do in such situations?
Just invest in small chunks over a prolonged time period. Invest your capital in portions spread across a 6 to 12-month time scale based on your risk-taking ability.
Such a strategy enables you to ride the volatility as your average buying price becomes significantly lower than the highest price in that time period.
Key Takeaways
It's never too late/early to start your investment process.

Investing is an art that requires deep research.

Select your style of investing – Do it yourself or through advisors.
Learn Fundamental Analysis and Asset Valuation.

Understand your goals and risk profile
Invest over a long term period
Happy Learning !