Listen to this:
How to generate stock investment ideas?
This is one of the most searched topics in the investment world. Out of thousands of companies listed on the exchange, it becomes very difficult for anyone to conduct research and decide in which companies to invest. Knowing the basics of the stock market is the first step to being able to invest in the stock market. To learn more about these basics, enroll in the NSE Academy Certified Capital Market Professional(E-NCCMP) course on Elearnmarkets.
There was an interview held in the year 1993 where Adam Smith (author of Supermoney) asked Warren Buffet that how small investors can find good investment ideas.
We all know that Warren Buffet develops his investment ideas mostly from Annual Reports.
But 60 years back, he was a normal investor like us and it was not easy on his part unlike us today where we have modern technology and gathering any piece of data or information is just one click away.
So the biggest advantage to our generation is technology which even Warren Buffet didn't have when he started making his investments.
You must be wondering that which companies to select to read Annual Reports out of so many companies listed on the exchange. Well, you can follow Warren Buffet's advice to start with the A's.
Also Read: Key lessons from letters of Warren Buffett- Part I
Let's make it simple for you-
a. You may start with Nifty 200 list of companies
b. Chuck out companies which are outside your circle of competence. Don't worry if you chuck out a lot of companies in the process.
c. For the remaining companies, start reading annual reports with the companies starting with A (as advised by Mr. Buffet).
Well if you think that practically it's very difficult to implement, here are few other methods to generate stock investment ideas.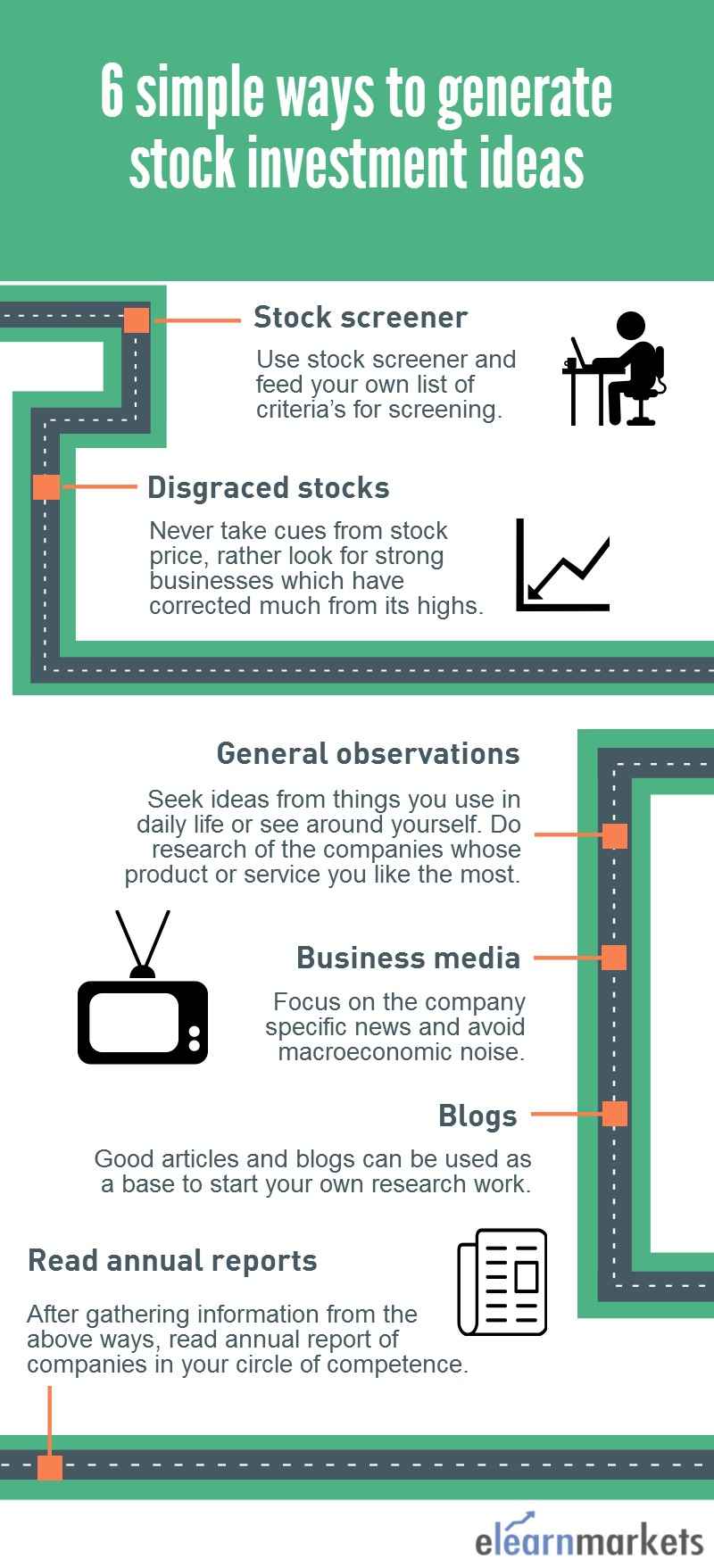 6 stock investment ideas
1. Stock screeners
You can use Stock Screener and can feed your own list of criteria for screening.
Then look for companies using these key numbers.

Here's the result of the above query builder-
2. Disgraced stocks (52-week low list)
Most people have a tendency to avoid disgraced stocks but the contrarian minds always look for beaten-down stocks to find value.
Never take cues from the stock price, rather look for strong businesses which have corrected much from its highs.
Before entering into such stocks always question whether fall in such stocks is permanent or temporary?
3. General Observations
Seek ideas from things you use in daily life or see around yourself.
Do research on the companies whose product or service you like the most.
It's not that you need to be very intelligent to invest in stock market, rather you should keep your eyes and ear open to find good business ideas from the things around you.
Also Read: Basic Toolkit for Stock Market Beginners
Peter Lynch said-
Everyone has the brainpower to follow the stock market. If you made it through fifth-grade math, you can do it.
4. Business Media
In previous blogs, we have told you to avoid reading a business newspaper or business channel since in most cases it has been found that stocks tips and ideas are paid.
Also Read: Business Channels – Information of the Businesses in the Market
But there is little good stuff like Forbes or Mint to look for good business ideas. It's better to avoid macroeconomic noise and focus on the company-specific news.
5. Blogs
There are so many good articles and blogs available online which you can take as a base to start your own research work.
Instead of blindly believing in what author believe in, do proper research work before making an investment.
You may follow blogs like FundooProfessor, Farnam Street Blog etc
6. Read Annual Report of companies
Reading Annual Report may seem to be a time consuming and a boring job.
However, it is a very valuable piece of information about a particular company.
In the annual report, the company's management discusses the important aspects about the company like industry performance, its vision for the long term, opportunities and threats faced by the company, company's historical performance etc.
Know why we should read Annual Reports?
Warren Buffett once said-
We read hundreds and hundreds of annual reports every year.
Check out the annual report analysis of Marico India below-
Bottomline
It may so happen that you are the odd one out doing investments when others are selling in the market, but the successful stock investment is about doing your research properly and invest in the quality business.
If you know well about the company you are investing into and have done your investment properly, there will be a lot of instances where the market will give you immense opportunities to invest just the way market is giving in the current market scenario.
Happy Learning!!