With the mission of the government on "Digital India", all key areas including banking is gradually moving towards digitization. This technological advancement has made banking easier and accessible than before and has given Indian banking industry a new dimension that is Mobile Banking.
With the evolution of online banking or mobile banking or new products like wallets; payment of bills, buying insurance or transferring funds is on our fingertips and it has made our life really easier.
Apart from the technological evolution in banking, the year 2015 has also witnessed the birth of two new private banks including IDFC bank and Bandhan bank.
Moreover, RBI has issued licenses to 11 payment banks and 10 small finance banks (SFBs) to facilitate financial inclusion.
The inclusion of new players will increase competition in the banking industry.
However, this competition is a win-win situation for the consumers.
The entire banking sector has also been witnessing a technological revolution in the past 2 years.
Some of the private sector banks like ICICI Bank and HDFC bank has already taken the lead in providing a cutting edge on the technological front.
Download Free E-Book : Banking Awareness Book for Beginners
The expansion of physical branches has been slowing down since the banks are focusing more on the digital platform and electronic channels.
For instance, State Bank of India (SBI) has opened 451 branches in 2015-16 but in 2016-17, the number has dropped to mere 386.
With the success of Paytm (a mobile wallet player), most banks have also started with wallet services either on their own or by partnering with market players.
Just like SBI has launched its wallet SBI buddy by entering into a partnership with online players like PayPal, Amazon and Snap deal.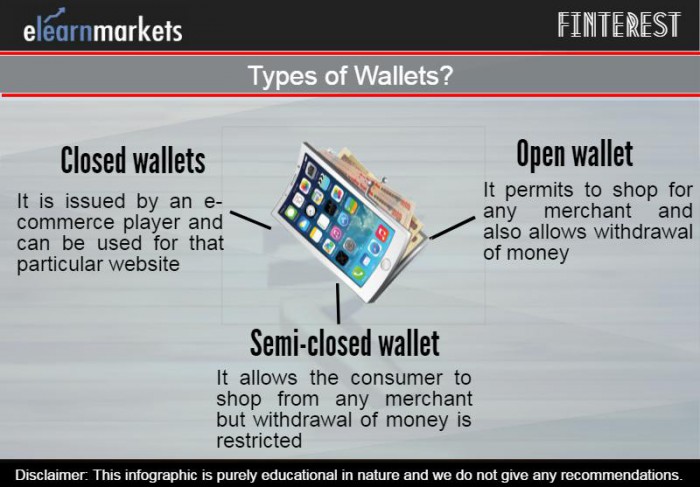 Payment banks
Payment banks are a new category of banks introduced by RBI which provides small savings (up to one lakh) payment services to masses.
The advantage with existing banks is that they have a ready customer base which they can quickly tap in and since customers have a sense of trust with the banks so it's a cherry on a cake.
The payment banks which has received license from RBI includes-
1. Vodafone m-pesa Limited
2. Reliance Industries
3. Aditya Birla Nuvo
4. Tech Mahindra limited
5. Airtel M Commerce
6. Dilip Shantilal Shanghvi
7. Fino Paytech
8. Paytm
9. National Securities Depository Limited
10. Department of Posts
11. Cholamandalam Distribution
Read More: Payment Banks: The New Era of Banking
The other category of new banks is Small Finance Banks (SFBs) which provides basic banking activities like accepting deposits and lending to masses who are either underserved or not served by the traditional banking.
The SFBs which has received license from RBI includes-
1. Janalakshmi financial services
2. Capital Local Area Bank
3. Utkarsh Microfinance
4. Au Financiers
5. ESAF microfinance and investments
6. Equitas holding
7. Disha Microfin
8. Suryoday Microfinance
9. Ujjivan Microfinance
10. RGVN Microfinance
This is a great step taken by RBI as this is surely going to benefit the consumers and make their life easy.
With the advancement of technology, we have smart-phones with 3G/4G connectivity and easy access to internet service.
We can also use our mobile phones for mobile banking.
Many of us think that mobile banking system is expensive, not safe and very complicated.
However, I do not agree with it and I can assure you that once you start using you will forget going to banks.
Want to know the main benefits of mobile banking?Watch the video below:
Mobile Banking
Mobile banking transactions are transactions where customers use their mobile phones to conduct banking transactions using their credit or debit cards.
In short, you can perform various banking functions through your mobile phone just like internet banking.
Most banks do not levy any charges to access mobile banking services.
Advantages of Mobile banking
There are many advantages offered by mobile banking which is discussed below-
1. It eliminates the need to go to a bank and stand in queues.
2. It saves time and is available 24×7.
3. You can make transactions, get balance inquiries and generate mini statement on your mobile phone.
How to use it?

Today most bank offers mobile banking services and you just need to have a savings or a current account to be eligible for mobile banking services.
You need to register your mobile number with the bank to enjoy the service.
The customer has to generate a mobile PIN (m PIN) which is a password for mobile banking and it works in the same manner as of ATM cards.
However if a wrong pin is entered three times, the service gets deactivated for some days.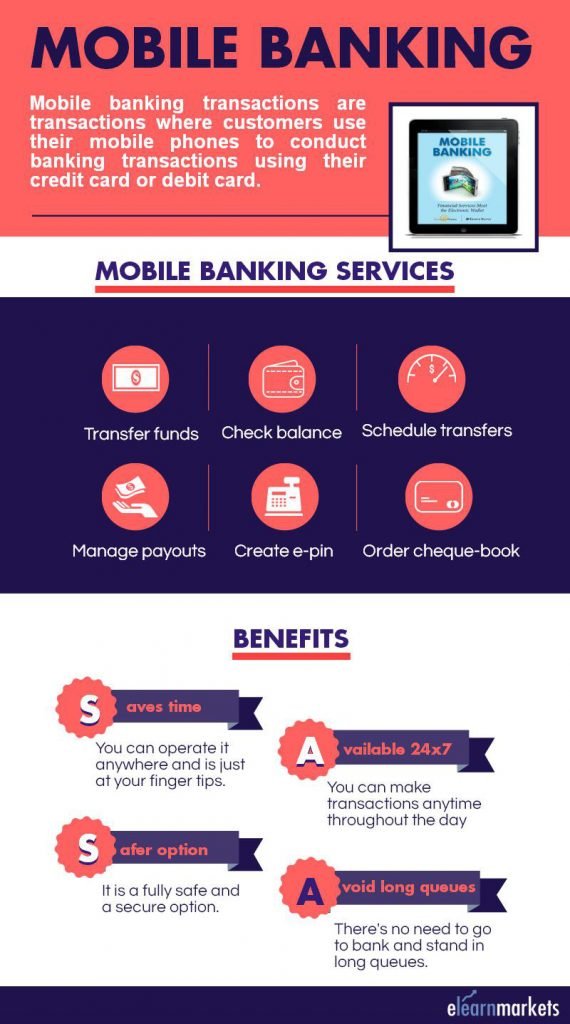 Mobile banking services
Some services which you can conduct through mobile banking are-
1. Check account balance
2. Track recent transactions
3. To make various payments
4. To book railway, flight or a movie ticket
5. Fund transfer
6. Mobile phone recharges
7. Tracking Demat services
8. Order cheque book
9. Open various deposits like Recurring deposit or Fixed deposit
Know More: Managing Investments On Your Mobile Device
Bottomline
People are still not very convinced with the mobile banking services due to the security reasons. However, the two-way authentication process of mobile number and mobilePIN verification have reduced the risks as compared to other transaction modes.
Please do not disclose your mPIN number to anyone and always lock your phone when not in use.
Keep changing your account passwords at regular intervals and remove all the personal account information before handing your phone to others.
You can also do a transaction with your multiple accounts through Payment Banks.
Keep learning!!