Listen to this:
Soon after the ban of 500 and 1000 rupees notes to boldly counter the black money and terrorism, there is a huge cash crunch in the economy.
Payment bank has emerged as a convenient alternative in the wake of demonetization and is a savior to the common people.
Before discussing any further, let's understand what Payment banks are and what services they offer?
What is a Payments bank?
Payments bank is a differentiated bank conceptualized by the Reserve Bank of India with a specific objective of catering to the unbanked and underbanked.
Payments bank aims to service these customers especially those of the lower income group and are expected to meet the remittance and credit needs of the unorganized sectors, small business or any low-income group.
These payment banks accept a restricted amount up to Rs 1,00,000 per customer.
The savings and the current account can be operated by such banks but they cannot issue credit cards and loans.
World Bank reported that India is a home to 21% of the world's unbanked adults.
Though PMJDY has brought reduced the number of unbanked individuals in the country, there are still many who don't have a bank account.
Why Payments bank is a preferred choice?
While opening a normal bank account is time-consuming and requires a lot of documentation, payment bank, on the other hand, is rather quick and pretty simple.
Today where everyone has a mobile phone, one can easily operate the same through the cell phone and need not stand in a queue.
Also Read: How to Open a Bank Account?
For instance, you just need your Aadhar number (which serves as an e-KYC) and your mobile number in case you need to start with Airtel Payment Bank (country's first payment bank).
Also Read: KYC – Know more about your client
List of payment banks in India
Some of the payment banks which received license back in August 2015 are as follows-
1. Reliance Industries
2. Airtel M Commerce Services Limited
3. Vijay Shekhar Sharma, Paytm
4. Vodafone M-Pesa Limited
5. Department of Posts
6. National Securities Depository Limited
7. Aditya Birla Nuvo Limited
8. Dilip Shanghvi, Sun Pharmaceuticals
9. Cholamandalam Distribution Services
10. Tech Mahindra
11. FINO PayTech
Three companies out of these have already surrendered their licenses. The first being "Cholamandalam Distribution Services", then "Dilip Shanghvi, Sun Pharmaceuticals" and the latest being "Tech Mahindra".
Services offered by these payments bank
These payments bank can offer an effective alternative to traditional banking and offer the following services-
1. Bill payment
2. Recharge
3. Wage payment
4. Insurance premium payment
5. Domestic and international remittances, etc.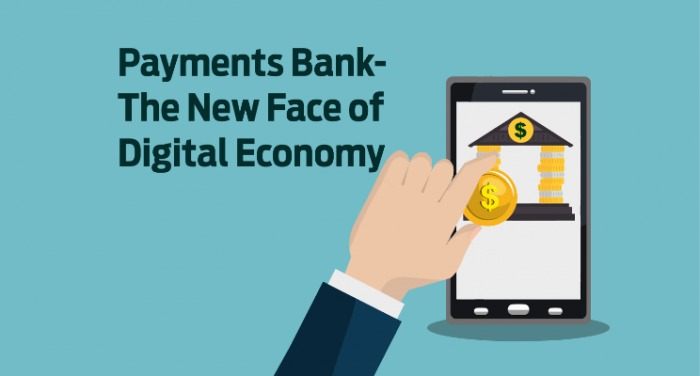 How safe is your money in Payments bank?
A Payment bank will have to invest 75% of its demand deposits in G-Sec and treasury bills.
They have to meet set Cash Reserve Ratio (CRR) and Statutory Liquidity Ratio (SLR) requirement.
Also Read: Important Banking Terms
Moreover, a maximum of 25% will be held in fixed and current deposits with other commercial banks.
Payments bank: The Savior
Due to the business priorities and structure, the banks are unable to cater to all geographies and different segments of the society.
For instance, the commercial banks cannot open branches in every village in the country but this gap can be filled easily with the help of payment bank for which you just need your mobile phone.
Thus these banks are playing an important role in filling the gap in the society.
How are payment banks different from traditional banks?
Payment banks are different from the traditional banks in two aspects-
1. They are not allowed to lend
2. Deposits only up to Rs 1,00,000 will be accepted.
However, payment banks can make a profit by selling the third party products. Moreover, they can partner with the traditional banks for selling investment product and providing loans.
Also Read: Micro ATM: A Savior in the Demonetization Process
Bottomline
Payment banks mostly deal with the low value but high volume transaction. Therefore, Payment banks compliment traditional banks, rather than competing with them.Learn how to do mobile banking.
E-wallets, on the other hand, are simply a medium for making cashless payments where you can't make a deposit, earn interest or withdraw money from them.
Payment bank provides a lot of convenience to the customers. It allows customers to do transactions and perform banking services even after the banking hours and without any pain of going to the bank.
In order to get the latest updates on Financial Markets visit Stockedge