Hindi: आप इस लेख को हिंदी में भी पढ़ सकते है|
Bengali: এই ব্লগটি এখানে বাংলায় পড়ুন।
"Great investors conceptualize problems differently than other investors. These investors don't succeed by accessing better information; they succeed by using the information differently than others." – Michael J. Mauboussin, chief investment strategist of Legg Mason Capital Management
Stock trading (or other markets) is a subject matter of great interest to many. We hear stories where millions are made in markets. There are also instances where people have lost everything. Making money in stock markets is not just a fluke, we can actually learn it. Let's understand a few rules of trading that will help us stay in profit.
Rule 1 – Always keep your trading plan ready
Well, there can be no question of trading without a trading plan. A Trading Plan is a roadmap you would follow to implement a trading strategy or multiple trading strategies together.
A typical trading plan would be setting the target price, following a particular trend & price action, setting the maximum loss you are allowed to book.
Having a hard and fast rule that you will follow under a particular circumstance without becoming emotional about a particular trade is important.
Rule 2 – Approach trading like a business to maximize your business's potential
Trading should be approached as a business. A business has expenses and income. Likewise, trading expenses are the losses and income are the gains.
So, it's not worth mentioning that we must maximize our gains and cut our losses (but still I am). If you find that is not happening for a slightly longer duration, you need to introspect further your methodology.
Rule 3 -Take full advantage of the latest technology
Trading involves keeping yourself updated with the latest information like price movement, charts, tables, and other news so that you are able to figure out the trend. Also, you would not want a situation where your orders did not go through because of some lag in your tools of the trade. So, installing essential latest technology to have the edge is a must and this is one of the basic rules of trading in stock market.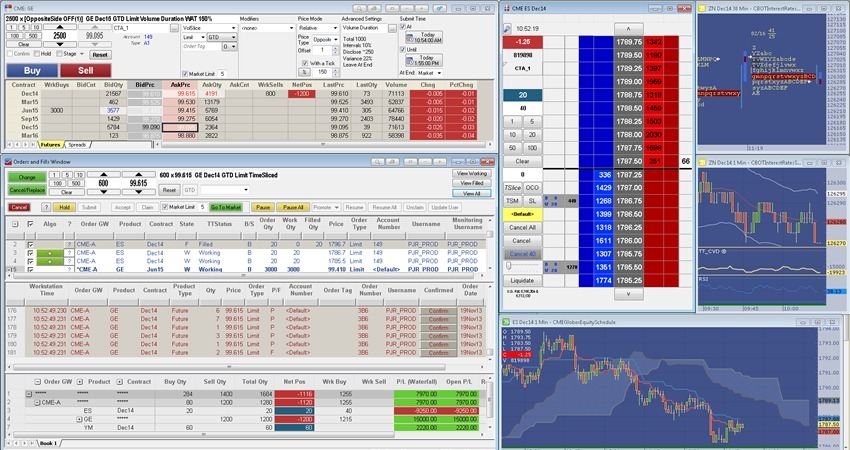 image_source: www.rcgdirect.com
Rule 4 – Follow conservative investment strategy
A Conservative trading strategy would be to protect the downside. Plan your trading strategy in such a way that there is no scope for unlimited losses. In, trading you have to take some losses time and again. But your losses should be calculated and must be included in the trading strategy.
Rule 5 – Focus on learning from the markets like a student
Whether you win or lose, always make it a point to learn something from your trades. Observe, if things panned out as per your trading strategy, if not then what went wrong? Try and note your mistakes so that you do not repeat them. Try to figure out the "Cause" and "Effect". Try to learn about stock market with various tools. Remember "Market humbles everyone". No one is above the market.
Rule 6 – Don't bite off more than you can chew
Trading as we all know is a risky business so let's not make it easier to lose money. There is a "2 percent of the capital rule" which is one way to minimize taking extra risk. If you are using leverage, you should be very sure about it. Notice that your bet size is as per your trading strategy and not 'at the moment' type of decision.
Rule 7 – Build up a sound trading methodology that is worth the effort
Trading is all about rules, methods, discipline, patience and being unemotional. The methodology is your scripture. Thou art not to deviate from your pre-set rules and strategy. You may get away with violation a few times. But, in the long run, you will suffer if you don't stick to your trading strategy. So, working on your trading strategy is the most important act of trading. All the effort you put into that is totally worth it.
Rule 8 – Do not ignore stop loss
We trade to make profits. But there will be situations where things will go against your trading strategy and you will have to book losses so that you survive to fight another day. Stop-loss does this for you. Setting stop loss for every trade is as essential as estimating profit. Always remember, while we aim for profits, we must at all times protect our downside. That will be automatically done another rule of trading that is by not ignoring stop loss.

Rule 9 – Identify the situation when to stop trading
There will be situations where emotions will take over our trading strategy and rules, we set for ourselves. Remember you cannot expect to extract revenge from the market.
For example: If you lost money trading Infosys stock, don't get into a mindset that you'll have to recover your losses from that stock only. Maybe it is not the right time to trade in that stock, so get out of it.
If such a situation arises where you need to stop trading. Then, respect that situation and stop trading. The market doesn't care about someone's ego or expectations.
Rule 10 – Stay focused when trading
"Do not take your eyes off the ball."
As long as you are in a trade, staying focussed is quintessential. Complacency can make you bleed. As it is tough to make money in the market and trust me you don't want to ruin any further by being casual about it.
Being focused increases your chances of identifying trends and other trade indications.
"He was the toughest son of a bitch I ever knew. He taught me that trading is very competitive and you have to be able to handle getting your butt kicked. No matter how you cut it, there are enormous emotional ups and downs involved."
–Paul Tudor Jones, hedge fund manager, on his mentor Eli Tullis
Bottomline
Trading is tough-there is no denial about it. But the most important fact is that it can be learned through training and practice. Learning is possible with a wide range of resources i.e. stock market courses, videos, free ebooks and webinars. Making big money, beating the market is possible if one has the right rules and attitude.