Hindi: आप इस लेख को हिंदी में भी पढ़ सकते है|
Listen to this:
When I started investing, I just knew one method to earn money in the stock market.
Stock picking which meant taking a particular stock, and then blindly following the herd, sometimes luck shines, and at times I ended up exiting after making losses.
Now the truth was, I was missing something more than important in my investments. It was the method of discipline and knowledge and doing stock selection very carefully.
I learned that there are various ways to analyse investment decisions, fundamental analysis is one of the best methods to do so.
As a matter of time, I learned how rewarding are long-term investments for wealth creation and short-term investments for meeting short-term goals.
With reference to this, let us understand to important methodologies:
Top-down approach
Bottom-up approach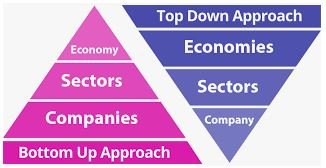 Top-Down Approach of Stock Selection
In this method of investing, the investor's starts the analysis by looking at the
Macroeconomic factors like monetary policy, inflation, economic growth, broader events, before working on the individual stock.
The investor looks for the factors, events prevailing in the market and tries to understand the opportunity that could be derived from it.
For example, The Elections in India is the most talked about event. Therefore, the election is the event/theme which the investor in this approach will look at for capturing the opportunity.
Most top-down investors are macroeconomic investors, focused on capitalizing on large cyclical trends rather than individual equities.
This means that their strategy is more about capitalizing on macro momentum and short-term gains than any kind of value-based approach to find undervalued companies.
Bottom-Up Approach of Stock Selection
In this method of investing, the investors:
Start their analysis by looking at individual companies and then building a portfolio based on their specific attributes.
The investor's tends to focus on the micro-economic factors in this method of investing.
They select their stocks on the basis of their stock selection criteria like price to earnings multiples, debt to equity ratio, cash flows, management quality etc.
Evaluate the analyst reports and other research papers available on those stocks before taking an investment decision.
They tend to buy-and-hold their investments being investors since they invest a lot of time researching individual stocks. This means that their investments may take a longer time to play out, but could be more effective at managing risk and ultimately increasing risk-adjusted returns being focussed more on fundamental parameters.
Key takeaways
There is no single approach that's right for all investors
The decision between top-down or bottom-up investing is largely a matter of personal preference.
The key to successfully using these techniques is identifying the correct criteria and analyzing them in a wider context.
Top down investment criteria revolves around the macros hence takes into account which sector would give returns during a period of time. For eg Farm sector stocks gives return only during monsoon sector being cyclical in nature.
Bottom up investment criteria takes into account micro factors or financial features of any stock and hence invest into it without getting affected from any macros.