Listen to this :
Hindi: आप इस लेख को हिंदी में भी पढ़ सकते है|
Bengali: এই ব্লগটি এখানে বাংলায় পড়ুন।
What do you do when you want to reduce and get into better shape?
You join a gym or yoga class and take steps to achieve that target.
Similarly, to improve your financial health you need to take out time to do financial planning and wealth management and follow some steps to improve it.
To improve your financial health, you need to take out time, dedication and follow the following steps.
To manage your personal finance, you can take help of Kredent Money App
For this we bring to you an Ultimate Personal Finance Checklist:
Below is a personal finance checklist that you can follow:
Personal Finance Checklist:
1. Save for your Retirement
"Preparation for old age should begin not later than one's teens. A life which is empty of purpose until 65 will not suddenly become filled on retirement." -Arthur E. Morgan
We have often heard a lot of time from our financial planner or read in other financial blogs to save for our retirement.
But many young people often ignore this advice and start saving at their late 40s and 50s when they start realising that their retirement is approaching and how would they live without earning.
Therefore, you should start saving for your retirement as soon as you enter your 30s or it will be late.
You will not be able to save that much fund that you planned to save for your retirement.
2. Look into Long Term Investments
You should firstly accumulate money in your savings account so that the fund is available for unforeseen emergencies.
After building a reserve for emergency funds, you can start investing in long term investment tools such as stocks, long term bonds etc.
Long term investments will give you the advantage of compounding and generate more returns in the future.
3. Check Credit Score
You probably may not have any credit history until you have completed your education.
But after you have entered your 30s, you may start having a credit history when you start paying your loans.
It's important to check your credit report for reviewing your credit score.
Watch the video below to know about credit score:
4. Fix Credit Report Errors
After you had reviewed your credit score check if there are any errors or not.
If your credit score is falling, then take steps to improve your financial scores.
It is always better to have a good credit score so that if you ever apply for a loan in the future then you can easily get it from the bank.
5. Make a Budget
Start making a budget which should include all your monthly expenses for keeping track of your finances.
You should keep updating and revising your budget when you incur any kind of expenses.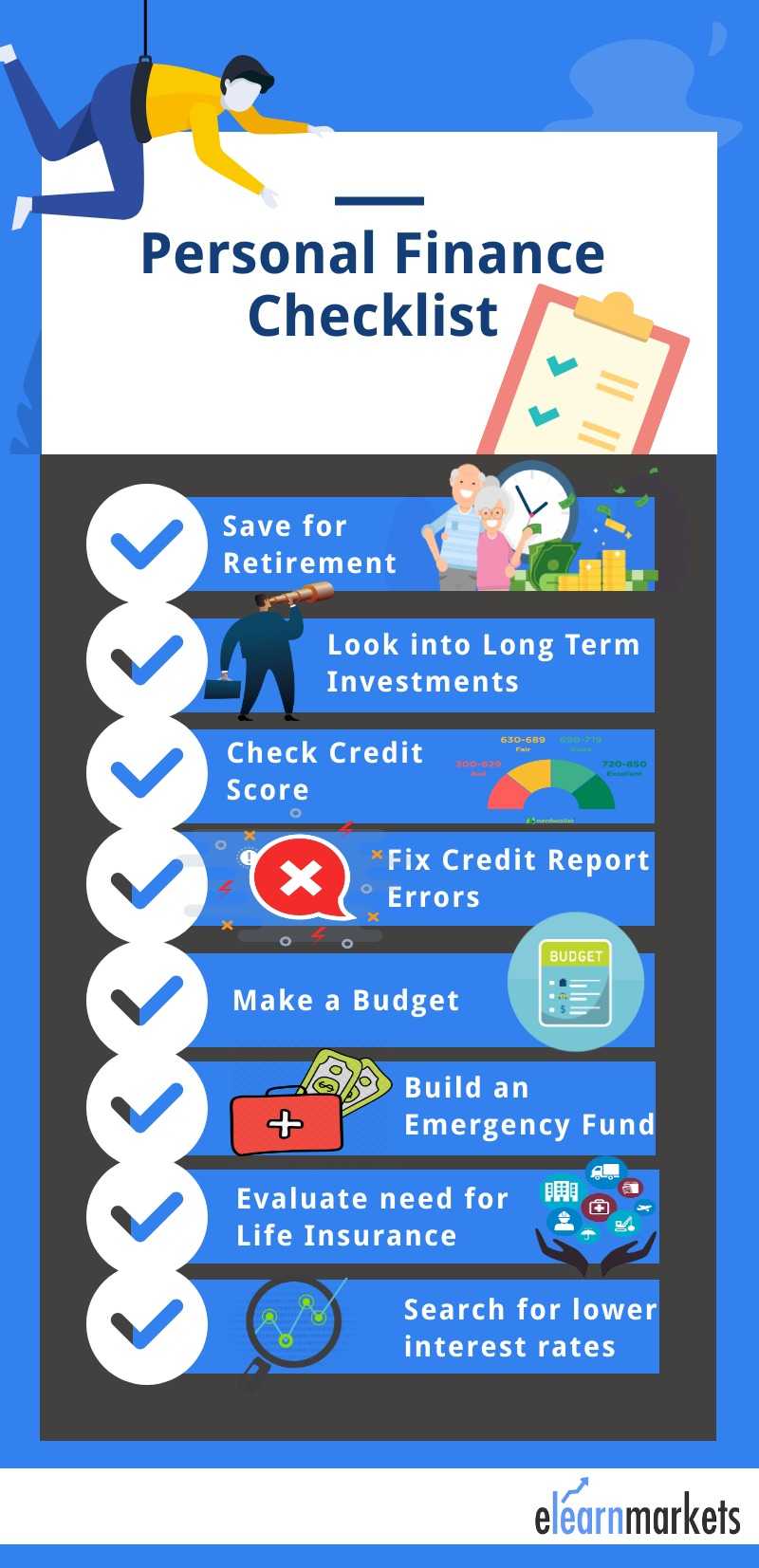 6. Build an Emergency Savings Accordingly
In our lives, there may be unforeseen emergencies for which we should be always financial ready.
There may be a sudden car accident or you may have some kind of illness for which a huge amount of funds may be required for its treatment.
For these kinds of emergencies, build an emergency fund with a sufficient amount of funds.
7. Evaluate the need for Life Insurance
If you are only the only earning member in your family, then you should have life insurance.
The reason behind this is if anything happens to you in future then life insurance can provide financial support to your family in future.
8. Search for lower interest rates
For getting low-interest rates you should have a good credit score.
You should first research the banks that give you the lowest interest rate on credit cards and then apply for it
Once you have taken all the above steps for improving your financial health then make a checklist as shown above.
To know more about how to manage your personal finance, watch the video below:
After making your finance checklist, check on the steps that you have taken and then determine your score.
Remember that as your physical health is in your hands, even your financial health is in your health.
So take out time for it and plan it carefully and properly after doing all the research.