In 2022, the Indian Stock Market outshined the global market instead of conditions of high inflation, rising interest rates, geopolitical uncertainties, covid, currency swings, and FII selling. This year Indian stock market is placed on the bright spot as it has withheld and continues to outperform the global markets.
It has been a roller coaster ride for Global and Indian stock markets, and despite this, Nifty gained 5.6% as of 27th December, even though there was a 10-20% fall in most global markets. Moreover, the Nifty 50 touched a fresh high in the month of November of 18,888, whereas the Nifty midcap gained 7.6% year to date.
In today's blog, let us discuss how the Indian Stock Market performed in the year 2022 and also the stock market outlook for 2023:
The Performance of the Indian Stock Market 2022
Let us see how the Nifty 50 performed this year from the chart below: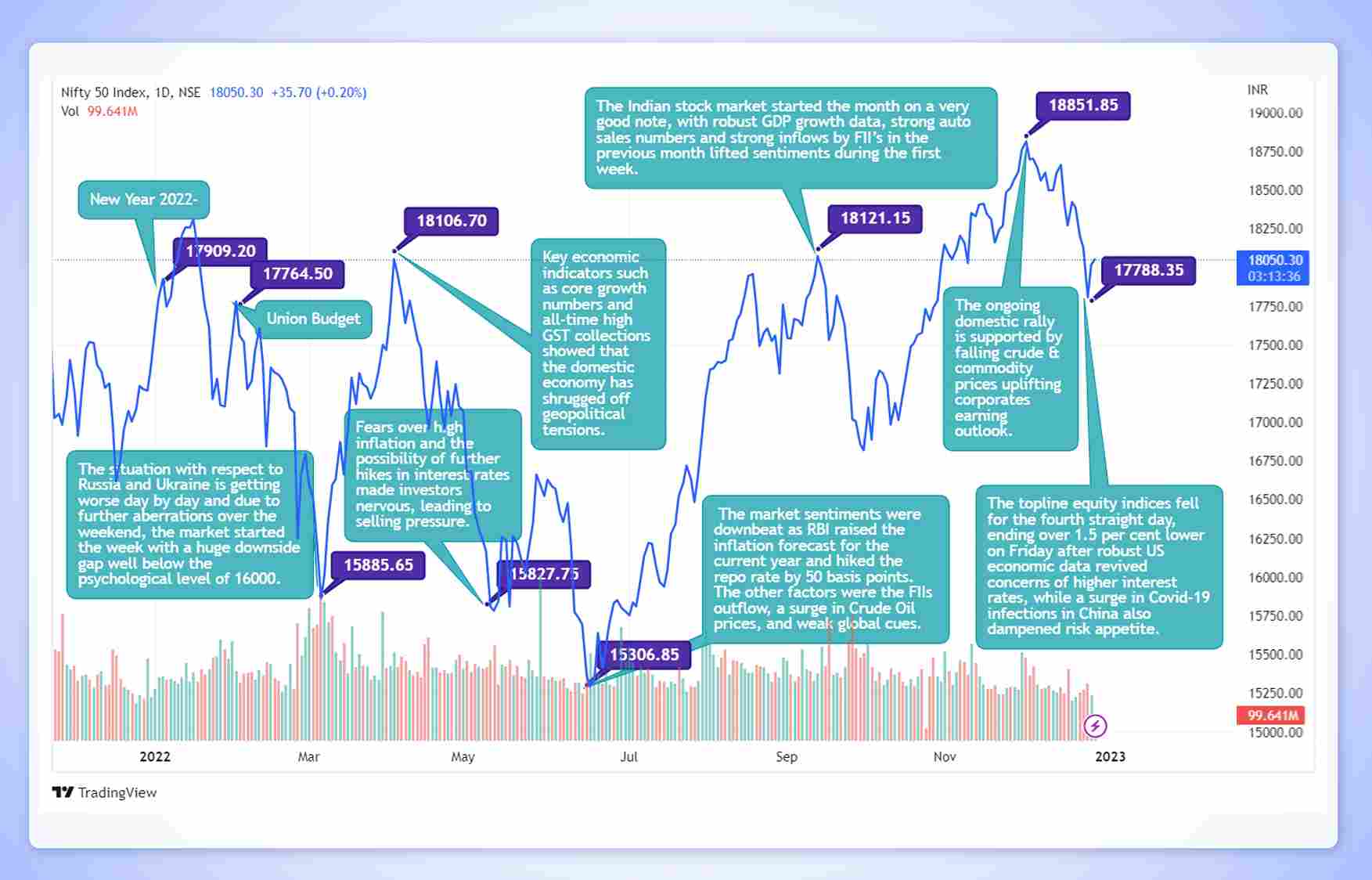 1. Performance of World Indices
Nifty 50 also outperformed its global peers as the index gained about 5.6% year-to-date except as on 27.12.2022: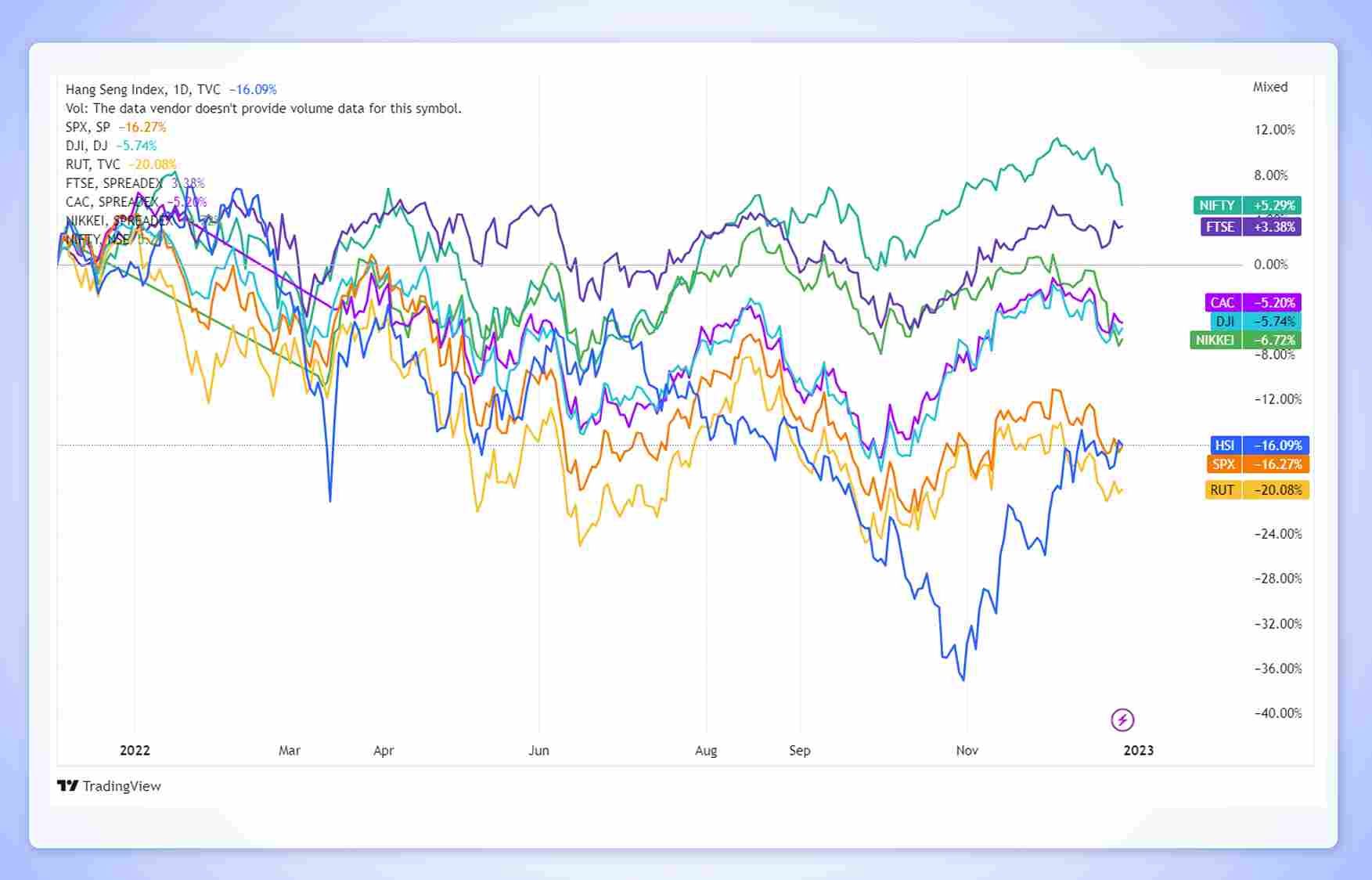 2. Sectoral Performance
Let us see the Sectoral Performance in 2022:
The most gaining sectors in the year 2022 are as follows:
As we can see from the chart above, the Nifty PSU Bank index has outperformed among the sectoral indices, with a strong surge of about 67.4% in 2022.
The most losing sectors in the year 2022 are as follows:
As we can see from the chart above, the Nifty IT index was the most losing sector among the sectoral indices, with a 24.8% fall in 2022.
3. FIIs Vs. DIIs in 2022
From the FII DII Data below, we can see that there was net selling by the FII till the month of June and FII inflows in the Indian Stock Market started from July month:
4. Initial Public Offerings 2022
In 2021, equity and debt fundraising were at an all-time high. Investment in growth equity was also strong as investors sought to grow their businesses and cope with rising inflation globally. In 2022, however, fundraising and Initial Public Offering have slowed following high volatility caused by political tensions between Russia and Ukraine.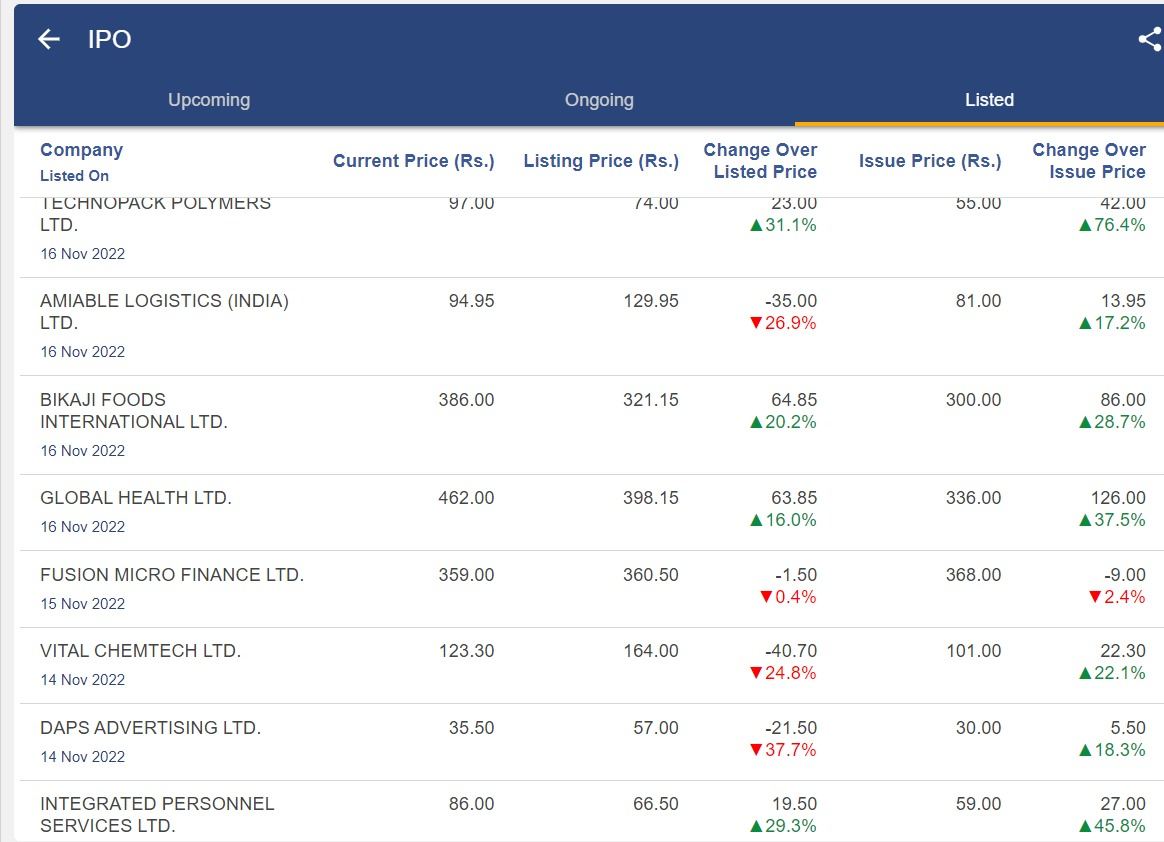 You can check the listed IPOs from the IPO section of StockEdge, as shown above.
Mobilization from debt markets has increased year on year. In contrast, fresh capital mop-up through equity instruments has sharply declined, as volatile stock markets caused by geopolitical tensions resulted in IPO fundraising halving in 2022.
What was the driving force behind India's outperformance?
The main driving forces behind the Indian Stock Market's outperformance are:
The main driving forces behind the Indian Stock Market's outperformance are:
Rise in CAPEX that revived Indian economy from Covid-led slump.
The strong consumption demand – the GST collection stood above Rs. 1.4 lakh crore, while e-way bill generation has remained above seven crores since March 2022.
Stock Market Outlook 2023
The year 2022 has been marred by a series of challenging phenomena, including inflation, high-interest rates, absurd corporate valuations, and geopolitical uncertainties led by the fallout of the Russia-Ukraine war, headwinds in China both on account of the country's zero covid-tolerance policy and political tension with Taiwan — all of which have led to tighter financial conditions and weakened economic activity across the world.
You can also do our course on TRADING MENTORSHIP PROGRAM
The year ahead is set to be challenging for Indian investors. After a year of price and time consolidation, multiple stock market participants have flagged fears of a market sell-off if the risk of recession looms and the proxy war between the U.S. and Russia over Russia's invasion of Ukraine continues. Both these events have shaken the global financial markets throughout 2022 and are bound to impact market participants in 2023.
Consumer sentiment will see an uptick in 2023, and the Indian stock market's performance will be stellar in key areas, including banking, automobiles, real estate, and company stocks with strong fundamentals.
Bottomline
This year 2022, has been suitable for stock market investors. We hope the new year 2023 will be as ideal as this year for retail investors. We hope you found this blog informative and use the information to its maximum potential in the practical world. Also, show some love by sharing this blog with your family and friends and helping us spread financial literacy.
Happy New Year!