Listen to this:
Life is full of uncertainties. Isn't it?
So it only makes sense to safeguard ourselves and our near & dear ones against all odds.
One such safeguard is medical insurance because we all know that "Health is wealth."
But before we help you know more about health insurance or medical policy, we will quickly let you know some harsh truths related to the same:
India's population spends more than 10% of their income on healthcare.
Heart disease is the no.1 cause of deaths in India.
Average cost of complex surgeries can be as expensive as Rs.3-5 lakhs.
So to avoid such financial shocks, investing in a health insurance or a mediclaim policy becomes the need of the hour.
What is a Health Insurance/Mediclaim Policy?
Health insurance and mediclaim insurance is a cover or a security which protects you against the financial burden of high medical expenses.
According to the Insurance Regulatory and Development Association of India(IRDAI), the term medical insurance is a type of insurance that covers your medical expenses. A medical insurance policy is a contract between an insurer and an individual /group in which the insurer agrees to provide specified health insurance cover at a particular "premium"
In India, there are around 34 insurance companies registered with the Insurance Regulatory and Development Association(IRDAI), each offering unique insurance schemes.
Though this ensures competitive pricing of schemes and a huge choice for consumers to choose from, it also makes it difficult for people to select a scheme ideal for them and their family members.
Do Read : How to choose the right Health Insurance?
Since we have already covered Health insurance in the link above, in this blog we will talk about Mediclaim policies extensively!
Difference between a Health Insurance and Mediclaim Policy:
Though both a health insurance and a mediclaim policy are essentially protecting one against hefty medical expenses, there are a few stark differences between the two.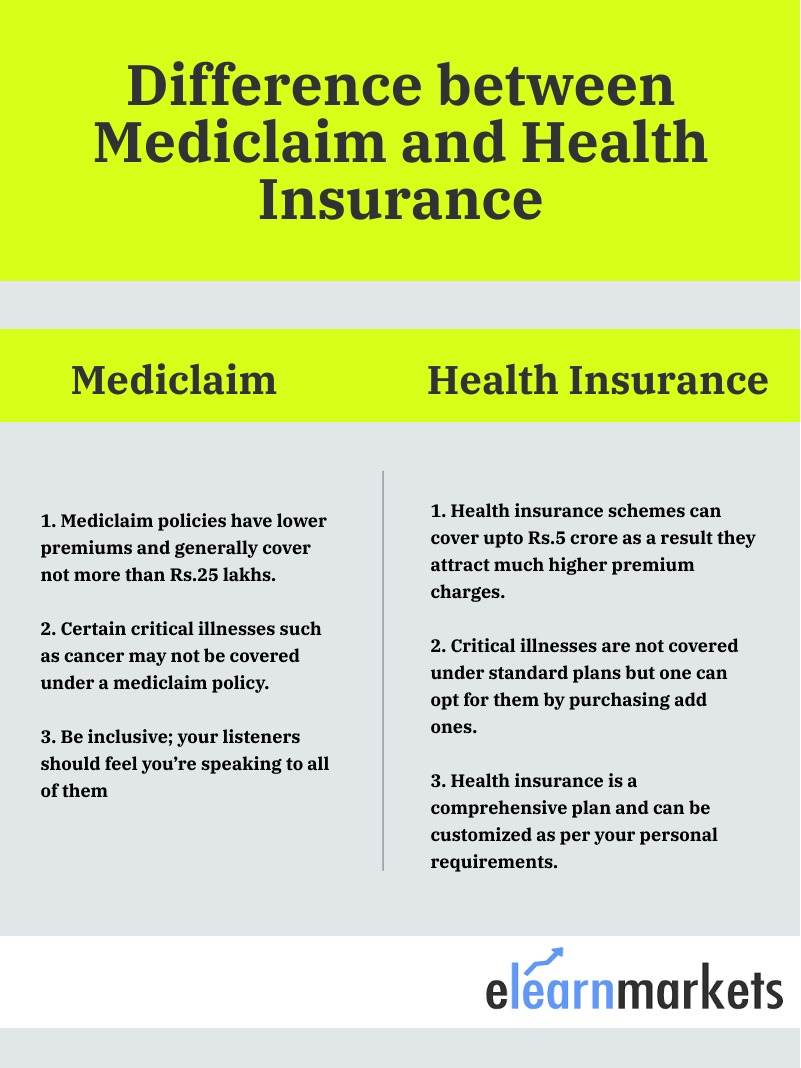 So both policies have their unique characteristics. Mediclaim being a simple yet effective insurance against hefty medical expenses. While health insurance offers a comprehensive protection against all kinds of medical expenses.
Which one to choose – Health Insurance or Mediclaim Policy?
The decision to choose either a mediclaim or a health insurance should be made after accessing a few factors such as :
Your financial condition should determine the amount of premium you should pay each year.
Any particular ailments or diseases you want your insurance scheme to include.
The age and medical condition of yourself and the family members you want to insure.
Important things to know before choosing a mediclaim policy/health insurance policy:
Make sure to read the Terms and Conditions

Room Rent Capping

– Every hospital has different classes of rooms ranging from shared rooms, private rooms, suites, and ICUs. Each room comes with a specific cost with ICUs and suites being the most expensive.
So different insurance policies have restrictions on the type of room you rent out. If your policy only allows payouts for shared rooms, it may choose to not pay the full claim amount in case the patient opts for a private room. So it is prudent to go for plans with flexible room rent caps.
The network of hospitals and medical centers – Make sure to go through the list of hospitals that have a tie-up with the insurance company to offer cashless treatments. It is always prudent to go for an insurance company that has ties with hospitals close to your area of residence.
Claim Settlement Ratio – It is better to go with insurance companies that have a high claim settlement ratio. The claim settlement ratio is a measure of the number of settlements or payments which the insurance company makes against claims.
For eg. a company with a 75% Claim Settlement Ratio, it would mean that out of 100 claims, the company has paid 75 claims.
Taxation Benefits of Mediclaim policy and Health Insurance :
Another good reason to invest in a medical insurance scheme is because the government of India allows anybody who pays a premium towards medical insurance to avail tax benefits under Section 80D of the Income Tax Act, 1961.
The tax benefits one can avail under this section is as follows: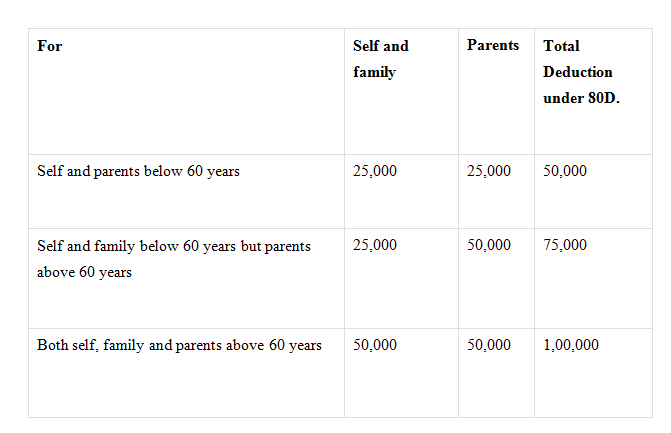 Example: Vaibhav is 30 years old and buys a mediclaim policy for himself and his mother who is 62.
He pays a premium of Rs.33,000 a year for his policy and Rs.37,000 for his mother. Under the circumstances, his tax benefit would be calculated as follows:

Since Vaibhav can claim upto Rs.25000 but his total premium paid is Rs33,000, his deduction benefit is capped at Rs.25000.

His mother can claim upto Rs.50,000 as she is above 60. But her total premium is Rs.33,000 so the total deduction that can be availed is Rs.33,000
Therefore, the total deduction claimed can be Rs. 25000+33,000 = 58,000.
So as you can see, one can avail upto Rs.1 lakh in tax deductions per year if they invest in a mediclaim or a health insurance scheme.
Learn more about the Insurance here
Happy Investing!