Let us discuss about Demand Draft in details:
Learning about the various methods of money transfers is an important part of the basics of wealth management.
Yesterday I went to my neighborhood bank to update my personal details. As I waited for my turn, I noticed a young man struggling with a form. My "always helping" nature landed me asking him about his frustration, to which I came to know that he is a college student and is attempting to make a demand draft for applying to an MBA college. I did guide him, to which I got a smile and lots of feel-good factors. So I told myself to write a blog on "How to Send a Demand Draft?".
Today most of the institutes and organizations accept payments from people in the form of DD instead of Account Payee Cheques.
Why People Prefer Demand Draft over Account Payee Cheque?
The reason being, it is a secure way to transfer the funds than an Account Payee Cheque which has a problem of insufficiency of funds associated with it. For example, when someone wants to apply for a government project, the tender registration fee which is submitted along with tender should be in the form of DD.
What is a Demand Draft?
A DD is a negotiable instrument similar to a Bill of Exchange which is used by individuals to make transfer payment from one bank account to another.
How to send a Demand Draft ?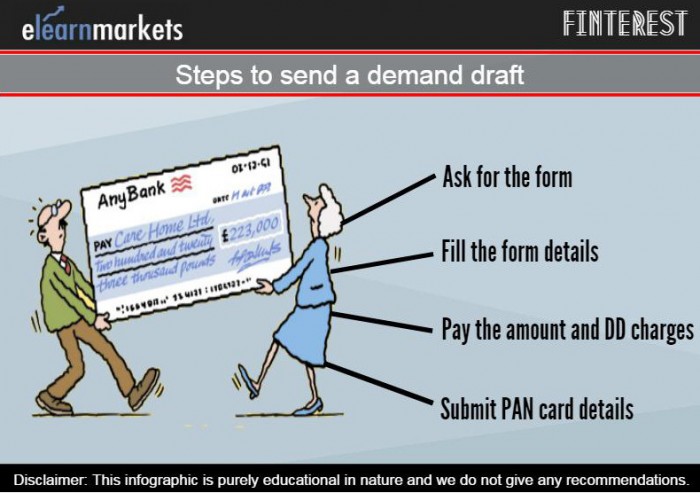 1. Ask for the Form– Visit any bank and ask for a Demand Draft application form.
2. Form Details– You need to fill up the details like the mode in which you want to pay money to the bank i.e. through cash or from your account, the mode in which we need to pay to the beneficiary, name of the sender and the recipient, the amount which is to be transferred and the place where the money is to be transferred.
3. Demand Draft Charges– The bank will provide the DD once you submit the form along with the money to be transferred and its charges.
4. Pan Card Details– The amount transferred if exceeds more than Rs 50,000, then PAN card details need to be submitted.
Also Read: 5 easy steps to apply for a PAN Card
However, the charges vary from bank to bank. In case the DD is for a large sum, it's more sensible to opt for a bank which takes lower charge.
Moreover, it's not mandatory to have a bank account with the bank to send these drafts.
Stay happy and keep learning!!
Visit Stockedge to get Stock Market Information at your fingertips.