Listen to this:
Introduction
The heavy investment driven tyre industry contributes almost 3% of country's manufacturing GDP when the entire automotive sector accounts for 7.1% of the GDP. It is the engine of mobility and the soul of auto sector.
Growth in tyre sector indicates growth in auto sector which ultimately leads to growth in the economy.India produces one of the largest varieties of tyre in the world. The industry is Raw material intensive industry in which raw material alone accounts for 60% of revenue.
Indian tyre industry almost doubled from 30000 crores in 2010-11 to 59500 crores in 2017-18. Global tyre trade is almost USD80 billion in which Indian contribution is about USD1.5 billion.
Market Dynamics
Tyre demand originates from two categories – OEM (Original Equipment manufacturing) and replacement segment. Demand from replacement segment dominates the Indian market contributing about 70% of total revenue, whereas OEM and Export accounts for balance 30%. In volume terms Replacement segment contributes 60% and the balance 40% is contributed by Export and OEM. Consumption of OEM depends on the new sales of automobiles while the replacement segment is dependent upon usage pattern and cycles.
Based on Revenue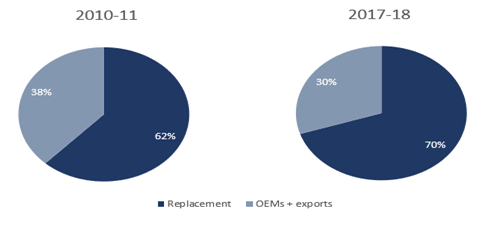 Based on volume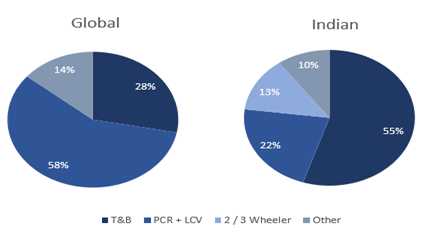 Indian tyres are exported to more than 100 countries and about 20% of revenue is generated from exports. In the overall unit sale of tyres, Commercial segments contributes 21%, two & three wheelers contributes about 55% while the remaining 24% comes from passenger cars. Top three companies MRF, Apollo Tyres and JK Tyres contribute around 60% of market share of tyre industry.
Linkage with the Agriculture Sector
The industry is integrated with agriculture sector, the geographical spread of Natural rubber span from Kerala to states of North-East and the consumption of natural rubber by the tyre industry is around two-third of the total production of natural rubber in the country. India nearly imports 45% of Natural rubber consumption and any enhancement of output will improve the lives of the farmers across the nation and will create higher value for Rubber industry. The growth in agriculture sector and opportunities for farm mechanization can drive demand for agricultural tyres.
Major cause of concern in this industry is the surge in price of major raw material rubber due to Crude price increase or any natural calamity which increases the production cost of tyre makers.
Investments/Expansion
With booming automobile market, tyre industry has invested a staggering 51000 crores on greenfield and brownfield capacities. Companies which have plan to invest in the sector are:
CEAT has planned to invest 4000 crores to increase its capacity by 50% between now and 2021.The company is entering into new segment, OHT (Off-Highway Tyre) with a new facility in Amar Nath.
Apollo has announced 1800 crores investment to setup new plant in Andhra Pradesh for passenger car radials.
MRF has announced to spend 4500 crores over next few years to set up new facility in Gujarat.
Balkrishna Industries is planning to invest 700 crores for greenfield facility in US which will manufacture OHT tyre with capacity of 20000 tonnes a year.
Companies under this sector are:
Apollo being one of the biggest companies in India having a market share of 62.6% in terms of revenue in India. The company's robust and quality portfolio ensured that it leads the market with around 25% market share.
Being multi-national company, it is the largest manufacturer of tyres in India. The company has advance technology with world class facilities. For the past decade it has been ranked as India's no. 1 tyre manufacturer in the customer satisfaction.
JK Tyres and Industries Ltd
The company has established itself as the market leader in Truck/bus Radial tyre segment in India and the only tyre manufacturer offering the entire range of 4 wheeler radials for trucks, buses and cars.
It is India's one of the leading tyre manufacturer with a capacity of more than 95000 tyres per day. Light tyre and truck tyre being the major market share of the company. Major export sales comes from Middles east with about 29% market share.
Currently the company is an OEM vendor for heavy equipment manufacturers like JCB company, John Deree, and CHN Industrial. The company has developed into a global player and currently enjoying 6% market share in off the road tyre segment.
Enablers for improving the Sector
Among the benchmark countries India is the only country that has inverted duty structure for tyre industry. Correcting the inverted duty structure by increasing the custom duty to 25% from 10% to keep it at par with duty of natural rubber will help the domestic companies to be competitive in the global market.To control the dumping of Chinese tyres in India at prices that hurt economically or are uncompetitive for the domestic industry, the Government has imposed Anti-dumping duty (ADD)on truck and bus radial tyre from China.
Countries like Thailand give 100% exemption from Income Tax for eight years on investments made by the company (excluding land and working capital) for promoting its tyre industry to compete in global market. To increase India's share globally, some tax and other financial incentives should be given to export oriented tyre manufacturing units.
Opportunities for Tyre Industry
If India continues to grow at its current growth rate, over the next two decades then the Indian market will see great transformation. Average household income will triple over the next two decades and India will become fifth largest consumer in the world economy by 2025. India is one of the most attractive market with the rise in income of middle class which will drive the passenger car industry and subsequently there will be growth in tyre industry. India is still at its growth stage and government of India is planning to push it to 2 or 3 tier cities which will drive demand for aircraft tyre due to governments UDAAN scheme. This scheme proposes to build 100 new airports.
Tyre industry is an integral part of auto industry. Demand for OEM tyre is directly related to auto production. As per automotive mission plan 2026, Indian automotive industry is expected to grow about 4 times in value from its output of 4.64 lakh crores to 16.16 lakh crores by 2026. Radialisation has emerged as the key factor in contribution to the growth of tyre industry. The passenger car tyre segment has about 98% radialisation, buses & truck segment has 36% whereas light commercial vehicles have 40% radialised tyre.
Growing awareness of the cost benefits, continuous improvement in the road infrastructure and stringent overloading norms and new radial capacities, to increase radialisation levels in the commercial vehicle space by 65%-70% over the next four years.There is enormous scope for radialisation in India and increased investment in capacity expansion will yield significant benefits to this industry.
With the implementation of Goods & Service Tax(GST), things are looking favorable for tyre industry in terms of demand for Original Equipment Makers(OEM) as well as replacement demand, as there is shift in demand from unorganized players to organized which is positive for big players like Apollo, MRF, Balkrishna Industries, etc.
Bottomline
India is one of the most attractive market, with the rise in income of middle class. Government incentive to shift to electric vehicle, will drive the passenger vehicle sales and subsequently there will be growth in tyre industry. Average household income is expected to triple over the next two decades and India is expected to become the fifth largest consumer in the world economy by 2025. Thus this growth would first reflect in auto industry and tyre industry stands to benefit in future under this growth.