Listen to this:
The Indian real estate sector went through a roller coaster ride and was struggling with unsold inventory, low buyers' confidence, delays in projects, and negative cash flows.
However, a number of growth promoting regulatory developments and initiatives announced over the last two years, are helping to revive the sector and is expected to pave the way for strong sector growth in the future.
It contributes heavily to employment generation and GDP of the country. According to a joint report by CREDAI and JLL, India's real estate sector is projected to reach $180 billion by 2020. It ranks as third major sector to influence GDP.
The growth in this sector is augmented by the growth of:
The corporate environment leading to a demand for office space
Rise in urban and semi- urban accommodations
Transition of kuccha to pucca housing, especially in rural areas.
The hospitality sector is witnessing a skewed growth and most hotel chains are planning massive expansions.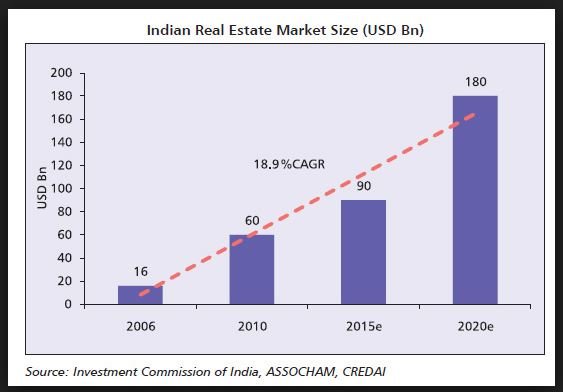 The four sub-sectors boosting demand
Housing Space
GOI aiming "Housing for All by 2022"- robust housing demand and has increased its focus on Pradhan Mantri Awaas Yojana,especially in rural areas
Rise in transition of kuccha housing to puccka housing in rural areas.
Public-Private Partnership policy contributing to address the rise in housing shortage in cities at affordable rates.
Growth in population and rapid urbanization.
Rise in disposable income.
Easy availability of finance.
Developers are focusing more on affordable and mid range categories to meet the huge demand.
Retail Space
Rise in demand due to foray of FDI in multi brand retail.
Growth of consumerism in India.
Organized retail sector is growing by 25-30% annually.
The retail segment is expected to remain steady in the medium to long term backed by strong supply pipeline and growth in absorption rate.
Hospitality Space
Indian and International hotel chains are expanding. Expansion is expected to boost the sector.
Service apartments along with hotel rooms, business parks and even retail arcade are rising under make in India programme.
Tax incentives for hotels and higher Floor Space Index (FSI) are helping in the growth of the hospitality space.
Government's efforts to promote tourism especially in Tier2 and Tier3 cities are generating a strong demand for hotels, especially budget hotels.
Commercial Space
India's commercial space is one of the most well-organized markets in the Asia-Pacific region, with the introduction of Real Estate Investment Trust (REITs) structure it will become more efficient.
Few large players with pan India presence dominate the market.
Change in operating model – shift from sales to lease and maintenance
Rapid growth in service sector driving demand.
Increase in demand for commercial space due to robust business growth and optimism in Indian economy, especially in tier-II cities.
It is the most preferred asset classes in real estate by the investors over the last few years and has attracted about 80% of the total investment made in the sector.
Government Initiatives
The government has implemented several policies to support the sector. The government has also relaxed FDI norms which may translate into more funds inflow. Real estate is the fourth largest sector in terms of FDI inflows and this fiscal the sector witnessed strong inflows. Government support and implementation of various policies lead to transparency and boosted confidence, especially of foreign investors.The Government of India along with various state governments have taken regulatory reforms and initiatives that were aimed at driving transparency, governance and financial discipline required to boost and support the development of the real estate sector. Few of such policies and initiatives are: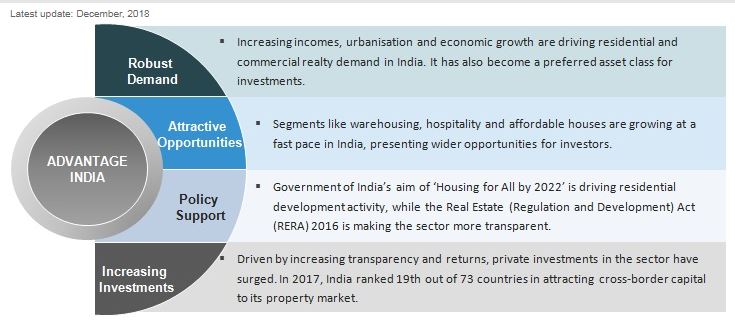 Source: www. IBEF.Org
Policies:
Real Estate (Regulation and Development) Act, 2016
Benami Transactions Act
100% deduction in profits for affordable housing construction
Interest subsidy for first-time home buyers
Change in arbitration norms for construction companies
Approval of Real Estate Investment Trust(REIT)platform by SEBI.
PPP(Public-Private Partnership) Scheme
Credit Link Subsidy Scheme (CLSS) on home loans under PMAY
Approval of 100% FDI via automatic route.
Introduction of GST
Initiatives:
Pradhan Mantri Awas Yojana- "Housing for All" with its two components:Pradhan Mantri Awas Yojana (PMAY) Urban and Pradhan Mantri Awas Yojana (PMAY) Grameen
National Urban Housing Fund
Smart Cities Mission
Bottlenecks
However, the government is required to reform few more policies for better functioning of the real estate sector.
One being the high transaction cost which needs to be brought down.
GST of 12% along with stamp duty of 6-7% is very high and consequently is pulling down the sector demand.
Developer has to comply by Reverse Charge Mechanism(RCM) in GST.Under this a person who is registered under the GST will have to pay GST on all the services and goods that are availed from a person who is not registered under GST.
The dual tax effect has increased the cost and has adversely affected the developers, especially the smaller ones.
Stocks to benefit are: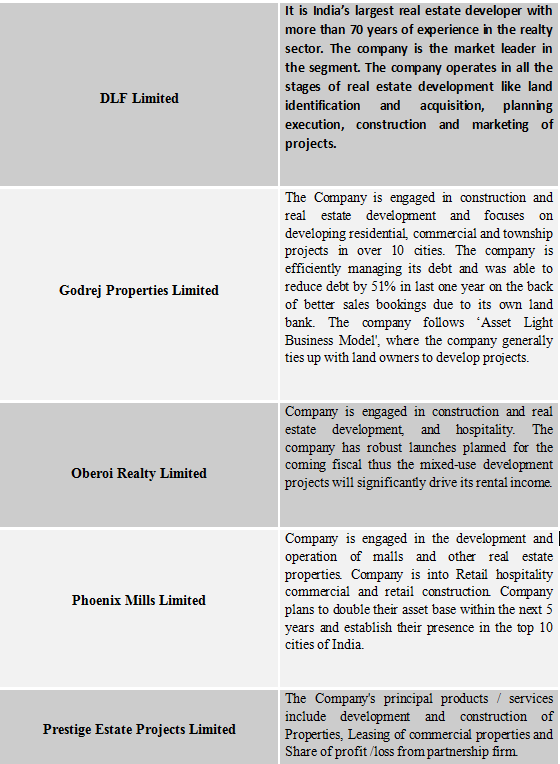 Bottomline
The implementation of regulations and reforms boosted the sector, especially the residential realty.
In affordable housing scheme, the government provides GST subsidy to EWS, LIG and MIG under CLSS at a concessional rate of 8%.
The reforms like RERA and Benami Transaction Act improved transparency and answerability.
It has also brought back consumer confidence and a platform where developers abiding with corporate governance and transparency will continue while non-serious and small players will not survive.