Listen to this :
Multibagger Stocks!! Who doesn't want to invest in Multibagger Stocks and make "Rs. 1 Crore with just Rs. 1,000" right?
Yes! One can achieve this by investing in multibagger stocks. These are equity shares of those companies that generate returns multiple times higher than their associated acquisition cost.
These are stocks of those companies with tremendous growth potential, sound management and good production techniques.
These companies also generate excellent research and development that allows their products to create high demand in the market.
So, in today's blog, we will discuss 7 Factors to Consider when Picking Multibagger Stocks:
What are Multibagger Stocks?
Multibagger stock gives us a return several times the amount we have invested. They are stocks of companies with strong financial performance, capable management, robust cash flows, and a good capital allocation strategy.
For example, companies like Pidilite Ltd., Bajaj Finance, Mphasis Ltd. have achieved potential growth over the years. From below, we can see that the stock price of Bajaj Finance grew by 48.42% in a year and 577.8% in 5 years.
But how do we identify such companies when they are trading at a low price and can be a multibagger in the future? Well, here is the answer:
What are factors to consider when picking Multibagger stocks?
Below are some of the factors that can help you in identifying such multibagger stocks: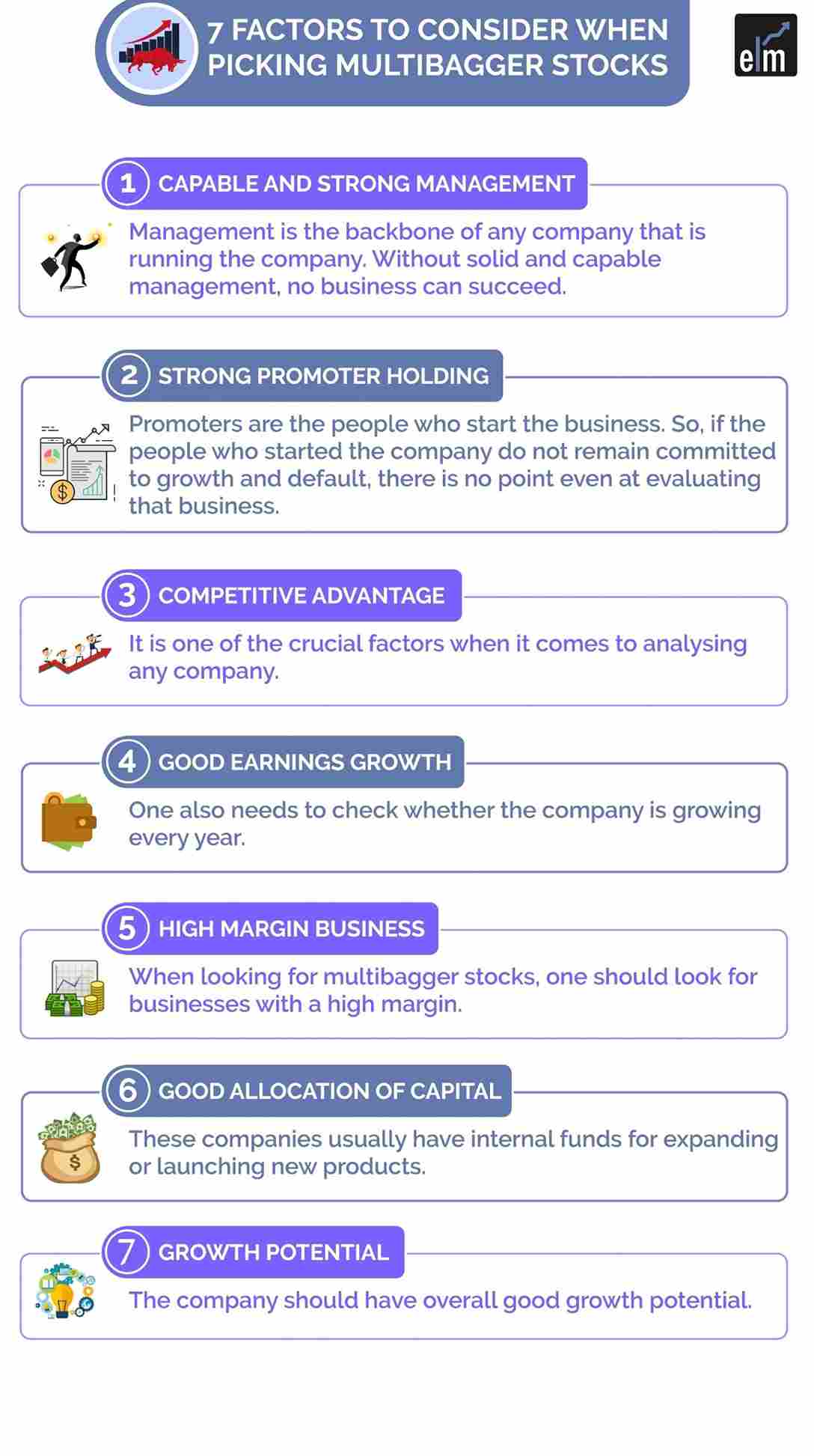 1. Capable and Strong Management
Management is the backbone of any company that is running the company. Without solid and capable management, no business can succeed.
One should look at various aspects when analysing the management of any company, such as corporate governance, pledging of shares, board independence, discipline regarding financial matters and so on.
2. Strong Promoter Holding
Promoters are the people who start the business. So, if the people who started the company do not remain committed to growth and default, there is no point even at evaluating that business.
So, when analysing a company, you should check if the promoter's stake is increasing or not in that company.
3. Competitive Advantage
One of the crucial factors when it comes to analysing any company. In order to grow in the future, a company needs to keep on improvising and keep on introducing new products in the market.
So, to check whether a company possesses a competitive advantage, one needs to see how innovative the company is. This can be done by analysing their research and development wing, patents, and how often they launch their product and services.
4. Good Earnings Growth
One also needs to check whether the company is growing every year. So, when we look at the earnings, we should see whether the earnings are growing or not because of its profitability model, revenue growth model, or capital allocation model.
5. High Margin Business
When looking for multibagger stocks, one should look for businesses with a high margin. These stocks usually have sustainable growth over time and don't fluctuate quarterly.
6. Good allocation of Capital
These companies usually have internal funds for expanding or launching new products. They also have a low debt level against equity and generate free cash flow. This cash flow can be used for future expansions or to pay dividends.
7. Growth Potential
The company should have overall good growth potential. The management should be very vocal about its vision and should be able to explain the steps for achieving the same.
You can check the fundamentals of any company by using StockEdge.
Webinars
You can learn more about how to find multibaggers stocks by watching our webinars:
1. Super Trending Multibagger Bank Nifty Option Strategy by Chetan Panchamia
Bank Nifty is the most trade-able derivatives instrument after introducing weekly options. The presenter is an ardent student of Bank Nifty and has been trading since the inception of the Bank Nifty option contract. The Volatility of Bank nifty will offer the Option Buyers the opportunity to enter into the right strike of options to earn handsomely in the next few trading sessions. In short, the webinar will focus on bank nifty options and share with you the strategies to skill you up with how to trade nifty bank options
2. Learn the Art of Identifying Multibagger Stocks with Latest Examples by Varinder Bansal – Host: Vivek Bajaj
Identifying multibaggers is crucial for long term wealth creation in the stock market. This webinar will focus on the right process that an individual investor can adapt in identifying such stocks. Multiple case studies will be discussed to apply the process in the real market scenario.
3. Guide to Pick Fortune Creating Multibagger Stocks by Suyog Dhavan
In this webinar by Suyog Dewan, people will understand the importance of Potential Multibaggers in Changing Fortune and how the power of compounding helps you to make decisions fearlessly by investing in rare multibaggers.
4. Finding out Multibaggers using Technical Analysis by Jyoti Budhia
The main objective of this webinar is understanding the stock price movement based on market trends, past price performance and volume of the stock. The participants will learn the use of various technical tools to identify stocks for long term investments. The entire process of identification of stocks along with multiple stock case studies will be discussed during the webinar.
5. Multi-bagger Trading Strategy with NiftyBEES by Abhjit Paul
This webinar will expose the participants to the power of timing the stock market. Understand the psychological extremes which trades and investors suffer from and how one can make the most of these panics and euphoria. Harness the power of compounding over a long term investment approach with NiftyBees and other ETFs.
Video
Also watch our video on How to identify Multibagger Stocks? Learn the right process to filter Multibagger Stocks!
Bottomline
One of the tricks of owning multibagger is that you have to be invested in that stock and be patient. When invested in that stock, you are always tempted to sell the same. However, you should be patient and make the right decisions at the right time. We hope you found this blog informative and use it to its maximum potential in the practical world. Also, show some love by sharing this blog with your family and friends and helping us in our mission of spreading financial literacy.
Happy Investing!