Okay, at last, you've taken the decision to put a step forth and make it work for you, be it whatever it takes. Seriously, making a career in finance is one of the most competitive professions all across the global job market.
However, the situation is tad bit stiffer for the entry-level professionals
It is a common scene to find the desks of investment professionals piled up with resumes of candidates who have a handful of degrees and diplomas, thinking they are soon to be the masters in this field.
However, the fact that they fail to understand is that the career in finance is quite cyclical.
To elucidate, when the stock market is booming with high numbers, so does the number of finance profiles in various organizations.
But, unfortunately, when the results seem to dwindle, the listings too go down the drain.
5 ways to start your Career in Finance
Below are a set of 5 such tips that will make it a cakewalk for you to score well secured career in finance profile.
Give them a good glance to increase your employment options.
Start With Some Internship Experience
You might be the class topper in your graduation days or the outstanding student with the most efficiently working project model during the masters, but that's not what the finance firms around the globe want to learn about.
What you need is some hands-on experience to get the hang of this field and the working style followed.
Hence, getting an internship is the most lucrative alternative you should hunt for, at present.
Not only does it provide a learning experience, references and a plethora of networking opportunities, but it will also help you learn the lingo, that's prevalent in the sphere of finance.
For instance, any employer would expect you to know the difference between dividend and dilution, or between DCF (Discounted Cash Flow) and NPV (Net Present Value).
It's time like these when your internship experience pays off in your favor and it gives a boost to your career in Finance field.
Networking Is The Life-Blood
It might seem like a generic point, but networking has immense importance when it comes to building your career in finance. An industry that is more or less based on referrals, knowing more people is the key to finding the right opportunity for you.
Be it the company you target or the employer you've been following on social media, the people in your network will definitely help you find one way or the other to make you reach the destination.
Know More: Career Opportunities in Financial Markets in India
What you can do is participate in symposiums, events and seminars that pertain to finance and investment, meet professionals, businessmen, understand their revenue model and suggest your opinions on various concepts and their application.
Get Done With Your Own Mock Portfolio
You might've heard about the concept of a mock portfolio and virtual investing.
Well, that is what's turning tables for a number of employers in finance based corporations.
Using a trading simulator for the same has also been a trend that is going viral in the industry.
Keeping abreast of the market developments and tracking each update happening with the stocks are the most crucial uses of the same.
This way you can easily flaunt your trading prowess in front of a hiring manager and get that offer letter in your hands.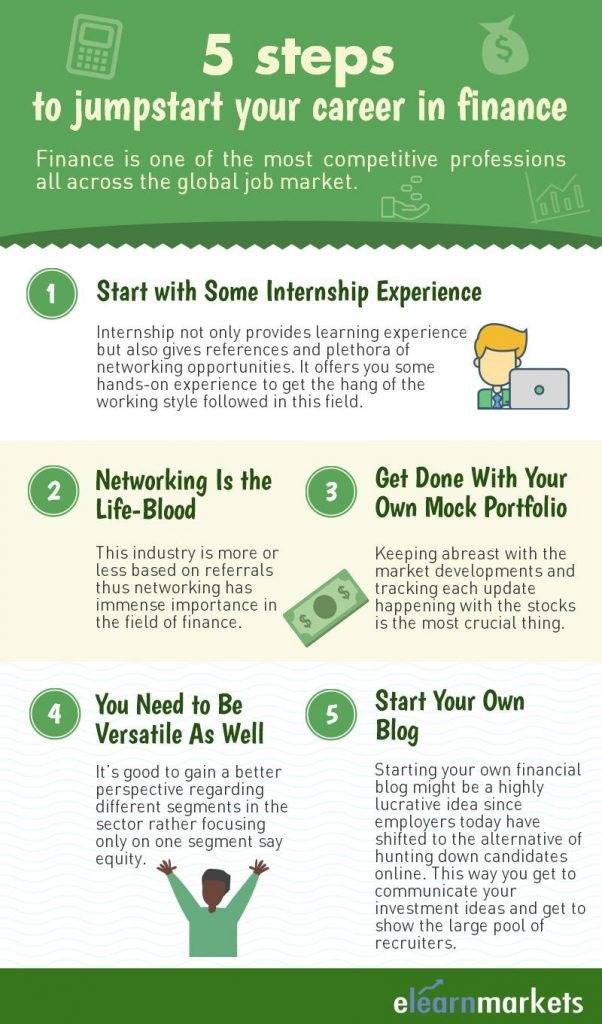 You Need to Be Versatile As Well
Getting all your work experience, training and internships under a stockbroker would only fetch the desired results, if it's stockbroking that you want to choose as a career in the finance profession.
What the employers essentially demands, is for you to gain a better perspective regarding different segments in the sector.
For example, it is 'bonds' that you want to research and an interviewer asks about the same, having worked in the field of fixed income and equities, you'll be able to come up with a far more eloquent answer than the one you make up there and then.
Start Your Own Blog
Instead of going through a huge database of resume, employers today have shifted to the alternative of hunting down candidates online.
In such a case, starting your own financial blog might be a highly lucrative idea.
This way you get to communicate your investment ideas and get to show the large pool of recruiters the acumen you hold in this field.
It's nothing but an effective mode of self-marketing for you to give a snapshot of your skills.
Bottomline
Tips to share might go on till eternity.
However, the right pick has to come from you.
It's all about keeping these little subtleties in mind, rest, the career in finance profession has immense in store for you!