Listen to this:
The financial market has grown leaps and bounds over the years.
Apart from being one of the largest markets of the county, financial markets have also offered a lot of employment opportunities.
Maybe this is one of the reasons that every year, more and more people are thriving to make their career in the equity market.
In this article, we will be discussing the various sections in equity research at length.

What is Equity Research?
Equity research is all about helping investors choose the best investments to make their wealth grow.
These investors can be companies, banks, and even high net-worth individuals.
As an equity research analyst, some of your job responsibilities would include –
Performing fundamental analysis:
Tracking the progress of companies or sectors; and
Valuating companies through various financial models.
What is the Career Path of an Equity Research Analyst?
As an analyst, you will be working in the research division of one of these firms –
Investment banks;
Insurance companies;
Asset Management Companies;
Investment Advisory firms; and
Boutique investment firms (these provide specialized services to a specific category of investors).
These firms can either be buy-side or sell-side.
On the buy-side, you'll be working with investment managers. You'll manage portfolios and make investments to increase your clients' wealth.
On the sell-side, with your research, you'll be assisting buy-side analysts in buying the best securities for their client's portfolios.
Now, let's talk about the hierarchy of a research division in these firms.
As a beginner, you'll start as a Junior Analyst. After getting relevant experience, you'll move ahead in the hierarchy to become an associate, followed by a senior analyst.
The last step in this hierarchy is becoming the head of the research department. As the head, you will be responsible for all the research that the firm utilizes to assist its clients.
What Qualifications are Needed to Become an Equity Research Analyst?
There is no specific qualification that is compulsory to become an equity research analyst.
Graduates in the field of commerce, finance, or investment are usually preferred, but it's not a compulsion.
If you aren't a graduate in any of these fields, you can pick up certifications like those of a Chartered Financial Analyst (CFA) to make yourself eligible for the role of an equity research analyst.
Suggested Read: Which course to opt for- MBA or CFA?
Since this field is quite competitive, it will be better if you acquire an MBA degree or a CFA certification to set yourself apart from the other aspiring analysts.
You can also pick up certificate courses from the National Institute of Securities Market or NISM for short. These certificates include –
NISM Series XI – Equity Sales Certificate Exam
NISM Series VIII – Equity Derivatives Certificate Exam
Suggested Read: Worth of NISM Certificates – Why is it so important?
Many companies often list their own specific set of requirements for this post, and it will be best if you go through those as well. In this way, you can keep updating your skill-set to make yourself an eligible candidate for the industry.
You can checkout our research analyst course as well to enhance your skill.
How to Start a Career in Equity Analysis?
There are two ways you can step foot in this industry – by doing an MBA, or by freelancing.
Why an MBA? In India, investment banks visit the top-notch MBA campuses to offer students internships and job placements.
Internships are quite essential because research divisions prefer if you have some experience in finance before getting a job as a full-time analyst.
After doing the program, you can either get a job from the placements or get it on your own as well.
It isn't impossible to become an analyst if you don't pursue an MBA. Getting a value-intensive internship with an MBA will make your career journey smooth, that's all.
Another way that you can become a full-time analyst is by becoming a freelancer.
Freelancing is a great way to build your resume. The more projects you pick up and complete, the more work experience you'll gain.
With freelancing, you will be able to network with established analysts and earn their endorsements as well.
These endorsements can assist you in getting a full-time job too.
Which is Better for a Career Start – an Equity Research Analyst or a Risk Management Analyst?
While looking at popular job options in the stock market, you might also come across the job of a risk management analyst.
As a risk management analyst, you'll be creating risk models and reports to measure the risk that the firm's assets face.
Both these roles play a vital role in a financial firm and are equally valuable in India. They even have a similar base pay.
While a risk management analyst is a good job option, it plays no part in the equity research department. Therefore, the choice between risk management and equity research should entirely depend on your long-term ambition.
If you want to work in the fields of equity research and portfolio management, becoming an equity research analyst is your best bet for a great career start.
Another point to note here is that you can start working as a risk management analyst and then switch to equity research after gaining credible work experience.
How Should I Prepare for a Job Interview of an Equity Research Analyst?
There are two types of questions you can face in an interview – the general and the technical ones.
Some examples of general questions include –
Tell me about yourself.
What are your strengths and weaknesses?
Why Equity Research?
Where do you see yourself in 5 years?
The best way to answer these questions is to connect your qualities to those which an equity research analyst should have.
For example, we all know that a person should have analytical skills and patience to work in this field.
Therefore, if the interviewer asks you about your strengths, you can connect these points to your answer.
Now, let's talk about the technical part.
In the few days before the interview, you should try to read up all that you can on the topics of fundamental analysis and ratio analysis.
Equity research involves an analysis of the performance of companies and sectors. Therefore, you have to prove to the interviewers that your knowledge base is sound in these.
Some examples of technical questions include –
What is the importance of financial modeling in Equity Research?
Tell us about a company you admire and what makes it attractive?
How do you value a stock?
What's the difference between Enterprise Value and Equity Value?
How Much do Equity Analysts Make?
Becoming an equity research analyst is excellent in terms of pay because of how competitive the industry is.
Just like any other industry, equity research analyst salary in India depend on the following –
Your qualifications and certifications;
Your work experience, if any;
The size of the company you're in; and
Your position in the hierarchy of the research department.
Many established research analysts update their salaries on job networks like Glassdoor, LinkedIn, and PayScale.
With these networks, you can connect with such analysts to know more about working in the industry.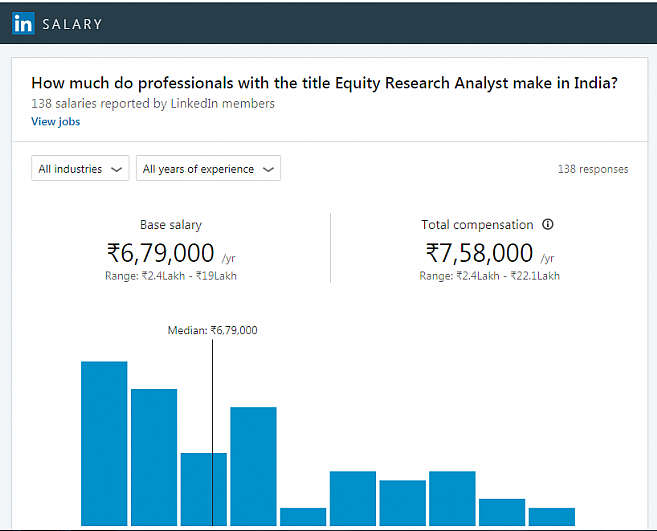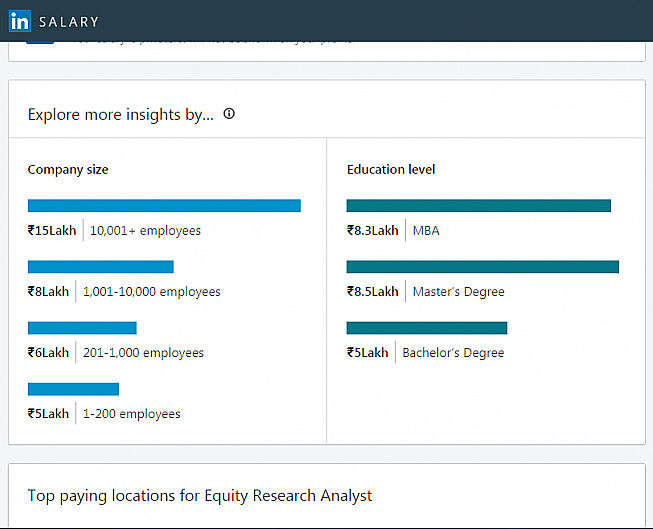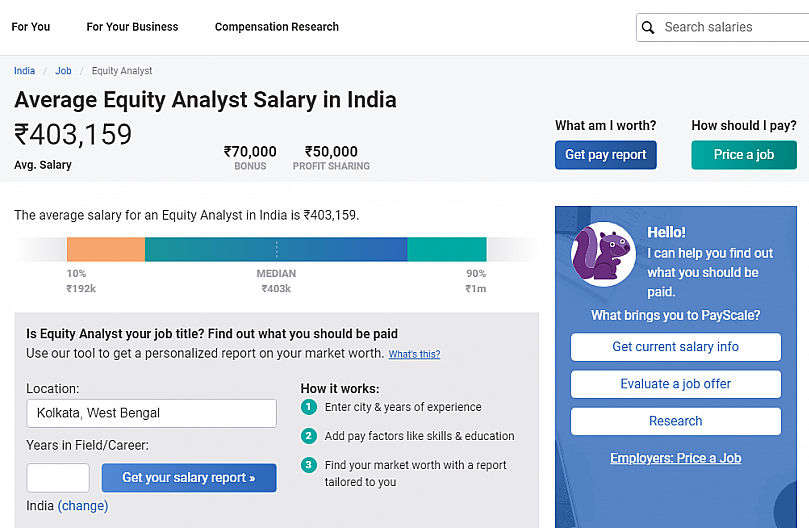 Based on these statistics, we can estimate that the average base salary for equity research analysts, irrespective of work experience, ranges from Rs. 4,03,159 to Rs. 8,29,142 yearly.
How do I find Equity Research Analyst Jobs?
There are two ways that you can find job openings in this field –
Apply to a company directly, via their website or offices; or
Apply through a job portal.
Job portals are a great way to filter out multiple job opportunities that suit you. Some of the most popular portals offering equity research jobs include –
Companies today need you to be Highly skilled. Join our excel beginner to advanced course and be job ready.
Conclusion
Equity research is perfect for you if you are looking for a job in the field of finance that –
Is a part of a dynamic scenario;
Involves analysis and making models;
Provides excellent growth opportunities in terms of pay.
This job will take persistence and effort, but its pay-off is a challenging career journey, which you will enjoy if you have always wanted to work in this field.
Wish to learn more? Then join our equity research courses and enhance your skills!
Happy Learning!