The festival of Holi is all about colours.
On this day, we usually wear white clothes and splash ourselves with vibrant colours all over us.
So in that way, we add colours to our life.
Similarly, How about adding colours of diversification to your simple portfolio?
Just like the bright colours illuminate the festival of Holi, so it is with diversification in case of investments.
So what does Diversification mean?
In simple terms, Diversification means not keeping all your capital in a single investment product.
So what are the benefits of Diversification:
Minimizes the risk of capital loss.
Balances risk-return to your portfolio
Cushion against the bad performance of a particular investment product against the good performing.
Now, let us know about the different investment products that will help us with diversification.
Usually, a well-balanced portfolio should be a mix of both equity and debt.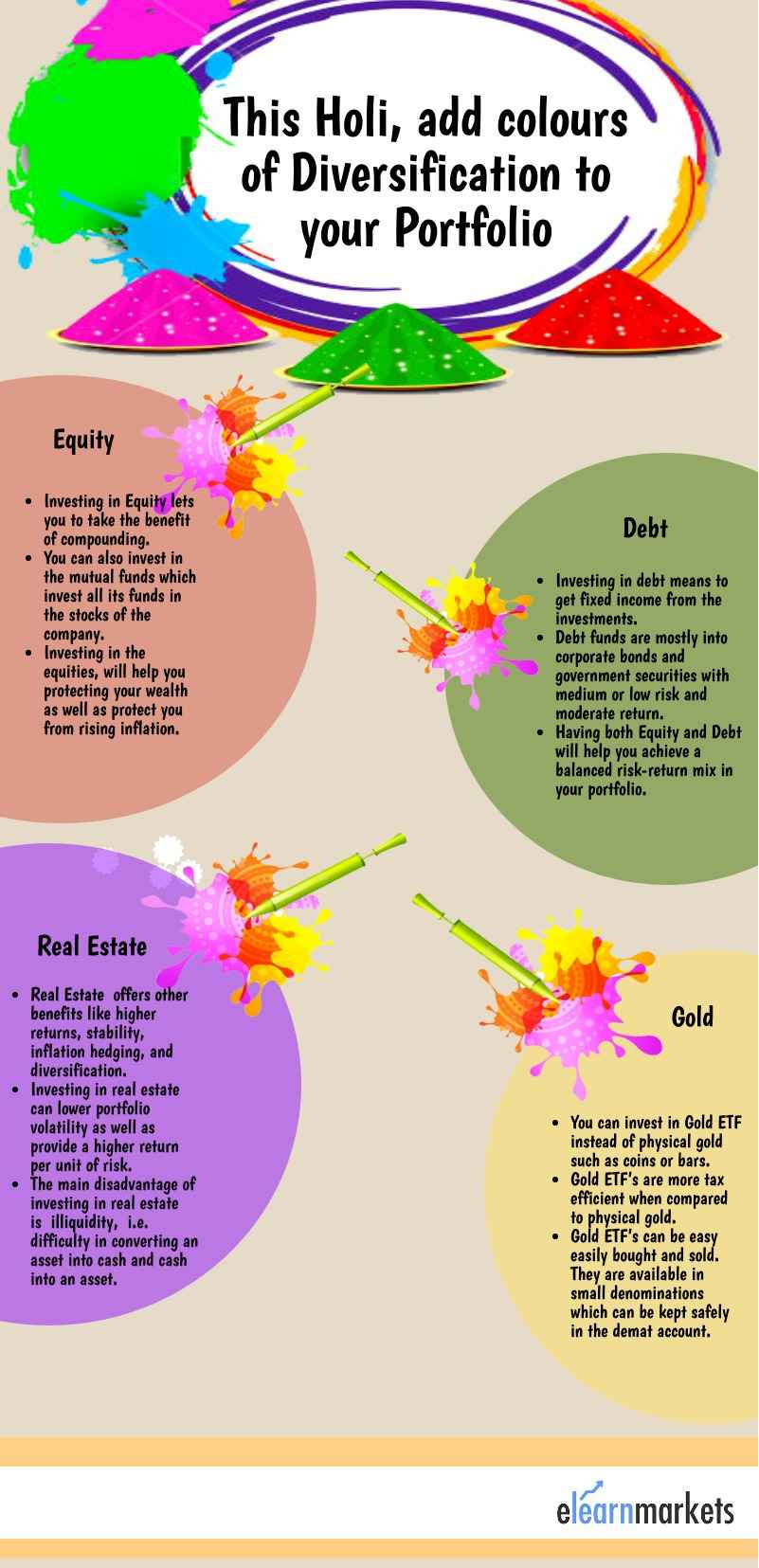 Equity:
Equity is basically the riskiest asset category. Investing here, though means high risk but also high return.
This can be done by investing directly in shares or stocks of the company or mutual funds as well.
The benefit here is:
Long term wealth creation for an investor is one of the benefits of investing in Equity.
In case you are looking to create wealth in the future with exorbitant returns, then equity is the wisest decision.
Suppose you purchase a stock of a company at Rs 100 and its price increases to Rs 150, then you can earn a profit of Rs 50.
If you invest in the long term, say five years, and the price of the stock increases to Rs. 200, then it shows that your money is doubled.
You also receive dividends as well as bonuses, which will further maximize your returns.
In case you are willing to learn as to how to study the companies for investment purpose, click here: Certification in Online Equity Research Analysis
Debt:
Investing in debt means to get fixed income from the investments.
Debt funds mostly invest in corporate bonds and government securities with medium or low risk and moderate return.
Having both Equity and Debt will help you achieve a balanced risk-return mix in your portfolio.
Apart from above, investors can also invest in real estate, gold etc.

Real Estate:
Real Estate offers other benefits like higher returns, stability, inflation hedging, and diversification.
The Real Estate has a low and, in some cases, a negative correlation with other major asset classes.
This means that investing in real estate can lower portfolio volatility as well as provide a higher return per unit of risk.
The main disadvantage of investing in real estate is illiquidity, i.e. difficulty in converting an asset into cash and cash into an asset.
Gold:
You can invest in Gold ETF instead of physical Gold, such as coins or bars.
Gold ETFs are more tax-efficient when compared to physical Gold.
Gold ETFs can be easily bought and sold. They are available in small denominations, which can be kept safely in the Demat account.
A SIP in Gold ETF is an easy way to invest if you want to buy Gold after several years.
Another factor that drives investment in Gold is liquidity.
One of the primary concerns when investing is the ease with which you can buy and sell an asset.
Gold is one such asset that can be easily bought and sold.
Having the right splash of investment products will always add the colours of return to your portfolio, which will eventually help you in wealth creation.
To make this Holi more special for you, we provide you with exclusive discounts on:
Happy Holi!!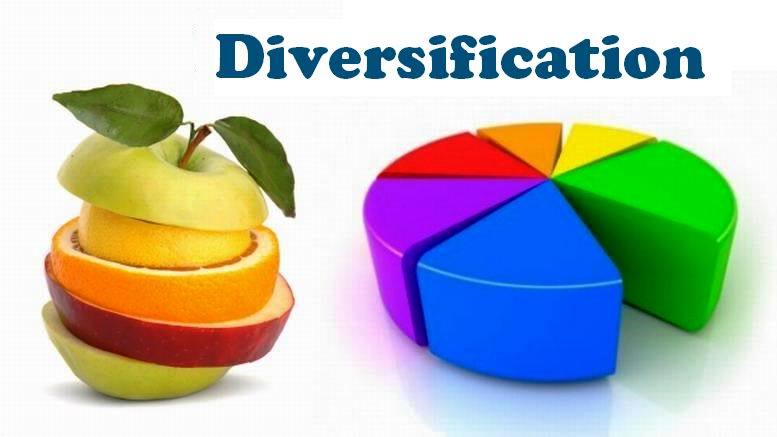 BOTTOMLINE
Visit https://www.elearnmarkets.com/search?search=Portfolio+Management+CFA+L1 to avail the course of Portfolio Management and boost your knowledge before implementing Portfolio Diversification.
Also check Stockedge to get Technical and Fundamental Scans of the financial markets.