Listen to this:
It's no secret that mindful spending of your money and saving from your income is vital to lead a financially secured life. Investment from salary income can fulfill your goals in the future and can help you avoid debt. Good financial habits are always essential for ultimate financial success.
But it doesn't happen with everyone. Many people struggle when they want to plan investments or need to save from salary. It is because they don't plan their budget well.
Are you worried because you are one of those who didn't accumulate good financial habits or spending habits? We are here to highlight the most common financial mistakes people make. And ways to avoid such financial blunders.
7 Bad Financial Habits to Avoid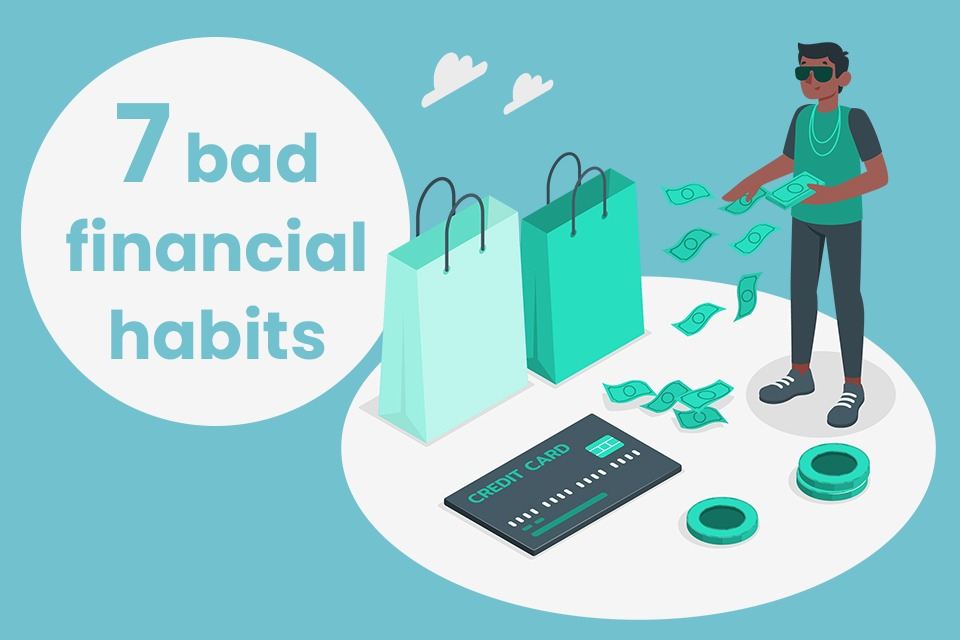 Following is the list of the most common bad financial habits which you need to get rid of immediately.
Biting off more than you can chew:
Spending more than you earn is one of the most damaging financial habits. Getting debts and massive credit card bills will become a routine for you. In such situations, planning investment will be a farfetched dream.

Bad Credit score:
Not paying bills on time is very bad for your credit score. Late payments of bills like water, electricity, or other monthly bills, marks you negatively. This habit can backfire if you apply for a home or business loan in the future.

Credit card as free money:
If your credit card bills and overdraft in banks are enormous, you won't save from your salary. All your money will flow in paying debts and regular monthly expenses. Avoid this scenario as much as you can.

Not Investing:
Don't make the mistake of underestimating your intelligence to plan a correct investment. Start small with investment from salary income and gradually increase your financial acumen.

Not Disciplined:
Our financial habits make or break us. Get rid of your old habits to spend your entire salary on regular expenses and paying bills. Generate automated payments for your bills and savings from your bank account. Online Chit fund platform is one of the smart and innovative ways to save money. Nowadays, there are reliable chit fund companies online, giving you more interest rates than many other investment schemes.

Not increasing your wealth potential:
Stop nagging about how less you earn. Increase your income by doing some part-time jobs. You can also learn a new skill to generate some freelancing income. Investment from the salary income in high return schemes like chit funds can also increase your bank balance substantially.

Living paycheck to paycheck:
Spend less on things as they can give you temporary delight only. Instead, do charity or save from salary to get mental peace and a wealthy bank balance.

6 Bonus Saving Tips
Some bonus tips to help you get ahead of the financial roadblocks –
Question yourself:
Ask questions to yourself. How much are you spending on unnecessary things? How can you control those expenses? Are you treating credit cards as free money? If you ask the right questions, you will know what is going wrong and what you can do to correct it.

Budget:
Write down your daily spending in a diary or spreadsheet. Writing down gives you clarity on every subject. Finance is no exception! This written record will help you track your bad spending habits.

Save and Invest:
Plan an investment according to your goals. Set saving money aside from your salary. Invest in innovative platforms like automatic saving apps and online chit fund app. Utilize modern technology for savings.

Debt cycle:
Don't let it become your habit to take credit from one person or company to pay another. This is a vicious cycle that will never allow you to think about investment from salary income.

Need vs. Wants:
Shopping therapy can be hideous for your planned budget. Try yoga and meditation instead. Make a list of necessary things while going on shopping. Buy only what you need.

Unused Subscription:
Do a timely review of your subscription for OTTs, newspapers, libraries, etc. You should be paying monthly fees for those subscriptions only which you are actively using. Disconnect everything else and save money.
Wrapping Up!
Earning good money is not enough for wealth creation. It's vital to plan investment and to save from salary. Being irresponsible with money leads to an insecure and uncertain future.