Financial literacy is the first step in our journey to a financially secure future. Want to start learning about the basics of finance with us? Join our course to get a Certification in Online Financial Planning & Wealth Management from Elearnmarkets.
A recent survey by Standard and Poor's suggests that 76% of Indians are not financially literate and are unable to understand key financial concepts like inflation, interest rate and compound interest. In Asia, Singapore attains the highest % of financially literate people. In Asia, Singapore attains the highest % of financially literate adults (59%) followed by Hong Kong and Japan (both at 43%).
In India, there is a great disparity among the different states and the rate of literacy are extremely low in the states like Uttar Pradesh, Bihar, Rajasthan etc.
Right to Education Act (RTE) is an Act of Parliament of India enacted on 4th August,2009 suggests that education is our birthright. Financial Literacy is an important area which is missing in our education system. It is seen that most of the people are often misled by their sales or insurance agents. Being financially aware will help the clients to understand the questions and the solutions explained by their financial advisor. Financial literacy is for all ages and it can really change your life if followed in a disciplined way.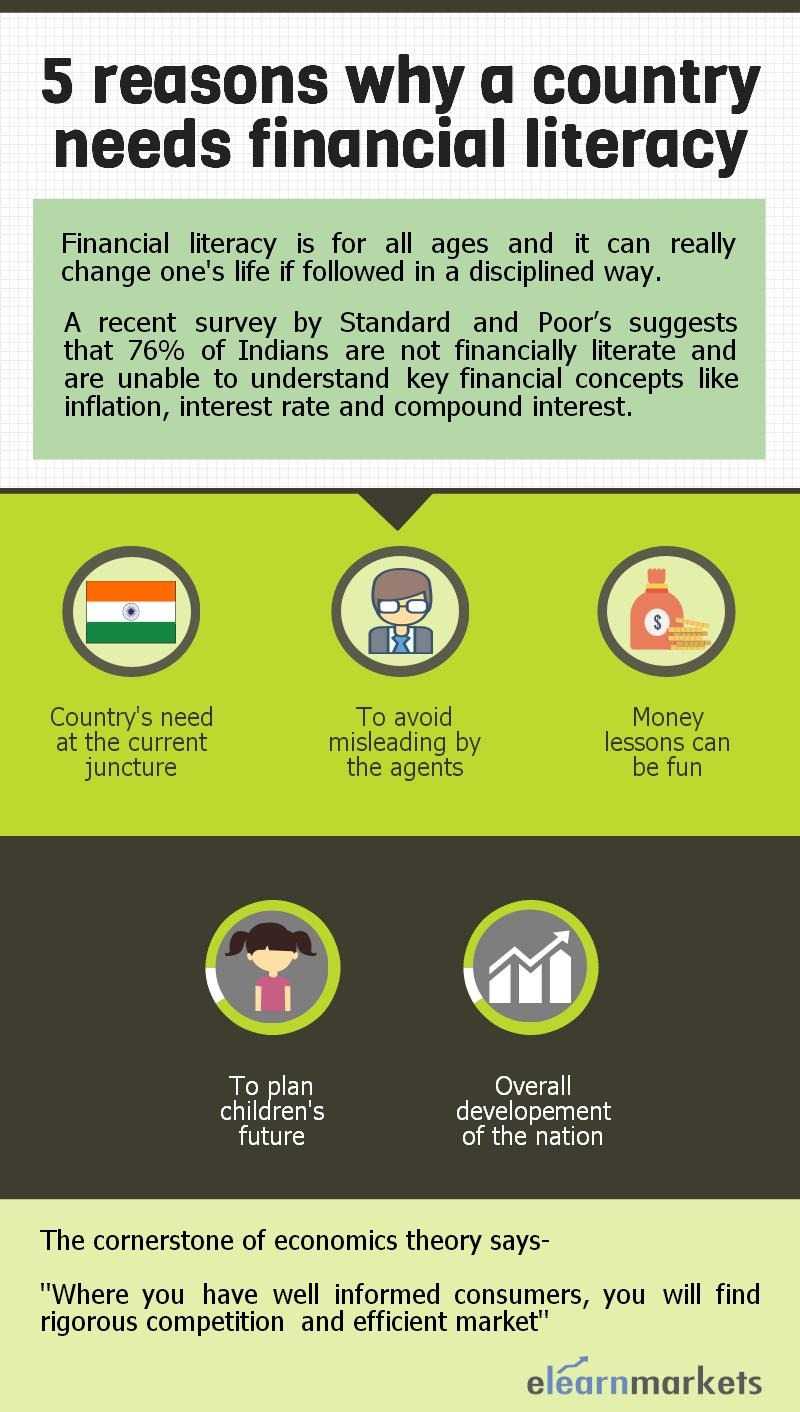 The following are the reasons
Why Financial Literacy is the need of the nation
1. Country's need at the current juncture
The problem of financial literacy is widespread in India especially in the rural areas. A good majority of young people in those areas are unable to answer basic financial questions. It's a matter of great concern since on one side, India stands at second position among the leading nations in terms of financial literacy level. On the other hand, the vast majority of the population is devoid of basic education. It is very important to include financial education in the course curriculum in the schools as most of the senior school students are not aware of basic financial concepts.


2. To avoid misleading by the agents
It is really painful to see when a client is mis-sold a product for some petty benefits by the agents. Gaining financial wisdom would help you in your personal development. It also helps in understanding your financial advisor's explanation or some agents advise and deciding whether to buy a particular product or not.
3. Money Lesson can be fun
It involves an ongoing lesson which cannot be learnt overnight. These lessons can be really fun at times like discussing about the people who had made or lost lot of money. You can probably opt for Complete Course on Stock Market where you will not only learn the theory from the very scratch, but also enjoy the practical learning sessions under the guidance of experts. So before entering into the real world of Stock Market, you are well informed about different areas of market. It will also help you in choosing that which module is more suitable for you so that you can specialise only in that particular area.
4. Parents need to plan their children's future
Someone has rightly said that "Education starts at home". It is the duty of the parents to educate their children regarding the basic lessons of finance. But in India, the vast majority of parents are not educated enough to guide their children and hence it is very important for the parents to keep learning. The parents need to impart the lessons in a simple but in an interesting way which could be in the form of a story. We all have grown up by listening to the stories from our grandparents and it's a great way to impart money saving knowledge to a toddler. The parents can build on those lessons as their children grows and the lessons could be as simple as saving money in a piggy bank or about benefits of insurance or other related stuffs.

5. For the overall development of the nation
The financial literacy lessons help in the development of the individuals. More the financially literate people in the country, more is the level of investment and more the development of the nation. This would in turn help the nation in avoiding economic meltdown.
These small lessons if followed in a disciplined way over a period of time helps in building storehouse of knowledge which will prepare you to face the challenges in the future. Moreover the schools should add financial literacy lessons into their curriculum and to improve the quality of education. Countries like United Kingdom has already added financial literacy in their schools.
Someone has rightly said that there is no age for learning. Every age group has their own perspective for knowledge. For instance, the young generation can not only boost their knowledge, but it will also help them to increase their pocket money. Similarly, the married ladies can use the knowledge to educate their kids and also to contribute to the family income.

Moreover, there is a cornerstone of economic theory which says: Where you have well-informed consumers, you will find rigorous competition and efficient market. So let's join the mission of financial literacy with elearnmarkets.com and learn the lessons for free to make our country in the top position in terms of education and growth.