Have you ever come across a fake Rs 500 or 1000 note?
Yes!
Ok, let me tell you that a huge number of fake notes especially Rs 500 and 1000 are circulating widely in our economy.
Despite various measures taken by RBI to improve the security, the circulation of fake notes in the system is still going up.
Here are the steps which you can follow to judge the authentication of notes-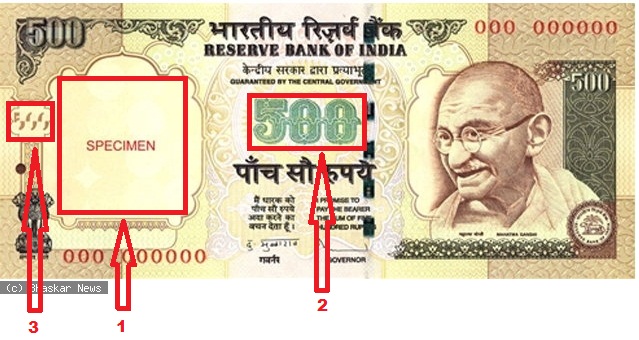 1. Watermark– The empty space stated as point 1, actually contains a hidden picture of Mahatma Gandhi and 500 written on it when you see the note against the light.
2. Fluorescence– The numerical 500 written on the note is printed in fluorescent or optically variable ink. The color of number panel appears green but when tilted at a certain angle, it turns blue.
3. Floral Design– Whenever you see it against the light, you will be able to view complete '500', printed half on the front and a half on the reverse side of the note.

4. Broken Thread– The broken thread as indicated by point 4 appears complete when you hold the note vertically against the light. Moreover, you will also see RBI and 'Bharat' written on it.
5. Optical Fibers– When you hold Rs 500 note under Ultraviolet (UV) light, you will find many optical fibers spread all over.
6. Latent Image- You will find a latent image in the vertical band showing numerical '500' when you hold the note horizontally close to your eye.
7. Micro Lettering– The area between the vertical band and Mahatma Gandhi portrait when seen under a microscope, you will find letters 'RBI' and '500' written.
8.Intaglio Printing– The term "Intaglio" stands for raised prints which can be felt by touch. You can feel it on the portrait of Mahatma Gandhi, RBI Governor's signature, Reserve Bank seal and in Ashoka Pillar emblem.
9. Identification Mark: This feature in intaglio has been introduced above the Ashok emblem which can be felt by touch and helps even the visually impaired to identify the denomination. You will find different shapes for various denominations except for the 10 rupee note. For instance vertical rectangle in case of Rs 20, square for Rs 50, triangle for Rs 100, circle for Rs 500 and diamond shape for Rs 1000.
10. Year of Printing– You will clearly find the year of printing which appears right at the center bottom on the reverse of the banknotes.
You can get more details of the ten steps for identifying a fake 500 rupee note by watching the video below:
The printing and circulation of fake notes is an offense under Sections 489A to 489E of the Indian Penal Code and punishable in the court of law by the imposition of fine or imprisonment or both.
So I believe that next time you come across a fake Rs 500 or 1000 note, you will be smart enough to distinguish them with the signs and markings explained above.
Keep learning!!