Do you have a bank account? If Yes, then you must have seen many types of cheques handy.
A cheque is an important document that an individual, company government, and others use to transact their business. There are various types of cheques used in our banking system which have certain protocols that we need to follow while writing a cheque. For example – overwriting on the cheque is not permitted.
What is Cheque?
A cheque is a very common form of a negotiable instrument. You need a savings bank account or current account in a bank, in order to issue a cheque in your own name or in favor of others, thereby directing the bank to pay the predetermined amount to the individual named in the cheque. This transaction has to be handled very delicately as it may lead to some serious banking fraud.
A cheque is a document that ensures the payment of a particular amount of money on demand to a certain individual or to the bearer of the instrument. It is a printed form that you can use to make payments from your bank account. When you write a cheque you enter the amount of money that you want to send to the person and who is to be paid to, sign and hand it over to the individual you want to make payment to. Your bank then pays the money to that individual (payee) from your account.
It is one of the safest and most convenient modes of making payments and is transferred by mere delivery.
One of the benefits of the cheque is that you can transfer a high-value transaction without any hassle which would be very difficult if hard cash was used instead.
The issuer of the cheque has an account (savings or current) with the bank to which it is connected. There are various types of checkbooks that depend on the type of account you have.
Download to safeguard your account  – Banking awareness book
Some of the important details which should be present in a cheque are as follows-
A cheque should be dated.
A cheque should mention the amount of money in figures and words.
A cheque must be signed by the person (Drawer) issuing the cheque
A cheque must be drawn from a specified bank (Drawee).
A cheque must have the name of the recipient (Payee) of the cheque.
Different types of cheques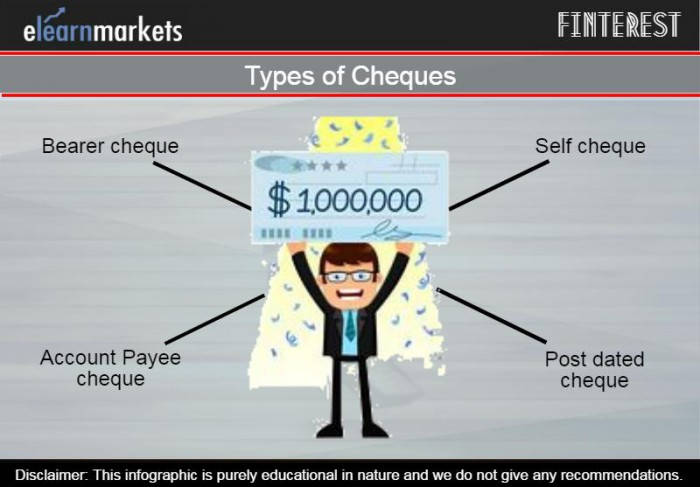 1. Bearer cheques
It is also known as an open cheque or an uncrossed cheque. This cheque can be transferred by mere delivery and needs no endorsement.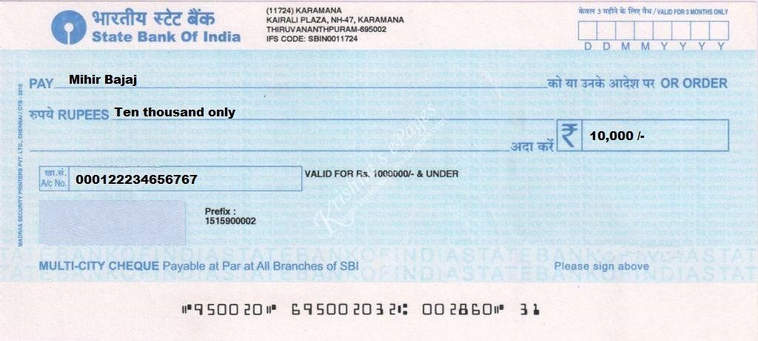 The cheque is negotiable from the date of issue up to three months. It turns stale after the completion of three months and needs to be revalidated before presenting to the bank.
However, these types of cheques are very risky and once misplaced can lead to the loss of the amount stated in the cheque.
2. Self-Cheques
It comes under bearer cheque where instead of writing the name, the account holder writes "self" to receive money physically from the branch where he holds the account.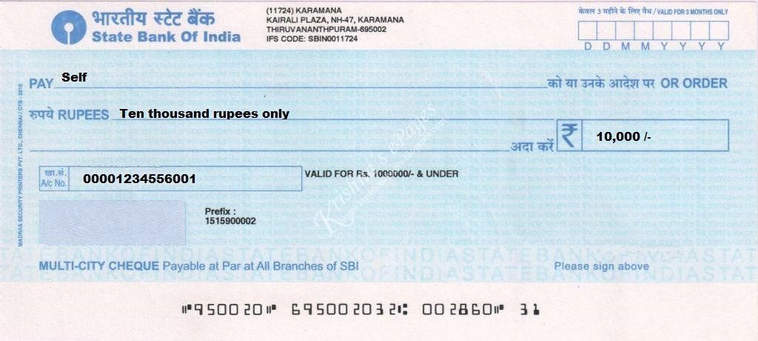 3. Account Payee Cheques
A bearer cheque becomes an account payee cheque by writing "Account Payee" or crossing it twice with two parallel lines on the left-hand side top corner.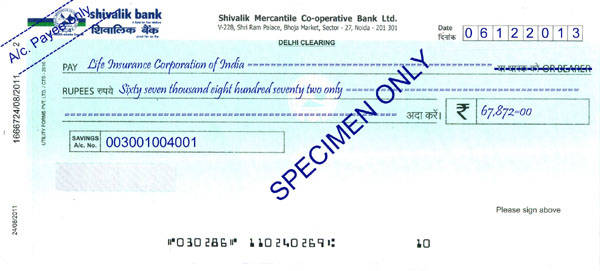 The amount will be transferred to the account of the person specified on the cheque.
It is considered the safest type of cheque and is also known as a crossed cheque.
4. Post dated cheque
It is a type of crossed or accounts payee cheque but it is post-dated to meet the obligation at a future date. It is valid from the date of the issue up to three months.
5. Banker's cheque
Such cheques are issued by the bank itself and guarantee payment.
6. Traveler's cheque
You can use such cheques for the withdrawal of money while traveling. It is equal to carrying cash but you can travel safely without carrying a huge amount. These cheques can be encashed abroad where foreign currency is normally acceptable.
7. Crossed cheque
When we cross a bearer cheque twice with two parallel lines on the left-hand top corner, it becomes a crossed cheque. Only the name written on it can get the amount transferred to his account.
With the growing popularity of net banking and ATM usage, types of crossed cheques are gradually becoming obsolete.
Why Dishonour of Cheques happens?
The dishonor of cheques may happen due to multiple reasons. However, the insufficiency of funds in the account of the drawer of the cheque is the key reason if your cheque has been dishonored.
It is very important to understand the reasons for the dishonor of cheques because it is considered a criminal offense and is punishable by imprisonment up to two years or with a monetary penalty or with both.
Frequently Asked Questions
How much time does it take to clear a cheque?
It uses two business days for a cheque to get cleared and it takes no longer than 5 days for cheques to get cleared by the bank.
Can I withdraw cash from any bank by cheque?
Yes, you can cash a cheque at any bank without being an account holder.
What steps are involved in clearing a cheque?
The steps involved in the clearing of cheques are:
Step 1: BANK where cheques are presented by the payee for deposit in his / her a/c.
Step 2: Regional collecting center- to collect all cheques from their presenting branch.
Step 3: To collect cheques from RCC and for settlement of cheque
Step 4: Again they collect cheques from the clearing house and send them to their drawee bank. Step 5:It collects cheques from their RCC and debits the customer a/c.
In order to get the latest updates on Stock Markets visit StockEdge.
Keep learning !!!