(Image source : The Financial Express)
Rail Budget presented by Mr. Suresh Babu.
We are pleased to provide a crisp summary of the Rail Budget 2015-16 which was presented by the Railways Minister Mr. Suresh Prabhu today. This is probably the first 'Business-oriented' Budget ever presented by a Railway Minister. Valuable time of the Parliament (and the millions of people watching it live on television) was not wasted on political rhetoric such as announcement of new trains and other populist measures.
4 Goals highlighted by the Railway Minister during presentation of rail budget:
a) To deliver a sustained improvement in customer experience
b) Make railways a safer means of travel
c) Modernise infrastructure of railways and expand capacity
d) Make railways financially self-sustainable
These goals have been described below: –
a) Improvement in Customer Experience
Budgetary Allocation

: 67% more funds allotted for passenger amenities; No increase in passenger fares; MPs requested to use part of their MPLAD funds to improve passenger amenities.

Satellite Railway Terminals

: Satellite railway terminals with modern facilities in major cities with twin purpose of decongesting the city and providing service to suburban passengers; 10 select stations will be taken up for satellite railway in 2015-16

Helpline Numbers

: 138 to be a National Railway number; 182 – toll free for Security related calls

Ease of Booking

: Passengers Without Reservation can Book Tickets In 5 Mins. Increasing number of advance booking days to 120


Better facilities

Open wifi to be available at 400 railway stations;
proposal to revamp the station re-development scheme
Propose Integrated Customer Portal For Passengers
To Have Toilets In 650 stations;
Replace 17,000 Toilets with bio-toilets
Move towards paperless ticketing
Propose SMS Alert Service For Train Arrival, Departure Times
More General Class Coaches Will Be Added In Select Trains
Passengers can book food options from IRCTC
More water-vending machines to be set up at stations for cleaner water at lower prices
On-board entertainment in Shatabdis to be introduced
Mobile charging units to be installed in general class coaches
Cleanliness

:
Special focus on cleanliness campaign;
Swachh Rail Swachh Bharat, new department for cleanliness, to be set up
b) Make railways a safer means of travel

Rail Budgetary Allocation:

To Spend Rs 6,581 Cr On Level Crossing Safety ;
Rs 120 crore for lifts, escalators this year;
5-year allocation of Rs 1.27 lakh crore on Safety
Women & Senior Citizen safety:
Surveillance camera for women safety
More lower Berths Will Be Reserved For Women & Senior Citizens
Senior Citizens Will Be Able To Book Wheelchairs Online
Newly manufactured coaches Braille-enabled
Collaboration with NIFT & NID for better bed rolls, inner coach designs
Measures to reduce accidents:
5-year corporate safety plan to be introduced to reduce accidents, with special focus on unmanned crossings;
The corporate safety plan to be ready in three months to identify annual quantifiable targets
Rs 6,581 crore allocated for eliminating 3,438 level crossings;
970 road-underbridge and road-overbridge to be constructed;
Audio visual warning, radio based signals design
Train collision detection system to be installed on selected routes
Train protection warning system and train collision avoiding system.
c) Modernise infrastructure of railways and expand capacity
Rail Budgetary Allocation:
5-year allocation of Rs 1.93 lakh crore on Network and 5-year allocation of Rs 1.02 lakh crore on Rolling Stock
Propose Operating Ratio Of 88.5% For FY16 Vs 91.8% FY15
Rs 8.5 lakh crore investment in next 5 years;
To Spend Rs 96,182 Cr On Capacity Expansion In FY16 to expand capacity of 9,420 kms rail lines
Station redevelopment policy to be revamped and processes simplified by inviting open bids
Freight carrying capacity to be raised to 1.5 billion ton
Aim 30 mln daily passenger carrying capacity in next 5 yrs;
To up track length by 20% to 138,000 km next 5 years
North-East connectivity to be improved, J&K connectivity also in focus
Transport Logistic Corporation of India to be set up to aid expanding freight handling capacity and provide end-to-end logistic solutions
Travel between Delhi-Mumbai and Delhi-Kolkata to be an overnight journey
To partner with PSUs to transport coal, iron, cement
1330% increase in railway electrification over previous year.
6,000 km to be electrified in 2015-16 compared to 462 km in 2014-15
Joint ventures to be set up with states for focused project development, resource mobilization, land acquisition, project implementation and monitoring of critical rail projects
Coastal connectivity programme this year at a cost of Rs 2,000 crore
To move to EPC model for all railways projects
To revamp PPP cell to make it more result-oriented
Speed of 9 corridors to be increased from 110-130 km/hr to 160-200 km/hr
Propose To Launch Rs 2,500 Cr Of Projects Via BOT
d) Make railways financially self-sustainable
Railway Plan size increased by 52% to Rs 1.11 lakh crore for FY16; 41.6% GBS; 17.8% internal generation
Propose Cash flows To Fund Rs 17,739 Cr In FY16 Spending
Propose Market Borrowing Of Rs 17,655 Cr For FY16
FY16 Gross Budgetary Support From Govt Pegged At Rs 40,000 Crore
Proposed to set up an infrastructure fund, holding company to raise long-term debt, along with setting up a financing cell in Railway Board.
In order to finance capex, he plans to tap into MPLAD funds, to raise funds from pension and insurance funds and multilateral agencies.
No increase in passenger fares
Freight rates increased by
0.8% for LPG
2.7% for slag
0.8% for kerosene
3.1% for Scrap & Pig iron
6.3% for Coal
10% for Urea
2.7% for Cement
Freight rates lowered by
0.3% for Limestone & Manganese
1% for High Speed Diesel
Focus on monetizing assets rather than selling them
JV with major public sector companies for meeting requirements of new lines
Full fledged university during 2015-16
Skill development and self employment to be encouraged on Konkan Rly model.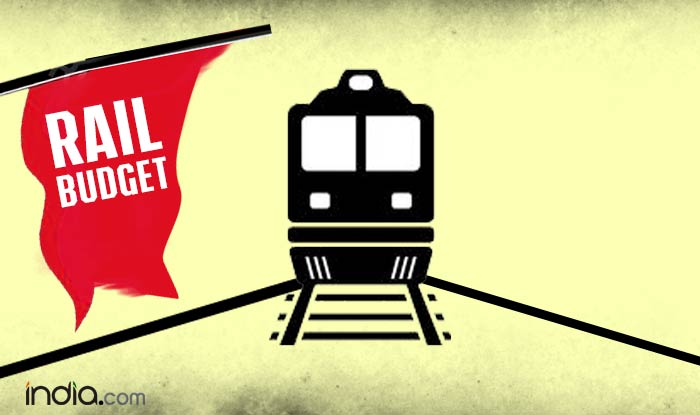 BOTTOMLINE
To get more details on Rail Budget 2015 visit the Indian Railways official website.
Visit blog.elearnmarkets.com to read more blogs.