Soon after the introduction of demonetization scheme by the government, all banks and ATMs across the country are facing the same long serpentine queue.
Though one can still exchange the old 500 and 1000 rupees notes or banned notes with the banks till 30th December 2016 people are actually entering into a panic mode in a rush to exchange their currency.
In spite of bank being operative on Saturdays and Sundays, the problem of the long queue was still there after one-week post demonetization scheme.
With the struggle faced by banks to cope up with the huge rush to exchange currency.
RBI has introduced the new notification where the old 500 and 1000 rupees notes can still be used at certain government designated places till 24th November 2016.
Know the procedure of withdrawal and exchange of banned 500 and 1000 rupees note.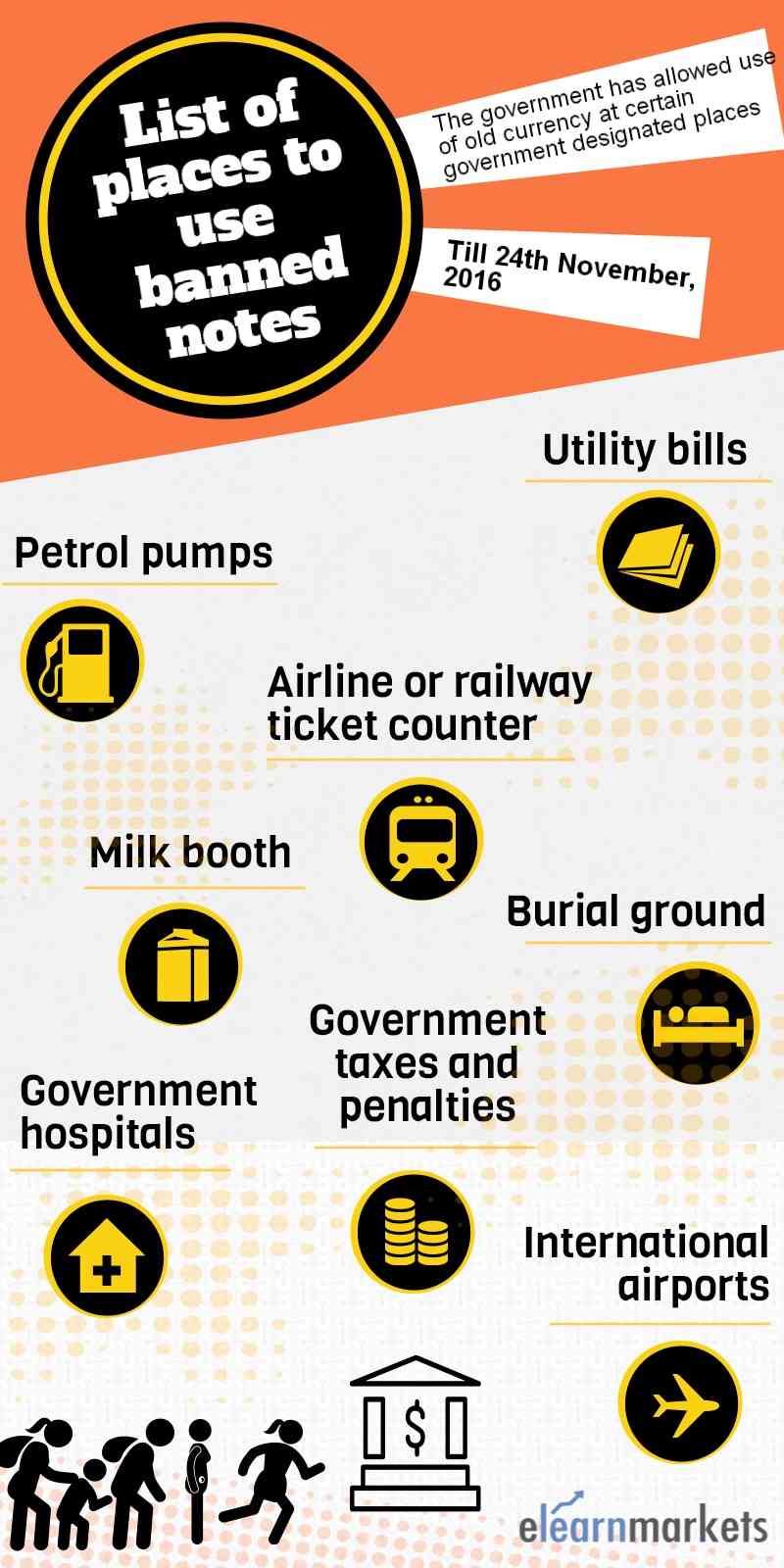 List of places to use your banned notes
Here's a list of different places where can use to exhaust his/her banned notes.
1. Petrol pumps– If you have a private car, you can use the banned notes at petrol pumps and gas stations of public sector oil marketing companies like IOC, BPCL, HPCL etc.
2. Airline or railway ticket counter-The banned currencies can be used to buy tickets at railway ticket counter, airline ticket counters and public buses.
3. Utility bills– The government has also allowed making payments for your utility bill, LPG cylinders and pay for the medicine on production of doctor's prescription.
4. Burial ground– These banned notes can be used at the burial and crematorium grounds.
5. Government hospitals– You can use the old notes/banned currencies to pay bills at the government hospitals or can buy medicines from the government-owned pharmacist
6. International airports– The foreign tourist and the passenger at the international airport who wants to exchange the foreign currency at airport can do so up to a specified limit.
7. Milk booth – You can purchase milk at milk booths and also make payment at the consumer cooperative societies using your old 500 or 1000 rupees notes.
8. Government taxes and penalties– Lastly you can use the banned notes to pay taxes, charges or any penalty of central and state government (including local bodies and municipalities).
Bottomline:
The relaxation made by the government towards utility bills is meant for the current expenses and not towards any arrear or advance payment.
Moreover, you need to show your ID proof while making the payment.
Know about the hike in the cash withdrawal limit.
Happy Learning!!