Despite the onslaught of the Covid19 pandemic, the year 2020 saw more than 20 companies going public who raised more than Rs.30,000 crores from investors all over India.
Though the total amount of capital raised was not a new record, the IPOs did see record breaking subscriptions by investors. The average listing gain by investing in IPOs was over 35% which was the best in a decade. Four IPOs of 2020 were subscribed by over 150 times namely Happiest Minds, Burger King, Mazagon Docks and Mrs. Bectors.
Let's do a short rundown of the top listings from 2020 based on their listing gain(Listing gain is the Issue Price – Listing Price):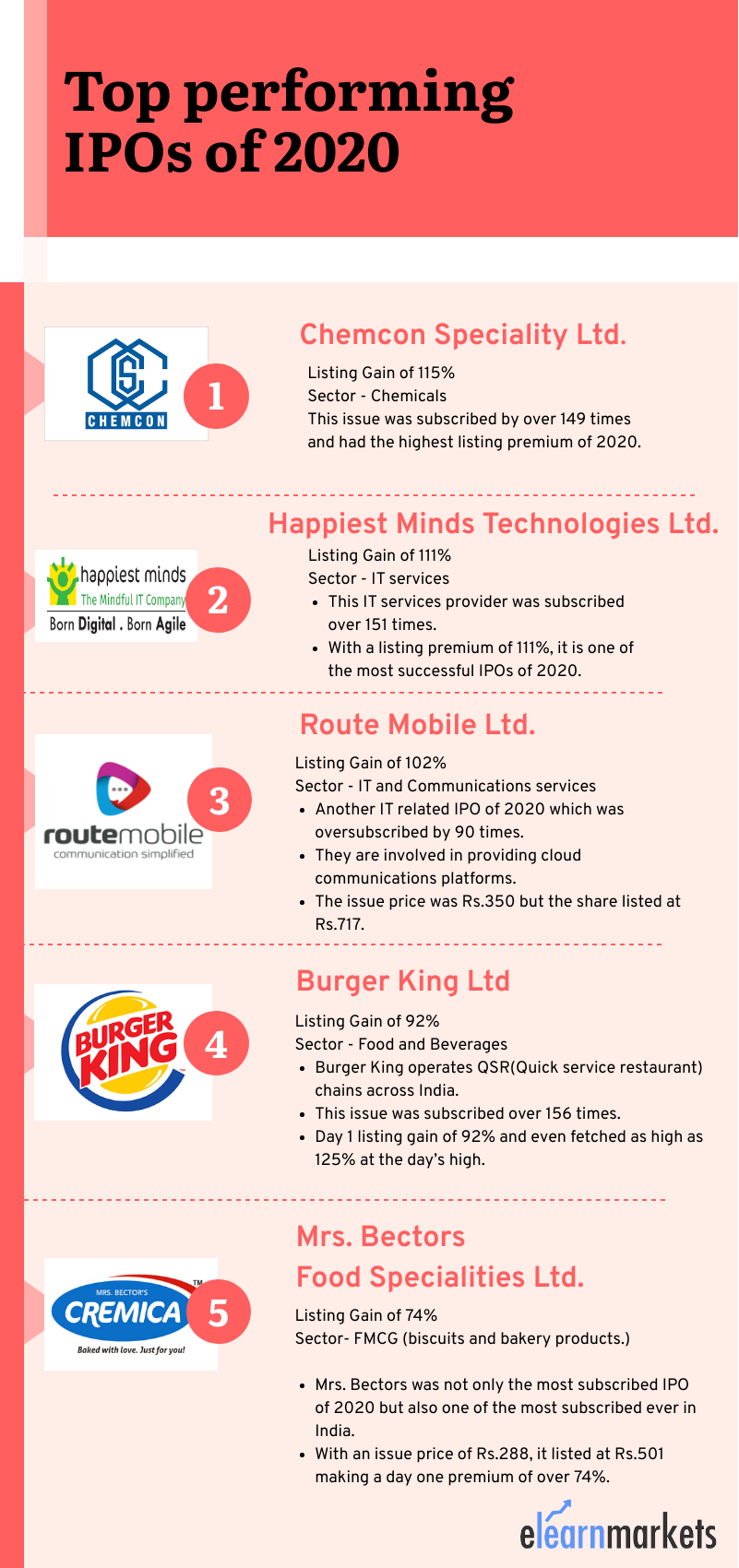 1. Chemcon Speciality( Listing Gain 115%)
This company which operates in the chemicals sector was issued to the public for subscription at a price of Rs.340. It was subscribed by over 149 times and listed at a premium of Rs.730 making it the highest gainer based on the list price.
2. Happiest Minds Technologies( Listing Gain 111%)
This company is based out of Bangalore and is involved in providing IT services. The issue price for this IPO was Rs.166. The issue was subscribed by over 151 times and got listed at a premium of 111% over the issue price.
3. Route Mobile( Listing Gain 102%)
Another IT related IPO of 2020 was Route Mobile. They are involved in providing cloud communications platforms. Their issue was subscribed by over 90 times at an issue price of Rs.350. But the share listed at Rs.717 making a gain of almost 102% for investors.
4. Burger King( Listing Gain 92%)
Burger King is a company that operated QSR(Quick service restaurant) chains across India, similar to Mcdonalds. Their issue was subscribed by over 156 times. Their shares listed at a premium of over 92% and even fetched as high as 125% at the day's high on the listing day.

Analysis: Burger King IPO
5. Mrs. Bectors Food( Listing Gain 74%)
This was the most subscribed IPO of 2020 and was also one of the most subscribed ever in India. The company is involved in the production and sale of biscuits and cookies similar to the likes of Britannia. The issue price of the IP) was Rs.288 and it listed at Rs.501 making a premium of over 74%.
According to most stock market analysts, the increase in the amount of liquidity and foreign institutional investments in India on the backdrop of Covid19 induced interest rate cuts and government stimulus packages are the main reasons for the record breaking listing gains.
Why do companies go public?
To allow existing shareholders/investors to exit and make gains for their investment in the company during its early years.

Going public has its own benefit of higher publicity and a matter of pride. This could also help the company with its reputation and credibility.

Capital raised may be utilized for a number of reasons such as expansion, clearing debts and increasing market share.

Going Forward into 2021?
It would be interesting to see whether this huge interest of both institutions and individuals alike of investing in IPOs would continue into 2021.
We believe if the interest rates remain at lower levels and if governments across the world continue to infuse liquidity into the economy through stimulus packages then the current trend of successful listings should continue.
Along with that, there are also some very popular companies which investors are looking forward to investing in.
The most anticipated IPO of 2021 is that of Life Insurance Corporation(LIC). The LIC IPO is expected to value the company at over Rs.13 lakh crores making it one of the most valuable companies in India.
Other prominent upcoming IPO possibilities of 2021 include National Stock Exchange(NSE), Kalyan Jewellers, Zomato and Nazara Technologies.
Happy Learning!