The market started the week with a strong selloff on the back of geopolitical tension after a senior Iranian military official was killed in a United States airstrike.
However with the easing tension between the two countries, bulls took charge and led Nifty post their biggest single-day gains in three months during the trading session on January 9. The rally continued on January 10 with the Nifty touching a fresh record high of 12,311.20.
Nifty Hourly
The index after hitting fresh high in the first half on Friday's session, witnessed profit booking in the second half and closed just below the resistance zone at 12256.5. Technical parameters including RSI, Stochastic and CCI are trading very close to the respective overbought zone which suggest strength in the shorter timeframe.
Probable support in the near term comes at 12180 and next support at 12120. However, immediate resistance in the short term comes at 12290-12310.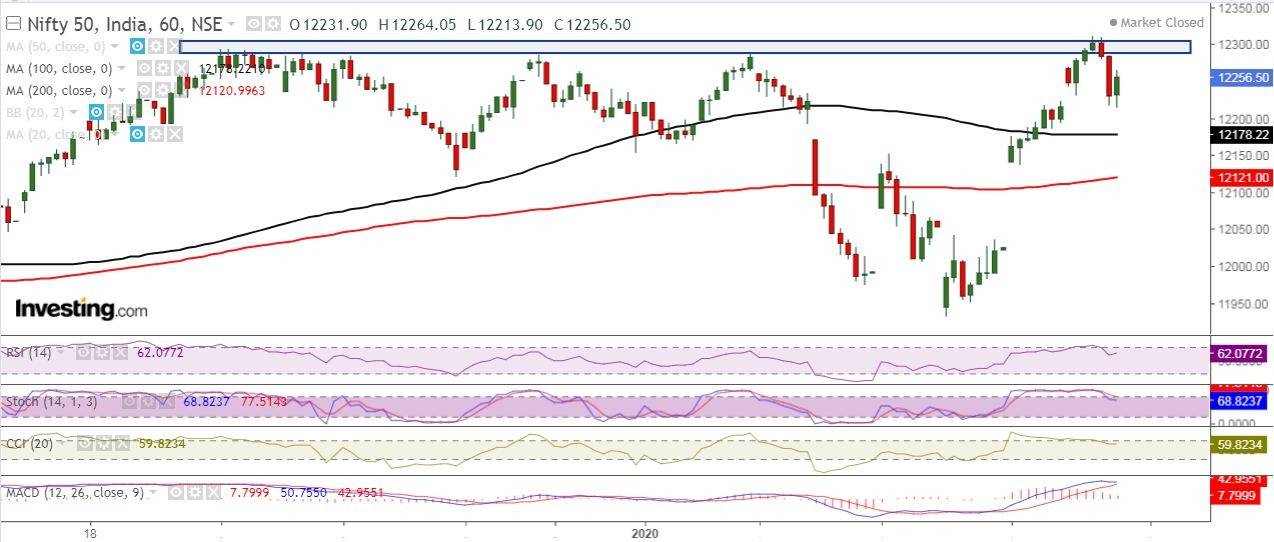 Nifty Daily
In the Daily chart, Nifty trading in a Megaphone pattern or a broadening triangle pattern and closed just below the daily resistance zone. Sustainable move above swing high of 12311.2 may lead to further strength in the short term.
Nifty formed a doji candle on friday's session which suggest indecision in the market and move either side of the candle may decide fresh move in the coming week.
Technical parameters looks positive to neutral as of now and probable support on the downside comes at 12150 and 12050 as of now.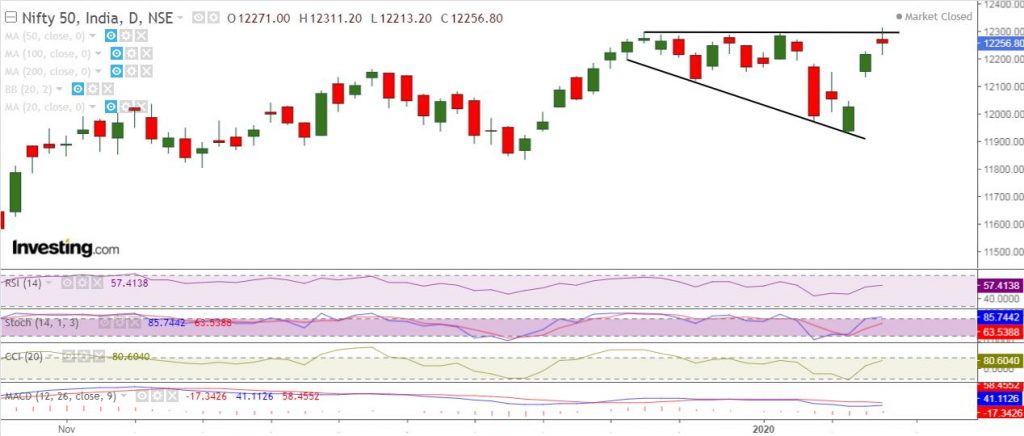 Nifty Weekly
The index formed a positive candle for the week which shows the overall trend for the index continues to be strong. However, the market can continue to remain volatile in the short term. Until the index breaks and sustains above the new high of 12311.2, the consolidation in the range of 12000-12300 is likely to be seen.
Probable resistance as per the upper trend line comes at 12400-12450 which is likely to act as a crucial resistance as of now. Breakout above 12500 may lead to steep move in the index. Probable support comes at 11900-11950 in the weekly chart.