We have been hearing a lot of Election noises of late as we approach the D Day!!! Many seat sharing permutations and combinations are also being heard of. This number crunching to continue, till the actual elections outcome or results are announced.
With the Elections round the corner we see investors being jittery over their investment decisions. Either they are postponing their investments or waiting for the right time to enter. They are afraid of the election outcome and the volatility expected ahead of it.
What we really need to understand is…. that does Elections actually matter. Yes, we agree that it matters in the shorter duration for our financial markets or Stock markets but historic data is a proof enough to suggest that these short term swings have always given a good investment avenue for large scale returns in a longer time frame.
Thus let us today discuss various Elections and its outcomes and its effect on our markets.
Historic data on Election Outcomes
In 2004 when the NDA coalition lost the elections the market collapsed 7.4% in few days and today again we are at our highest levels in a span of 15 years.
Similarly in 2009 when UPA was elected to power then markets shot up 17.4% in few days and again corrected giving us an entry opportunity once again.
Lastly in 2014 when BJP was elected full fledged in power, the markets opened gap up and succumbed to profit booking in few days time and today again we are near historic highs in 5 years time.

Source: Scripbox
Thus all in all Elections is a temporary phenomenon for a larger picture. Election is just a number as historic data be it 15 years or 5 years tells us a completely different story be it any Government in the centre. The chart below is an example of the same.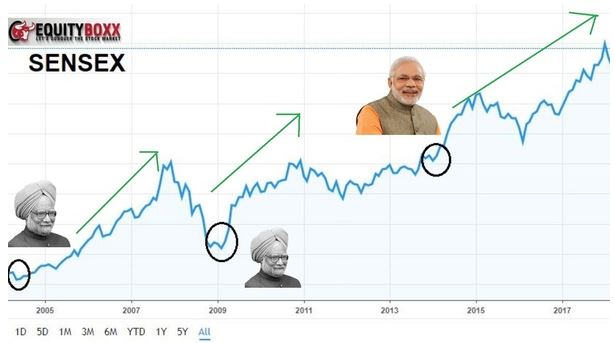 Source: Scripbox
Elections and the Portfolio
Yes elections can impact your portfolio temporarily impacting your virtual returns but in a longer time frame it's only your portfolio which can either outperform or underperform because markets overall has to perform be it under any kind of government: coalition or single party.
Now let us understand one more topic of interest for all in stock markets about what happens to growth under any Election outcome.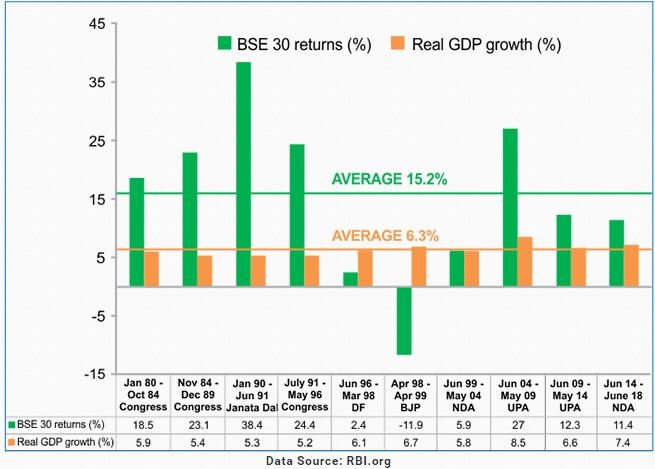 Thus under any elected government the data of last 25 years suggests that no matter who wins the election the economy grows due to growth in our Industries and thus we grew at a CAGR of 6-7% annually.
The BSE-30 Index has increased by 305x over the time period of 39 years and the economy has seen an increase of 110x over the same period. Thus Equities have always beaten every kind of returns.
Economic growth and the stock markets are co related as the real story in India is the domestic Industry which is expected to grow manifold as we have a huge young population with changing demography and aspirations.
Elections are a Temporary problem and Equity is the Permanent solution.