Understanding how the Indian capital market works is an essential prerequisite to learning how to trade and invest.
In general terms, capital means finance. To keep the economy rolling, finance lubricates the growth pattern of an economy. For example, you may have a huge amount of liquid cash at your disposal. Keeping them in your locker will not help the money multiply.
Alternatively, you may move such funds into the bank or financial institution, invest in various schemes, so in turn, this money will flow into the economy via financial markets. Saving not only generates funds for you but also for the economy as a whole.
Thus, the Indian capital market plays a vital role in the mobilization of these savings/liquid cash for investment purposes.
Learn from Experts : Foundation of Capital Market
By allowing a platform for infusing capital in the economy, trading of securities, raising long-term finance etc financial market plays an imperative role in keeping the economy rolling.
Financial markets are majorly divided into following components: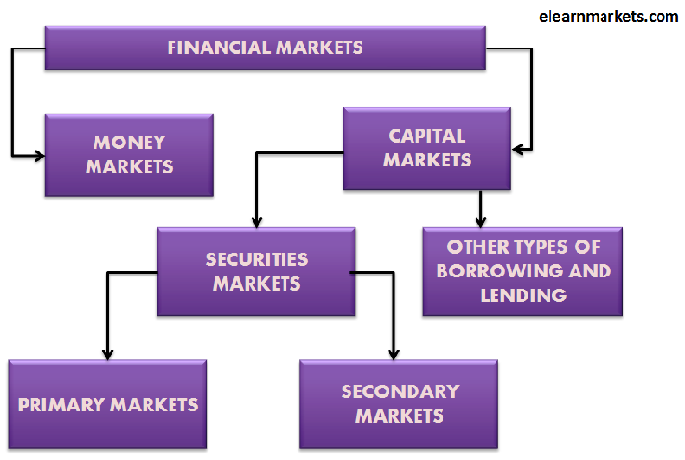 What is a Capital Market?
Capital markets are a type of financial markets. It is a market for buying and selling financial securities. It acts a conduit in the flow of funds from the savers to the fund seekers.
In fact, capital markets are the most popularly followed financial markets.
The spontaneous platform provided by capital market helps the Government and businesses to raise funds for a variety of long-term purposes such as the expansion of business, mergers, and acquisitions, etc.
Also Read: Indian Capital Market Regulators – Role and functions
In case of capital markets, the money is pooled in for a period of more than a year.
As compared to what capital markets were in the past, the present capital market system is well equipped with an electronically based trading system which provides an expansive platform, bringing together traders from different zones and countries.
The capital market and in particular the stock exchange is referred to as the barometer of the economy. – ICSI study material
What is a Securities Market?
Securities market provides the platform for those financial instruments that are transferable by sale.
It, further, comprises of two important components: primary market and secondary market.
Primary markets deal with newly issued stocks and securities whereas secondary market deals with already issued ones.
Primary Market
Primary markets allow mobilizations of funds via the issue of new securities.
Such funds are primarily utilized for long-term purposes such as starting a new project or modification of an old project.
For example, Company A Limited requires funds. It issues shares in the primary market. When the company issues shares for the first time, it is called Initial Public Offering (IPO). A further issue of shares is known as Follow-on Public Offer (FPO). The primary market comprises of both IPO and FPO.
Also Read: Understanding Initial Public Offer (IPO)
To understand this better go to the site ET Markets as provided below: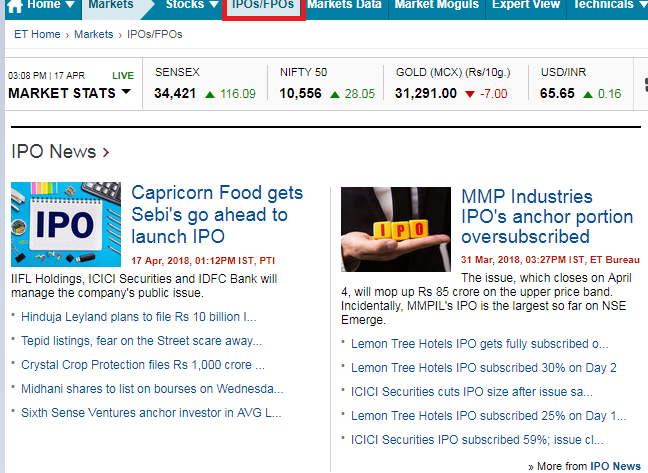 Source: economictimes.indiatimes.com/markets/ipo
As highlighted above, you will know about the recently raised IPOs/FPOs.
Secondary Market
The secondary market, primarily consisting of stock exchange provides a forum for buy-sell of already issued securities.
After the listing of securities in the stock exchange, the investor can trade in such securities in the secondary market.
For example, Trading on National Stock Exchange (NSE), Bombay Stock Exchange (BSE), Calcutta Stock Exchange (CSE) etc.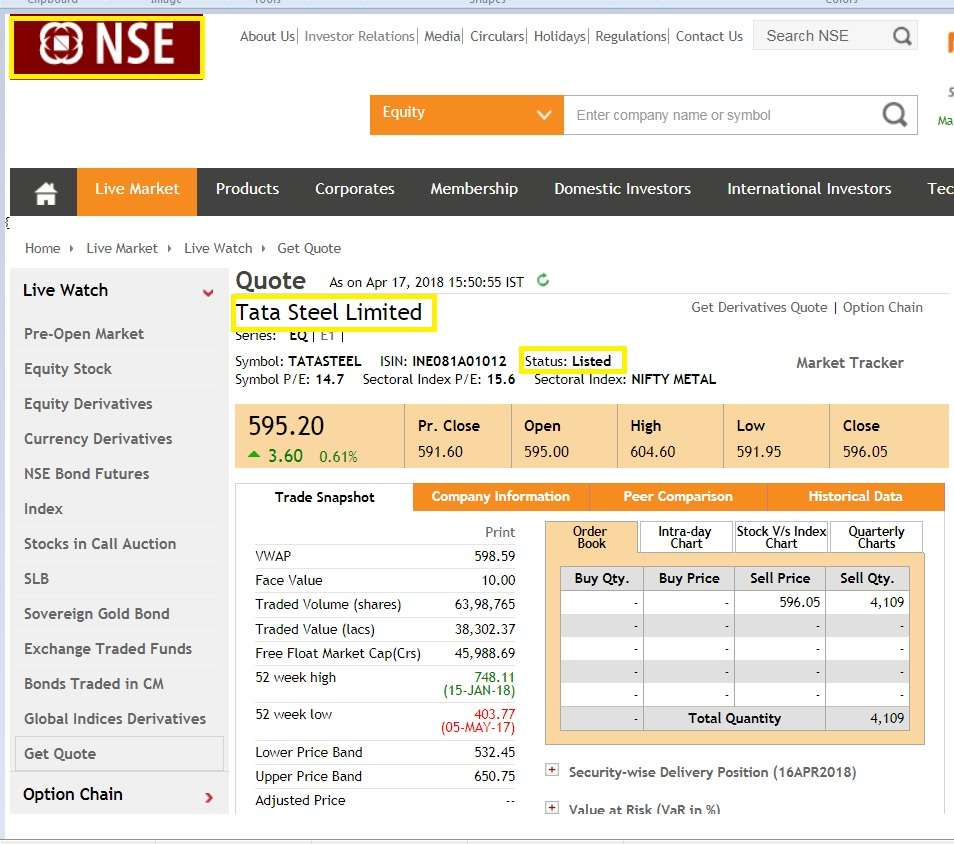 For example, You want to buy shares of TATA Steel.
When you open the NSE website and type TATA steel on the search block, you get complete details about that particular stock.
Similarly, for any other stock that you wish to trade in or carry it for long-term purposes, you can get complete details herein.
Also Read: Long-term investment – You Reap What You Sow
Apart from the stock exchanges, there are several websites that show you the market statistics, stock prices etc such as www.moneycontrol.com.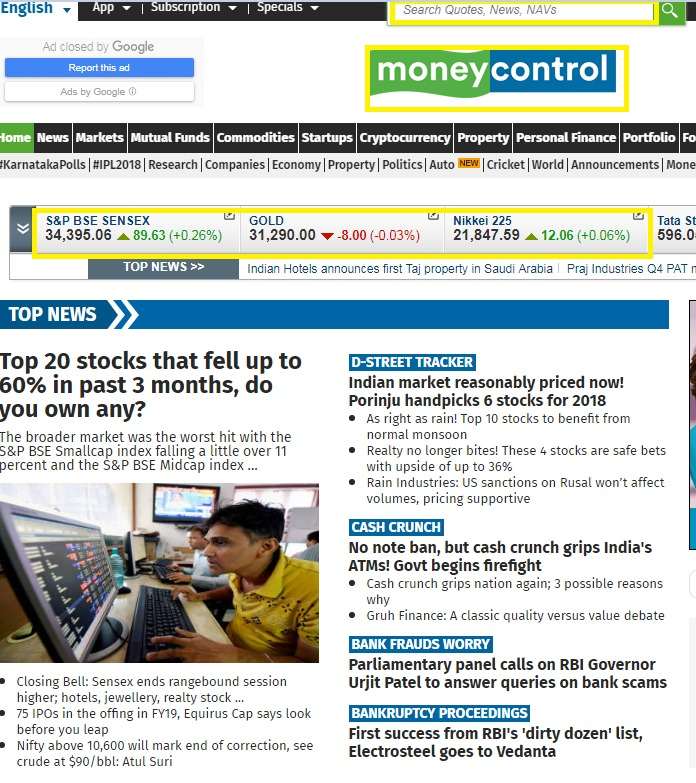 Source: www.moneycontrol.com
2) The Secondary Market is further classified as follows:
Spot market: The delivery and payment of securities are made immediately without delay.
Futures Market: Securities are bought and sold for some predetermined future date.
Money Market:
The borrowers and lender can avail short-term funds up to a maximum period of one year. Money markets are highly liquid in nature, carrying low default risk.
Bottomline:
Thus capital markets initiate the entire process of mobilization of savings and channelize such savings to those sources through the investors. The growth of the economy is marked by the process of flow of funds through the aforementioned markets.
In case of any questions, please write us back and mention about other basic finance topics that you would like to know about.
Happy Learning!!