We want to ensure that your tax planning and finances remain colorful as we celebrate Holi, the festival of colors and joy! Some basic practices, when applied and practiced on a regular basis, can go a long way towards ensuring you don't worry about your future and retired life, even if you're currently living on a low income.
We're here to provide some fairly basic advice to help you plan your finances and, by extension, your life. Please let us know what you think!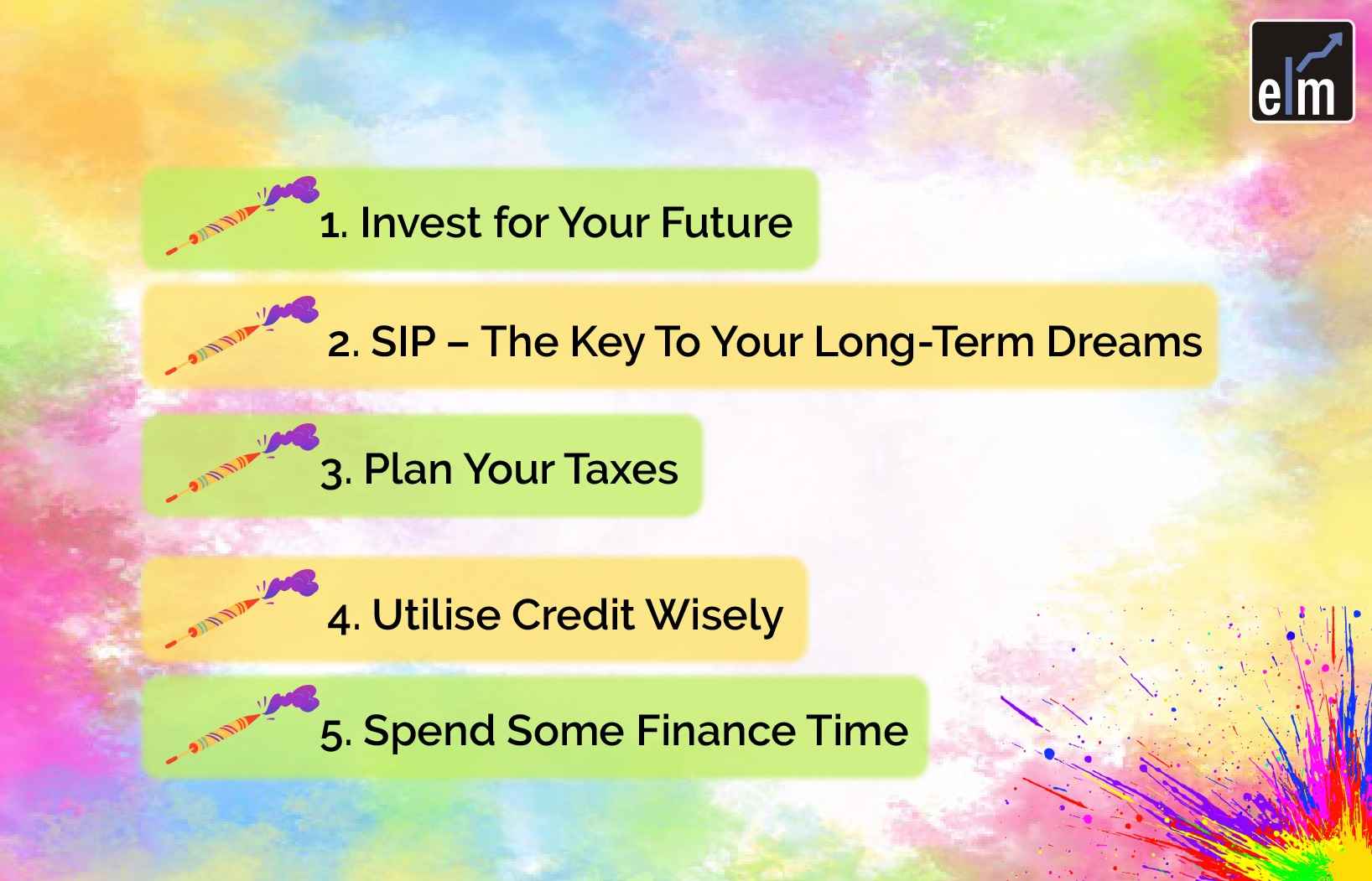 1. Invest for Your Future
For young adults fresh into their careers, managing finances can seem like a challenging task. Many may even find the idea of retirement planning preposterous and majorly premature, as they are already overwhelmed with managing finances for the present.
While this seems like a reasonable reaction, it almost always culminates in the late realization that they haven't saved up enough for their future, a little too late in their lives.
Begin investing as soon as possible; it does not have to be large. Start small and gradually increase your investment over time, and you will see spectacular returns for your future.
2. Systematic Investment Plans
Mutual fund investments, in combination with SIPs (Systematic Investment Plans), are arguably the most efficient way to save for your next big purchase. Whether it's your dream home or that long-awaited trip to Paris, a SIP not only helps you allocate periodic savings but also helps you grow your corpus. Working with a financial planner or a mutual fund agent can help you save (or make) a lot of money in the long run, allowing you to achieve your long-term goals.
3. Tax Planning for the New Financial Year–2023-2024
While taxpayers have learned to maximize their legal deductions in order to reduce their tax liability as much as possible, they frequently postpone their tax-saving purchases until late February. Unsurprisingly, many people have to live like they're broke in February and March.
This is primarily because they did not plan ahead of time for their taxes throughout the year. Spending INR 1.5 lakhs (the maximum deductible limit under Section 80C) over the course of a year is undoubtedly more convenient than spending INR 1.5 lakhs over the course of two months. Below are some of the tax-saving schemes–
ELSS Mutual Funds– Equity Linked Savings Schemes are mutual funds that invest a significant portion of their portfolio in equity. Furthermore, the fund has a three-year mandatory lock-in period, which is the shortest of any investment product and one of the best tax-saving schemes in India.
Unit Linked Insurance Plan (ULIP)-The ULIP Life Insurance Plan is one of the most important tax saving schemes in India. It ensures that a person's family is financially secure in the event of death. By purchasing a life insurance policy, the taxpayer can avail of the benefit under the income tax act.
National Savings Certificate– A government of India initiative, a national savings certificate is a fixed-income investment scheme that aims at small and middle-income investors to invest and earn handsome returns.
Sukanya Samridhi Yojana (SSY)– One of the most important tax-saving schemes is the Sukanya Samriddhi Yojana. The government of India launched it in 2015 as part of the Beti Bachao Beti Padhao campaign. It had a major impact on the general public.
4. Utilise Credit Wisely
Credit is the most extreme example of a two-edged sword. When used correctly and effectively, it is the best tool in your arsenal for dealing with money problems. Everyone experiences a financial crunch, which can be caused by temporary cash-flow issues, employment situations, or anything else. However, it is critical to ensure that you are on the right side of loans:
Credit can make your life much easier, but only if you pay your bills on time. Always borrow from reputable financial institutions, such as banks or online fintech apps. Conduct your research and borrow only for your needs. Attempt to pay off the debt as soon as possible so that
5. Spend Some Finance Time
Perhaps the most underappreciated tip, which is frequently overlooked. It is critical that you make a conscious decision to spend time planning your finances rather than doing so when you have free time outside of your other responsibilities. While we spend a large portion of our waking hours earning (and spending) money, we frequently overlook the managing income' part.
You can also do our course on Online NSE Academy Certified Capital Market Professional (E-NCCMP)
Of course, comparing our financial abilities to those of trained professionals is impractical, but it is certainly possible to improve our financial skills by devoting some time and effort. Before you become intimidated by the prospect of devoting a significant amount of time to this project, keep in mind that it is simply a matter of instilling the habit of spending.
Bottomline
Most of us find money management intimidating. However, with caution and discipline, we can easily establish a system that works for us. Holi is a colorful festival that celebrates the triumph of good over evil. It is celebrated with friends and family. This is an excellent time to abandon the habits that contribute to financial evils in your life and embrace a prudent approach to brighten and color your future.
So, as you prepare to celebrate Holi with your friends and family, don't forget to extinguish these financial evils from your life so that you can have a prosperous financial year ahead.
Happy Holi!