Introduction
Something happens in the World, and we all start panicking about the fall in the stock market and people sell off their certain percentage of stocks and run away from the stock market. Eventually, things become normal and everyone starts wondering what they have done. In this article let us discuss what should investors do or not in this type of scenario.
Find out the reason for this fall in the stock market
The stock market doesn't fall down without any reason. Therefore we need to find out the reason why the stock market is falling down. Learning about Technical Analysis will also help us understanding about the fall . According to one of the Warren Buffet's principles "Stock market discounts all the information ", this suggests that stock price represents sum total of hopes, fears and expectation of all participants and stock prices discounts all information that is known about stock i.e. past, current and above all stock price discounts future in advance i.e. the stock market makes tops and bottoms ahead of the economy.

It suggests stock market discounts all information be it interest rate movement, macroeconomic data, central bank decision, future earnings announcement by the company etc. The only information which stock market does not discount is natural calamities like tsunami, earthquake, cyclone etc We need to keep a track of all the news either positive or negative that's how we could find out what's going in the market.
What is to be done in this chaos and confusion?
We should not panic when the market is falling down; it's just a corrective move. We should remember that if the market is falling down then it will again rise up. Let us discuss the dos and don'ts of how to create wealth in a fallen market:-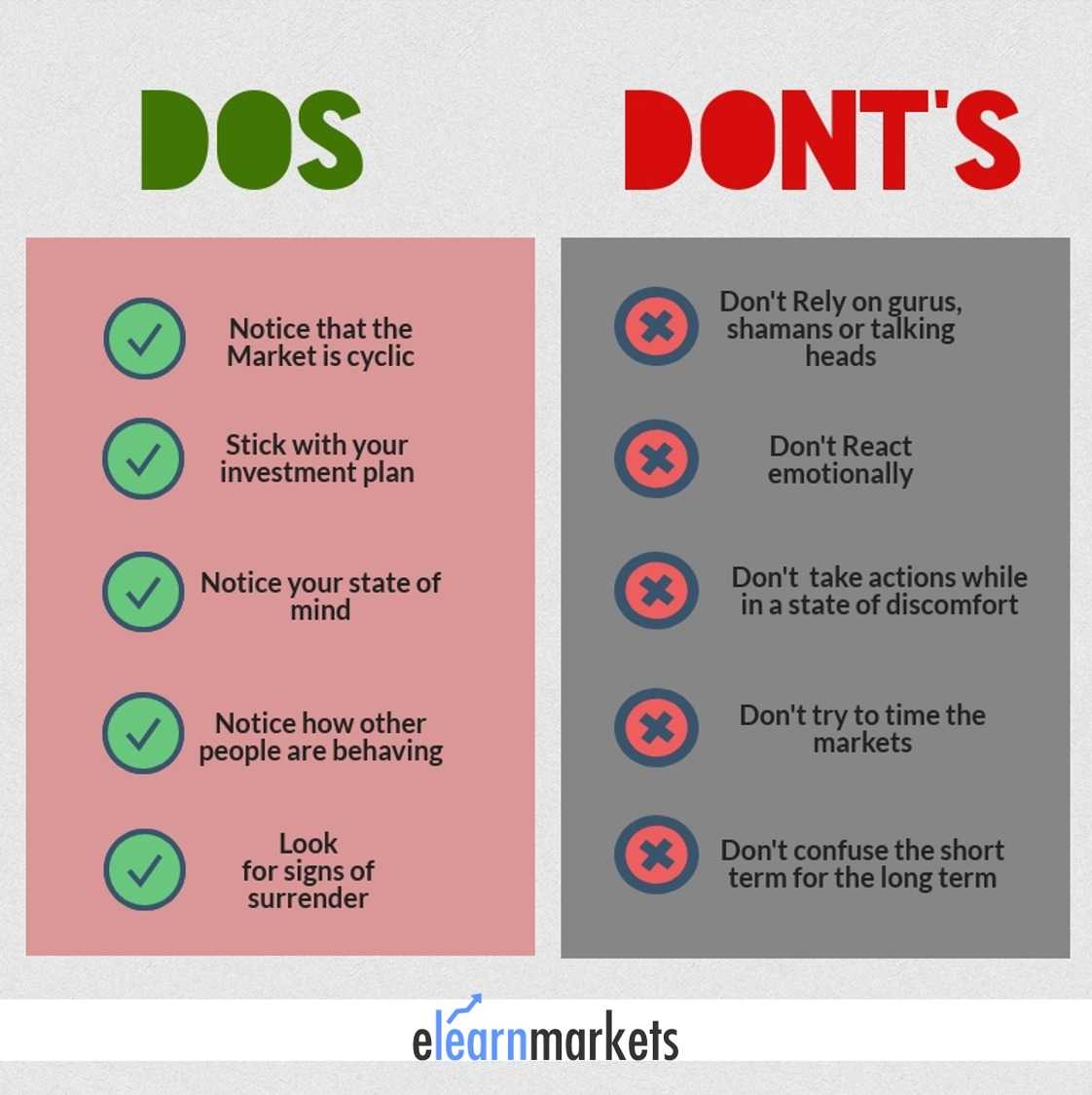 Dos:-
Note that Market is cyclic
In the technical charts, we can see that after a bullish phase, bearish phase comes and then again bullish phase come. We can also notice that the bearish phase does not last longer than a bullish phase. Therefore if the market is falling down then we should not be scared that it will keep falling down. We should patiently wait for the fall to get over. We can understand this from the chart below:
Stick with your investment plan
A good long-term investment plan will always survive in the market. When we make a long-term investment, we allocate our money for the long-term purpose and we do not need access to that money. So a correction in the stock market will not spoil our investment plan.
There are short-term investors who panicked out when the market went low in 2008-2009 and they never find their way back into the market. They missed the whole bullish phase after that bearish market. This happens when you don't stick to our plan.
Notice your state of mind
We will often notice that we are stressed or freaked out. We are not been able to sleep at night. Is there something wrong with our profile? That we are so worried about. We should understand that feeling of missing out something important.
We should sometimes ask questions to ourselves like are we carrying more exposure to the high-risk assets than we are comfortable with. We need to really understand our state of mind.
Notice how other people are behaving
We need to look around and see the reactions of people around especially the experts who come on television. If everyone is saying that the market has become volatile and will fall we should not ignore everyone's' reactions and become cautious about it.
We should look at the feedback loop from markets to the market experts who come on television and back, but we should not get affected by their sayings or recommendations.
Look for signs of surrender
Usually, market bottoms are made when the investors start selling or start squaring of their positions; we need to identify those oversold regions. The oversold regions can be identified through the number of technical indicators such as Relative Strength Indicators, Stochastic etc.We have to identify these signals and act accordingly.
Don'ts:-
Rely on gurus, shamans or talking heads
The gurus, shamans and talking heads who give their recommendations on televisions and newspapers, they do not have the idea about our risk appetite or financial condition. Most of them give recommendations when the condition is already fulfilled. Some of them don't even have the slightest idea of what they are saying.
We should not rely on anyone's recommendations and do our own research. That is the best way of investing in the stock market.
In a falling market, we should not act emotionally. Corrections are healthy for the stock market because it brings opportunity to buy stocks. We get emotionally attached to our stocks and think let us not sell at a loss and we keep on averaging out.
But that is not how trading in the stock market is done. If we are a short-term trader in the stock market we should keep our stocks with us waiting for the bullish phase, and become a long-term investor. We should sell our stocks and recover the losses from the stocks by shorting in the bearish market
Take actions while in a state of discomfort
When our mind is somewhere else, we should not trade at all. When we are sick or stressed up we should take a break from trading or our trading strategies will turn into disasters.
We should take the actions when we are in a calm state of mind. When we take an important investment decision, we should carefully understand it and it should be according to our plan.
If we lack discipline, skill, and ability we should never try to time the markets. If we do so then it is considered as a foolish behavior of ourselves. We should not time the entry and exit if we do not have enough analysis about it.

Confuse the short term for the long-term
Unless we are trading for a living, we should keep our trade for the long-term purpose only. We will lose our money if we consider our investments as trades and vice versa.
Bottom Line
As discussed we should not panic in the falling market. It is just a corrective move. So we should remain patient and wait for the market to recover. If we panic, then we will lose our money tremendously.