Listen to this:
Speciality Chemicals (China's pain is India's gain)
Speciality Chemicals are known for end-use performance enhancing applications rather than their composition. They are recognised for "what they do" rather than "what they are" as in the case of basic chemicals. Speciality Chemicals are a blend of base chemicals and sold on the basis of their quality or utility, rather than product composition or brand. They are relatively high value, but low volume chemicals as compared with basic chemicals or commodity chemicals.
Industry Overview
Speciality chemicals are mainly used to add value to the finished product; they are primarily sold on a B2B (Business to Business) basis.
Speciality chemicals can be further divided into various sub-segments on the basis of end-use applications.
The major sub-segments are:
1) Agro-chemicals
2) Colourants
3) Construction chemicals
4) Flavours & Fragrances
5) Paints & Coatings
6) Personal care
7) Polymer & additives
8) Surfactants
9) Textile chemicals
10) Water treatment chemicals.
Speciality Chemicals Classification
Each sub segments have its own rationale for demand and growth, a higher growth is expected in the fields of Agrochemicals, Water treatment chemicals, Polymer additives and Construction chemicals.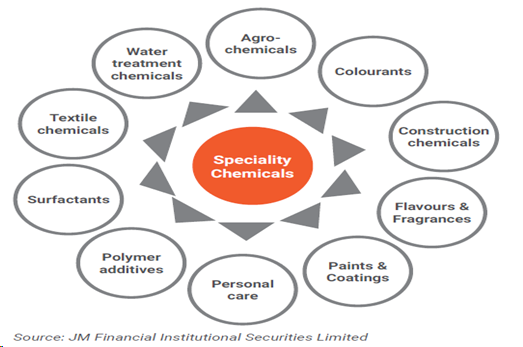 Market Size
Global Speciality Chemicals Market
As per Grand View Research, the global speciality chemicals market was estimated at US$ 1.16 Tn in 2016 and is expected to grow at a CAGR of 5.6% over 2017 to 2025, to reach US$ 1.79 Tn by 2025.
Globally, speciality chemicals are driven by extensive product research and innovation, which is a significant differentiator over the commoditised chemical industry. Low cost labour and vast raw material resources are contributing to the increased growth in the Asia-Pacific region, as foreign players are investing in emerging nations.
China is the leader in the speciality chemical space, but it is losing its market share slowly due to environmental concerns. Strict pollution norms have slowed down chemical production in China either Companies are being shifted to dedicated areas or restrictions are being placed on production. Either of these has the potential to increase cost of manufacturing for Chinese firms. Companies that preciously sourced from china are now looking for alternate supply source like India.
Indian Speciality Chemicals Market
India is the 6th largest producer and the 6th largest consumer of chemicals worldwide. The Speciality Chemicals industry in India represents a US$ 25 Bn market, growing at 14% over the last five Years led by domestic consumption, growing faster than the chemical sector as a whole.
The industry serves both the local market and the global market. The key speciality segments in India are agrochemicals, paints, coating and construction chemicals, colourants, fine chemicals, personal care chemicals and aroma chemicals.
Extensive government support and cheap labour cost are also set to help the specialty chemical sector in India.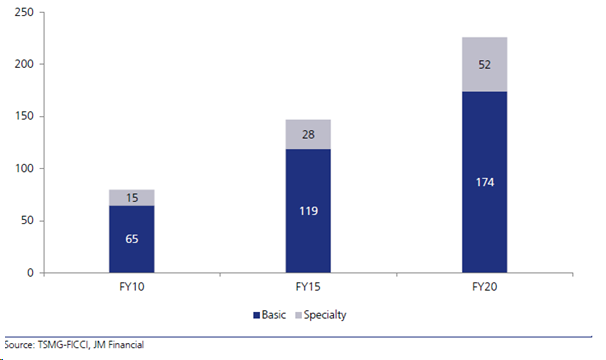 According to TSMG-FICCI, specialty chemicals industry could grow 13% per annum during FY15-20 (on the back of increasing consumption and high growth in end-use industries), leading to a market size of USD 52bn by 2020.
The GOI has identified chemicals as one of the focus sectors under its 'Make in India' initiative. Both Central and State governments had taken various measures to attract investment in the industry.
The government established chemical hubs (Petroleum, Chemicals and Petrochemicals Investment Regions – PCPIR) to provide the required ecosystem (raw material/market for intermediate producers, transportation, utilities, etc.) And a common effluent treatment plant (CETP) to ensure environment compliance.
PCPIRs are being developed in Andhra Pradesh, Gujarat, Odisha and Tamil Nadu. PCPIRs already received investments worth USD 24.68bn until end-FY15, but the government believes they can attract investments up to USD 117.42bn.
To support the industry, the centre has allowed 100 per cent foreign direct investment (FDI) in the sector.
Recent development
In financial year 2019 Indian speciality chemical are set to invest the highest ever on capacity expansions and continue capital expenditure to cater to rising demand from domestic and overseas markets.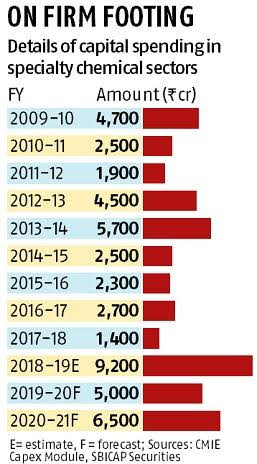 Source: Business Standard
SBICAP Securities: For FY20 specialty companies such as Aarti Industries, Himandri Specialty Chemicals, Fine Organic Industries, and Bodal Chemicals have lined up Rs 9,200 crore compared to Rs 1,400 crore for the previous financial year. For FY20 and FY21 these companies have proposed capital expenditure of Rs 5,000 crore and Rs 6,500 crore.
Opportunity and outlook
The factors driving the growth of the speciality chemicals market include large base of end-use industries, high demand from Asia-Pacific, increasing demand from automotive industry, and technological advancements. Over and above, faster end-use industry growth, low penetration of speciality chemicals in India will support growth.
India's large population base with lower per capita consumption of chemicals and relatively strong GDP growth outlook of 7-8 per cent over the next few years will sustain healthy domestic growth.
Companies
Aarti Industries ltd is a leading Indian manufacturer of Speciality Chemicals and Pharmaceuticals with a global footprint. Chemicals which are manufactured by AIL are used in the downstream manufacture of pharmaceuticals, agrochemicals, polymers, additives, surfactants, pigments, dyes, etc. Aarti Industries ltd is well- positioned in the semi-commodity business where china is losing its edge.
Aarti Industries has 16 manufacturing units, mostly located in close proximity to the large ports of western India.
Navin Fluorine International Limited
Navin Fluorine International Ltd is one of the largest and the most respected Indian manufacturers of speciality fluoro chemicals. NFIL operates one of the largest integrated fluoro chemicals complexes in India with manufacturing locations at Surat and Dahej in Western India and Dewas in Central India. Company R&D centre named as Navin Research Innovation Centre (NRIC) is located at Surat, India.
Company produce over 60 fluorinated products for domestic and international customers. More than 40% of products are exported to North America, Europe, Middle East and Asia Pacific regions.
Atul Ltd operates in two segments, Life Science Chemicals and Performance and Other Chemicals. Atul Ltd is a diversified specialty chemicals company catering to various Adhesives, Aerospace, Agriculture, Animal Feed, Automobile, Chemical, Composites, Construction, Cosmetic, Defence, Dyestuff, Electrical & Electronics, Flavour & Fragrance, Glass, Home Care, Paint & Coatings, Paper, Personal Care, Pharmaceutical, Plastic, Polymer, Rubber, Soap & Detergent, Textile and Tyre across the world.
Bottom-line
Indian Specialty chemical companies have witnessed a sharp increase in demand of their products over the last few years. Profit margins of these companies are likely to remain robust in the next couple of years due to Continuous increase in demand from end user industries and (environmental concerns) slowed down chemical production in china.