Hindi: आप इस लेख को हिंदी में भी पढ़ सकते है|
Knowing how to handle transactions via an ATM is an integral part of money management. To learn more about managing your money, join our course to gain a Certification in Online Financial Planning & Wealth Management via Elearnmarkets.
Have you ever faced the failed ATM transaction?
Also Read: How to Withdraw Money from ATM Machine?
Well, one of my cousins did.
She had an account in X bank and withdrew money from the ATM of Y bank.
While her transaction showed processed, she did not get any cash and received a message saying that her account has been debited for Rs. xxxx
She thought that there may be some error and went to X bank.
What followed next is the subject of our discussion.
We will know in this article as to whether it was actually an error?
Whether my cousin did get the money back?
What procedure was involved?
What steps should you take in case of a failed ATM transaction?
When she went to X bank baffled and explained the manager of the transaction error, the manager asked her the following questions and explained her following:
In case of transaction error, the customer should keep the transaction slip generated. This transaction slip contains the important information such as the issuing bank's name(Y bank in this case), time of withdrawal, ATM# code, and other additional details. The details on transaction slip will help them detect the reason for the error.
File a written complaint with both the X and Y bank, since X bank is the bank you hold the account and Y is the bank from whose ATM you had tried to withdraw money.
Always remember that do not wait and panic that your money is gone. Immediately follow the aforementioned steps. Delay results in failure of data tracking and then you many have trouble in recovering the money back.
Most likely, the amount is credited back to the customer's bank account (X bank in this case) within seven days of the failed transaction.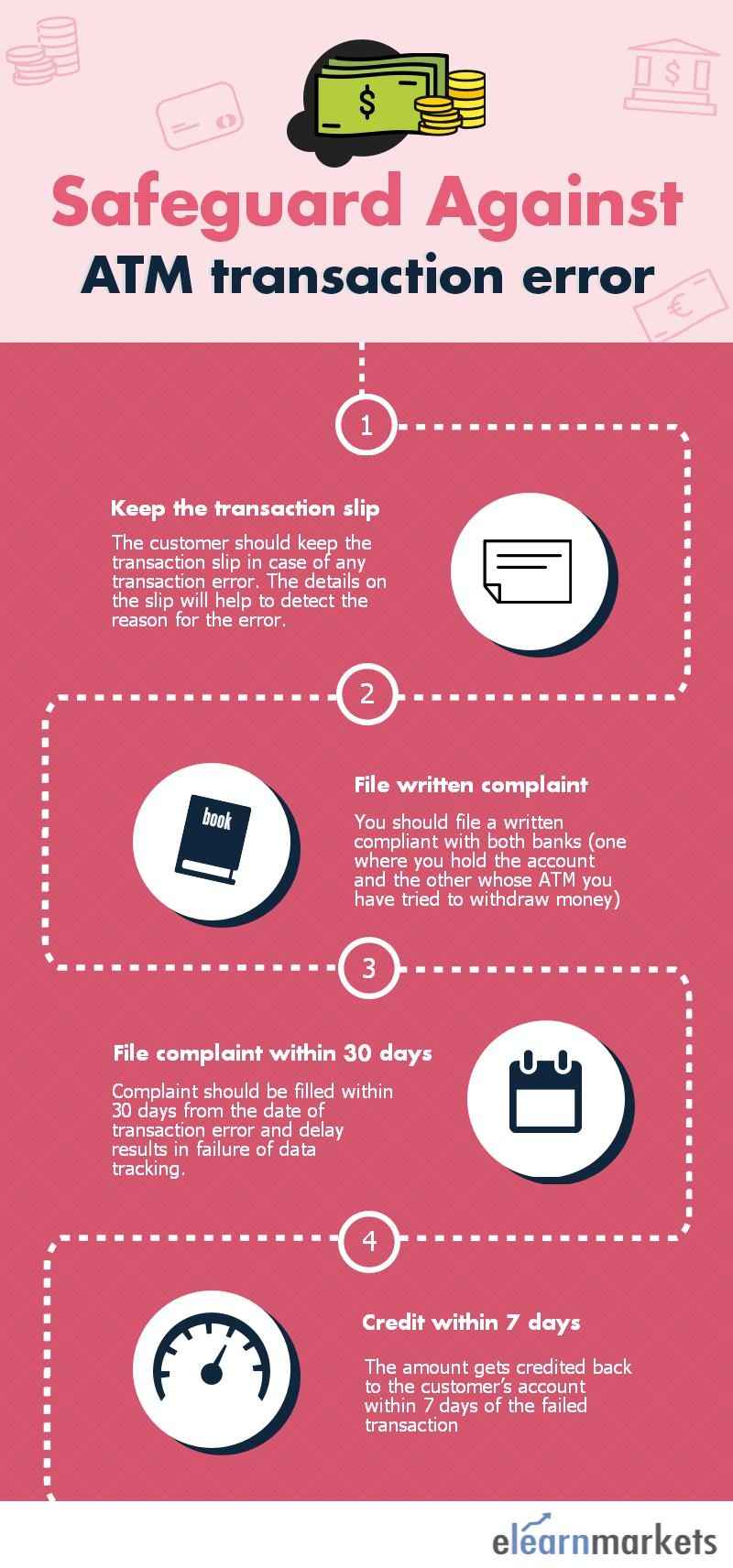 Also, there is penalty levied against the bank in case it is not returned within seven days, provided you have filed the complaint within 30 days from the date of the transaction error.
Know More: Cardless Cash Withdrawal at ATM!
My cousin immediately followed the above steps and also got her money back within 7 days.
Bottomline:
In case you do not get it in the mentioned time, consult a legal advisor, who will surely guide you to get the money credited back in your account.
This means that in whatsoever the situation may be, do not panic.
Go to the respective authority, ask for the procedure and follow that promptly.
Always remember one thing; where there is a problem, there is a solution too.
You only need to follow the right approach.
We hope that after reading this article, you yourself will be able to guide anyone as to the steps to be followed in case of any transaction failure at the time of ATM withdrawal.
To avoid transaction error go for mobile banking. Learn here how to do Mobile Banking.
Happy Learning!!