Listen to this:
Here's another set of lessons from the 2003 letters of Warren Buffett which will help you in gaining financial wisdom.
Make sure that you're not just simply reading them but also try to inculcate them in your daily life.
1. Working with winners is a key to success
It is very important to be associated with the right set of management to succeed in the long term investing career.
Hence judging the management quality is of utmost importance.
Read More: How to Evaluate management of a company

The good management has a potential to make the company a stellar performer amidst the ailing sector which might suffer from external problems. 
One of the very good examples is Piramal Enterprises whose management driven by Ajay Piramal has showed a commendable performance over the last decade and a half and has fetched a return of more than 35% annually against 15% for the index in the same period.

Warren Buffett in his 2003 letters said-

My managerial model is Eddie Bennett, who was a batboy. In 1919, at age 19, Eddie began his work with the Chicago White Sox, who that year went to the World Series. The next year, Eddie switched to the Brooklyn Dodgers, and they, too, won their league title. Our hero, however, smelled trouble. Changing boroughs, he joined the Yankees in 1921, and they promptly won their first pennant in history. Now Eddie settled in, shrewdly seeing what was coming. In the next seven years, the Yankees won five American League titles.

What does this have to do with management? It's simple – to be a winner, work with winners. In 1927, for example, Eddie received $700 for the 1/8th World Series share voted him by the legendary Yankee team of Ruth and Gehrig. This sum, which Eddie earned by working only four days (because New York swept the Series) was roughly equal to the full-year pay then earned by batboys who worked with ordinary associates.

Eddie understood that how he lugged bats was unimportant; what counted instead was hooking up with the cream of those on the playing field. I've learned from Eddie. At Berkshire, I regularly hand bats to many of the heaviest hitters in American business
2. Derivative: a financial time bomb
A derivative is a contract between two or more parties which derives its value from the underlying asset.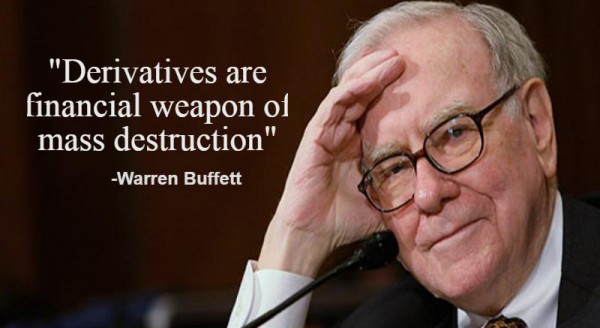 It's a tool designed for hedging but is often used for speculation.
Since it is highly leveraged, so any wrong decision is enough to destroy you.
China's current situation is a perfect example of over leveraged derivative position and you know the situation.
I would suggest all the new traders to trade in cash market while derivative market should be left to the experts.
Know More: A Detailed Understanding of Derivative Market
Warren Buffett in his letter said-

Charlie and I are of one mind in how we feel about derivatives and the trading activities that go with them. We view them as time bombs, both for the parties that deal in them and the economic system…….In our view, however derivatives are financial weapons of mass destruction carrying dangers that, while now latent, are potentially lethal.
3. Comparison of Junk bonds with equity
Junk bonds are high yielding high risk fixed income security, issued by a company of lower credit rating in order to quickly finance a takeover.
Equities are always preferred over bonds if you have a long term time frame.
Want to know more about Warren Buffett's style of investing, enroll in Value Investing Strategies course on Elearnmarkets.
Junk bonds are often characterized by low returns on capital and the management quality is also doubtful in such case.
Warren Buffett said-

Investing in junk bonds and investing in stocks are alike in certain ways: Both activities require us to make a price-value calculation and also to scan hundreds of securities to find the very few that have attractive reward/risk ratios. But there are important differences between the two disciplines as well. In stocks, we expect every commitment to work out well because we concentrate on conservatively financed businesses with strong competitive strengths, run by able and honest people. If we buy into these companies at sensible prices, losses should be rare. Indeed, during the 38 years we have run the company's affairs, gains from the equities we manage at Berkshire (that is, excluding those managed at General Re and GEICO) have exceeded losses by a ratio of about 100 to one.

Purchasing junk bonds, we are dealing with enterprises that are far more marginal. These businesses are usually overloaded with debt and often operate in industries characterized by low returns on capital. Additionally, the quality of management is sometimes questionable. Management may even have interests that are directly counter to those of debt-holders.
4. Accepting mistake is a positive sign
You will hardly find any managerial person accepting their mistakes.
Also Read: Why We Should Read Annual Reports?
Most of the annual reports will contain only positive achievements, ignoring the setback faced by the business.
But the true manager possesses a trait of accepting the mistake, committing to improving the same and delivers the result thereafter.
Warren Buffett is one of them who believes in this philosophy.
In his 2001 letter to shareholders, he said-

I clearly made a mistake in paying what I did for Dexter in 1993. Furthermore, I compounded that mistake in a huge way by using Berkshire shares in payment. Last year, to recognize my error, we charged off all the remaining accounting goodwill that was attributable to the Dexter transaction. We may regain some economic goodwill at Dexter in the future, but we clearly have none at present.

The managers of our shoe businesses are first-class from both a business and human perspective. They are working very hard at a tough ¾ and often terribly painful ¾ job, even though their personal financial circumstances don't require them to do so. They have my admiration and thanks.
While in 2003 letter to shareholder, he said-
Last year I told you of the problems at Dexter that led to a huge loss in our shoe business. Thanks to Frank Rooney and Jim Issler of H.H. Brown, the Dexter operation has been turned around. Despite the cost of unwinding our problems there, we earned $24 million in shoes last year, an upward swing of $70 million from 2001.
Bottomline:
I hope you enjoyed reading the lessons.
Please don't forget to give your valuable feedback in the comment section.
I am soon going to come up with few more lessons from the letters of Warren Buffett.
Take care and Keep Learning!!