In the era of rapid technological advancement, especially in the financials & banking industry, I am sure that most of you will NOT be using cheques as a part of your day-to-day banking needs. But still, it is important to keep in mind the basics of how to write a cheque.
Writing a cheque probably seems to be the easiest thing to do, but let me tell you that it may lead you to unnecessary trouble in case you do silly mistakes here and there. You will also learn how to write a cheque for others. 
What is a Cheque?
A cheque is a mechanism that allows people to access the fund in their bank accounts. You can use this either to withdraw cash or to transfer funds to some other account by transferring a cheque.
Learn to manage your bank account with Banking Awareness Book for Beginners 
Today we are going to discuss the key points to keep in mind while writing a cheque.
5 steps on how to write a Cheque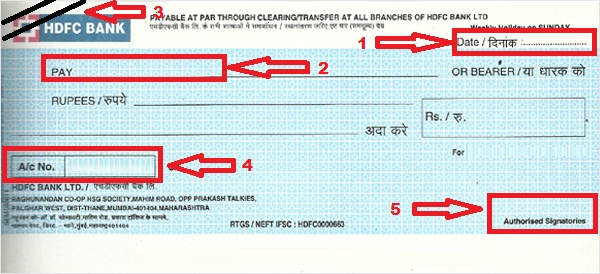 1. Date: A cheque should be properly dated. Writing a cheque without a date may enable anyone to put any date and encash it at their will. This may be a big problem in case there is an insufficient fund and you intended the cheque to be post-dated. Moreover, a wrongly written date, like a wrong year or a month may result in dishonor if the date is past three months.
2. Name: Write the name of the person or organization who will receive your cheque in the "pay" line.
3. Cross the cheque: You need to make two parallel lines in the top left corner of the cheque and write "Account Payee" if you want the amount to be withdrawn by a specific person or an organization, who is having an account in the bank.
4. Account Number: Ensure your cheque has an account number and the bank address on the cheque. Nowadays it is mandatory that each cheque leaf should carry your name or names if it is a joint account.
5. Signature: Put your signature carefully on top of your name on the cheque as it has to match the signature you provided to the bank while opening the account.
Always keep your cheque book in a safe place and never pre-sign your blank cheques.
Also Read: 12 reasons for Dishonour of Cheque
Key points to keep in mind while writing a Cheque
a. Never do overwriting in a cheque
b. Mention your mobile number and account number on the backside of the cheque while depositing
c. When writing the amount in words, always write "only" at the end. Also inside the amount box, after you have written the number specify "/-" at the end.
Last but not least, make sure that you have enough balance in your account before issuing the cheque because it's considered a criminal offense if the issued cheque bounces.
Also Know: How do I stop the cheque's payment?
To halt the payment of a check, you have the option of initiating a stop payment. This can be done by contacting your bank and submitting a letter that includes essential details such as the check number, amount, and the recipient's name. It is important to note that the stop payment request must be made before the check has been presented for processing, and your bank account should have adequate funds to cover the check amount.
In order to get the latest updates on Financial Markets visit https://stockedge.com/