Listen to this
Discipline is a key to be successful in stock market. People especially who are new to the market and that too in a bull phase as of now, really become very impatient. They try to grab each and every opportunity that comes their way. As soon as any new cash is generated, it immediately gets utilized either in trading or in investing. They forget to think about cash holding.
This is a very big problem which everyone should understand since making your investment blindly, doesn't really make sense always. This may result in missing opportunities which market give you sometimes like the one few days back due to China crisis.
Most of the investors missed this opportunity as they were fully invested and had no cash to invest in those time.
Keeping idle cash is always considered to be a wasted opportunity by most of the investor as they believe that idle cash won't fetch you any return.
But I would like to contradict here that ideal cash gives us an opportunity when market corrects, thus making us earn better returns going forward.
Seth Klarman in his letter to shareholder in 2004 discussed about the painful decision of holding cash where he said-
"Investors must choose between two alternatives. One is to hold stocks and bonds at the historically high prices that prevail in today's markets, locking in what would traditionally have been sub-par returns. If prices never drop, causing returns to revert to more normal levels, this will have been the right decision. However, if prices decline, raising prospective returns on securities, investors will experience potentially substantial mark to market losses, thereby faring considerably worse than if they had been more patient"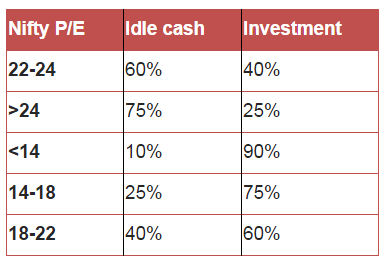 However I personally believe that there has to be a balance between our investment and idle cash. Say if I invest Rs. 10,000 every month. Depending upon the mood of the market, i'll personally keep changing my ratio based on Nifty P/E multiple.

My friends questions me sometimes- "why should you hold cash when it's not fetching you any return while stocks have the tendency to make quick bucks?"
I have found few reasons as to the importance of holding cash from my experience and lessons I learnt by not holding cash. Here are a few of the lessons-
If you don't have cash, then you'll not be able to utilize the opportunities like the one on 24th August,2015 due to China crisis.

Think over the consequences which you might face in case of any emergency where you are short of liquidity since you are fully invested and that too in a downward phase of the market.

It's always better not earning anything than losing something since in case of any crisis, cash acts as a king.

It is always advisable to have an emergency fund for yourself which should be enough to fulfill your family need for the next six months.
However, decision to hold cash seems very painful. In real life even the most smartest of all investors sometime fails to stick to discipline of holding cash.
Who says that investing means always buying something, even the best of a bad lot?
I believe that you don't need to be always in action. Seth Klarman said- Holding cash when you have nothing to buy is a good decision
Seth Klarman on the psychology of investor said-
"Human beings are only endowed with so much patience, after all. Few are able to look past near term returns, and today anything appears to offer better returns than cash. Also, given their relative-performance-oriented, competitive nature, investors loathe the possibility of under performance that comes from sitting on the sidelines; they find it better to be in the game (unless, of course, the market drops). Most significantly, they remain highly skewed toward the greed end (how much can you make?) and away from the fear end (how much can you lose?) of the spectrum of investor emotions."
In short, investors remain the consummate yield gluttons, seeking high return without regard for the likelihood of actually achieving it or for the risk incurred in the process
Holding cash is often very difficult and painful decision but simply investing just for the sake of investing without considering any margin of safety often ends up more painful for your long term returns.
So make your decisions more wisely and independently irrespective of what others are doing.
Happy learning!!!