Listen to this:
Most financial advisors and the agents of mutual funds ask us to diversify our investment portfolios by using the overused phrase "Don't put all your eggs in one basket".
Though there is little doubt that portfolio diversification is critical to a balanced portfolio, not many talk about how much of it is too much or too less.
So with this blog we aim to clear the air on how many mutual funds should one invest in.
First thing is the criteria for Fund selection and Asset Allocation
There is no one right answer to the question of how many mutual funds a person should hold.
However, the criteria to select a specific asset class and the number of mutual funds should depend on the following factors :
Investment Goal – means the purpose behind investing. Whether you are investing for capital appreciation or for a fixed income.

From growth in capital point of view, you have the option to invest for longer time periods, allowing you to be more aggressive towards equity funds.
On the other hand, if fixed income is your reason, then going for less risky bets is prudent.



Investment Horizon – A determinant to the number of funds and asset classes you should invest in is your investment tenure.

A longer investment horizon allows for aggressive investment with a good mix of debt and equity funds.
Shorter tenures suit investments in very short-term debt and money market funds.
Risk Appetite – The level of risk you can take should determine your asset allocation.

If you cannot withstand even limited losses in your portfolio then your portfolio should be in favor of low-risk Debt oriented funds.
Equity funds can be volatile and if you can hold your investments without worrying too much about losses, your portfolio should be focused on equity funds more.
The dilemma of Portfolio Diversification and how to avoid it?
When a person invests only in equity oriented funds, there is a huge possibility of a flaw known as Portfolio Overlap to occur. This is one of the most common mistakes investors make and in reality is complete negligence of the idea of portfolio diversification.
Let's suppose Vaibhav has made investments in 3 different classes of equity mutual funds. One is in a Blue Chip fund, another in a Multi-Cap Fund and the other in a Dividend Yield Fund.
From a diversification point of view, he has spread his investments across multiple stocks and sectors which is a good thing. But upon careful examination he would notice that all 3 mutual fund schemes would have similar stock holdings.
Such a phenomenon is known as portfolio overlapping.
If multiple mutual fund investments include similar stocks, is it really portfolio diversification or spreading your investment across different stocks?
Any Blue Chip(large-cap), multi-cap and dividend yield fund is highly likely to include similar stocks such as Infosys, Reliance, HDFC etc. This happens because such companies are the front runners of the Indian stock markets and funds with a focus on market capitalization or dividends would include them in their portfolios.
So diversification needs to be combined with asset allocation to avoid such mistakes!
Asset Allocation vs Diversification :
Diversification essentially means to invest in a combination of different securities from the same asset class.
For example, an investor just investing in 1 or 2 stocks such as an HDFC Bank or a Reliance Industry is not diversification. But if one invests in a handful stocks, limiting the potential downside risks by spreading the investment across multiple stocks, it is called diversification.
But as mentioned above, just investing in equity oriented mutual funds may lead to portfolio overlapping.To avoid that, it is important to diversify across different asset classes.
So instead of investing in multiple equity oriented funds, it is prudent to invest in mutual funds focusing on other asset classes such as Debt Instruments, Arbitraging and even international companies.
Types of Mutual Fund Classes based on Asset Class:
Mutual Fund schemes can be classified into 4 distinct classes based on the asset class they invest majorly in.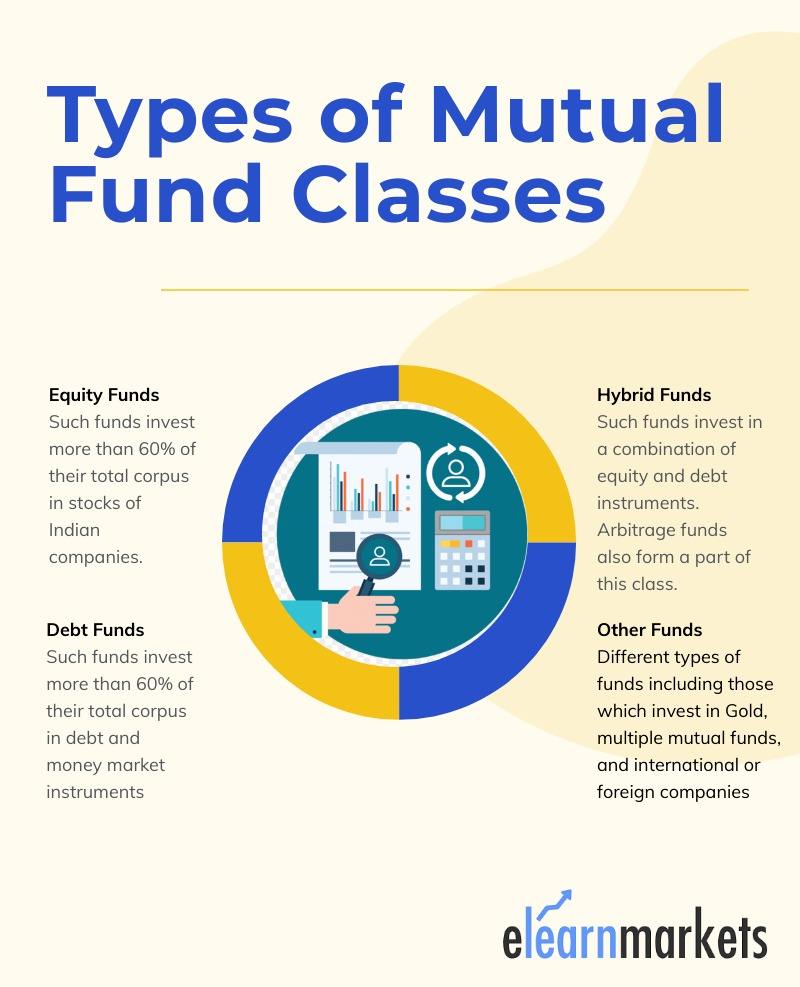 Equity Funds – Such funds invest more than 60% of their total corpus in stocks of Indian companies.


Debt Funds – Such funds invest more than 60% of their total corpus in debt and money market instruments such as corporate bonds, government securities, and repo instruments.


Hybrid Funds – Such funds invest in a combination of equity and debt instruments. Arbitrage funds also form a part of this class.


Other Funds – Different types of funds including those which invest in Gold, multiple mutual funds, and international or foreign companies come under the other's category.
So ideally, one's portfolio should consist of a mix of equity and debt-oriented mutual funds. Most experts suggest 4-7 mutual funds are more than enough to adequately diversify your portfolio. But the important thing is to correctly perform the asset allocation across 4-7 funds.
Example of how you can approach portfolio diversification.
Equity Schemes – 1 large cap, 1 multi-cap, 1 focused fund
Debt Schemes – 1 Gilt Fund, 1 Fixed Maturity Plan
Other Schemes – 1 global fund
The above example is a basic approach to mutual fund investing. Depending on your investment objective, tenure, and risk levels you should allocate wealth across different funds strategically. It is also very important to carefully research different funds before investing.
Also Read: 2 Steps Checklist on Starting Systematic Investment Plan (SIP)
Filter out the top Mutual Funds here
Happy Investing!