Nifty close 11557.10: Nifty made a Doji candle in the daily chart where the indicator RSI showing negative divergence.
We have seen that Nifty has made a new high (approximately 11612.15) in this week (Previous high was 11495.20). The week started with a gap up opening above 11500 level which was very positive but at the end sessions it made two consecutive red candles in the daily chart.
Market is trading at its lifetime high and the Doji candle in the overbought area (Stochastic Indicator) suggesting there is a chance of market correction.
Hourly Technical: In the Hourly chart of Nifty it is trading flat and if we notice we could see there are three Doji candles in the daily chart.
So it is pretty much obvious that Buyers are not so much confident to take the price higher and the bears are waiting for the right signal.
Indicator in the hourly chart suggesting that market is in a range bound zone. RSI is at approximately 51 levels, Stochastic is at 34 (approx.), ADX falling sharply and it is at 21 (approx.) and CCI is at -87 (approx.).
So overall indecision is playing in the market. In case market moves higher 11600 level is going to be the next resistance and for the support it would be 11450.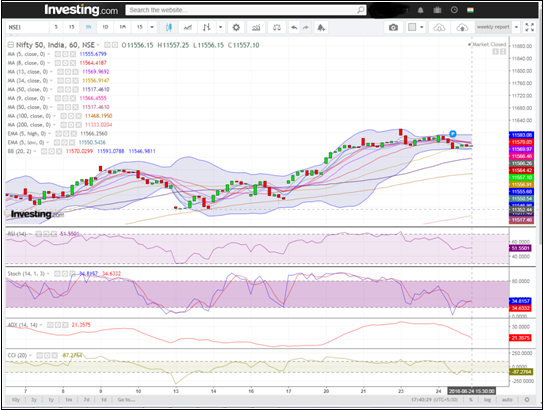 (Hourly chart)
Daily Technical: As we mentioned earlier there is negative divergence visible in the RSI indicator and in the last trading day, the index made a Doji candle. Stochastic is also in the overbought this time so there is chance of correction.
Most of the indicators are below the price level, so huge down side risk is very less because of this MA lines will be acting as a support in case of any short fall.
Let's discuss the indicators, Indicators are slopping down, RSI is below 70, Stochastic is at 80 (approx.), ADX is at 40, CCI is at 125 level (approx.)
So indicators are also in a phase of correction and we are also expecting correction in the price for next week.
In daily chart Resistance is at 11610 level and the support is 11480 level.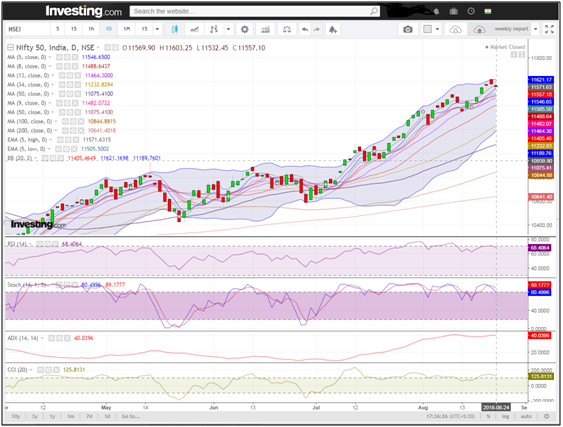 (Daily chart)
Weekly Technical: In the weekly chart there is nothing negative it is just that price is trading in the overbought level if any correction takes place it would be regular correction as per our expectation.
There is other possibility as well which is, market may move up farther despite being traded in the overbought level. If market goes up in the next trading sessions, we may expect 12000 mark very soon.
As we mentioned indicators are in the overbought level. RSI is above 75, stochastic is above 95 level, ADX is trending up and it is above 20 level and CCI is above 160 level.
So overall the bullish sentiment is intact in the market and in case of correction, it is part of market's cycle and it may appear due to the overbought level.
But in the long term we are expecting the existing sentiment will be intact.
(Weekly chart)
You can use stockedge app to get cutting edge over others in both short term trading and investing.
Here you not only get data at one particular place but can also create your own combination scans based on your own technical and fundamental parameter. See the video below to know about various features in Stockedge app.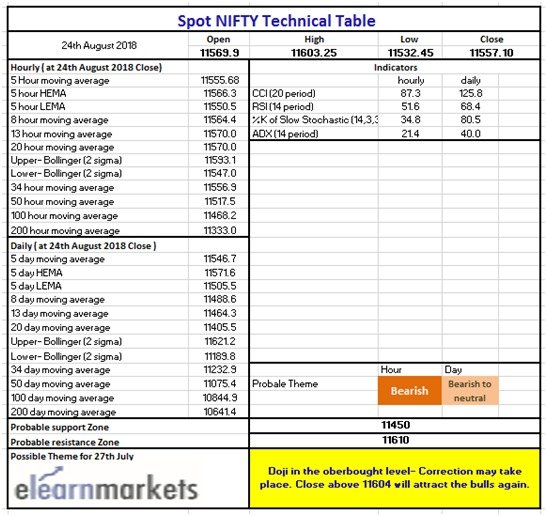 (Technical Chart)